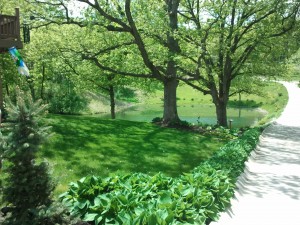 Here's a story that I think the Prince of Peace Himself would like.
It starts with my friend Paula, who's a gardener—but not just any gardener. Paula is the kind of horticulturist who spends every day in her yard during the growing season, making something that's already exquisite even more beautiful.
She and her husband live on an acreage that slopes down to a pond in front and joins with woods on one side. She knows what conditions the plants need to thrive, shovels truckloads of compost and mulch to nurture them and then decorates her outdoor "rooms" of perennials with ornaments, lights and flags.
In short, her gardens are a piece of art, an expression of Paula herself.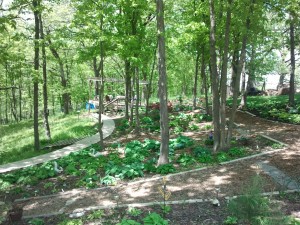 This story also involves Paula's brother-in-law, Lowell, who lives across the road. Several years ago, he was farming Paula's parents' land and made decisions that the family didn't approve of. In their estimation, he wasn't a good steward of the land they'd entrusted to him. The family drew up Notice of Termination papers and forced him off the farm, with consequences that weren't surprising.
"It started a big war," Paula says. A war that lasted for years.
Even though they lived within full view of one another, Paula and Lowell didn't speak. Family gatherings were strained and awkward, but Paula held fast to her indignation.
Then one spring day, four years after the war began, she came home to find her gardens a mess. There were deep holes. Plants were uprooted and strewn everywhere. The newly seeded grass was destroyed. Birdbaths were tipped over. Random damage ran throughout the entire property. It looked like a bull had had a field day in her gardens.
Because that's exactly what had happened.
Lowell's bull had gotten loose and, in its impatience to get to the cows across the fence, it tromped through Paula's perfect oasis, damaging every one of her outdoor spaces.
So Paula followed her first instinct.
She called the sheriff. Then she called a landscaper. "I wanted to get estimates so I could really pin my brother-in-law to the wall," she says.
From there, she recalls, "it just escalated. Anger is like a fire. The more fuel you give it, the hotter it gets."
The bull incident took place on a Friday. The following Tuesday night at our A Course in Miracles class, Paula told us about the bull incident and how irate she was. But later that evening, she had an epiphany. In the reading that night, a passage about love connected with a desire that was deeper, bigger and more profound than her need to be right.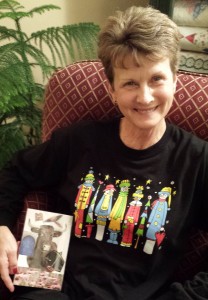 "I don't want to do this anymore," she announced to the class, referring to the years of conflict. "I really want peace."
Her whole demeanor changed. Her posture relaxed, her face and hands were soft and open. In that moment, she made a choice, and it showed on her immediately.
It turns out that, for a long time, despite the ongoing standoff with Lowell, Paula had been asking Spirit for "peace in my little corner of the world." When she drove by Lowell's house, she silently wished him peace and love, "even some days when I didn't feel like it," she says.
That's why, when the bull incident happened, she was ready to give up the fight. It was as though something had gently nudged her awake, and she quietly withdrew from the battle.
Then something truly unexpected occurred.
The morning after the Miracles class, Paula was working in her parents' yard down the road when Lowell drove by. He slowed to a stop and rolled down the window.
Remember, they hadn't talked for years, and he didn't know anything about the change of heart she'd had the night before. Not consciously, anyway.
But when he stopped the car, Paula literally skipped over to greet him. "I was almost jumping because I was so excited to have the chance to talk to him," she says.
He told her that he'd heard about the damage his bull did, and that he would be glad to pay.
Her next words changed everything. "Lowell," she said, "I don't want to do this anymore. I don't want to live with this anger between us."
And he said, "I agree with you."
Later that day, Paula called and asked him for $200 in damages, and he wrote her a check for $250.
It was over, just like that—not just the more recent anger about the bull, but all the years of tension that had locked them in a rigid dance of guilt and blame.
Before, her goal had been to make her brother-in-law pay. Now she had a different goal: Letting herself and him out of their prison of anger so they could live in peace.
The hatchet isn't just buried, it simply no longer exists. "It's a relief not to be living with that conflict," Paula says. "It takes such a toll on you."
Paula is still amazed at the serendipity of it all. "For me to say I'm going to choose the peaceful route, the loving route…and then to have Lowell show up the next day for the opportunity to share that with him. It proved to me that that's what the Holy Spirit wants for us. He gives us the opportunity to fix whatever is wrong."
There's one more take-away to this story, Paula says, and it's as big as a one-ton bull. "If we attack someone, we attack ourselves. If we send peace to someone, we send it to ourselves."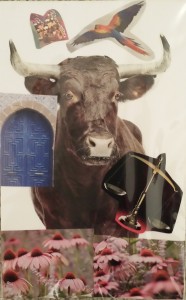 After the incident with the bull, Paula made a soul collage card to remind her of its meaning. "I don't ever want to forget this miracle," she says.
"The bull dancing through my gardens offered me a choice. Would I seek justice or walk through the door of forgiveness? As the butterfly struggles to be released from its cocoon, my struggle with this decision produced the beauty of forgiveness and the soaring freedom from long-held grievances."
That, she says, is how it's possible—with Spirit's help—to bring peace to your little corner of the world.
It's an idea, I'm guessing, that the Prince of Peace Himself would heartily endorse.
Blessings,
Deb