36 days ago was the last day I entered the temple.  That's the longest span of time I've gone without attending the temple since I returned home from my mission in 1993.  I feel the impact of not being able to "plug in" to the temple, but also feel gratitude for having had temples so available during my adult life.
I received my endowment 5 May 1992 in the Dallas Texas Temple in preparation for my mission beginning July 1.  By June, mom and I had roadtripped to a cousin's wedding in Idaho and visited several temples along the way. I loved the varying personalities of each temple.  I decided on that trip I wanted to go to every temple in the world.  At the time there were 49 temples and it still seemed like a lofty goal.
As the number of temples grew, I worked as a software trainer for several years.  I traveled the country from coast to coast.  After a workday of setting up and training folks on our software system, I would drive however long it took to attend a temple I hadn't been to before.  My mom and various sisters and I took roadtrips making big loops around the country and into Canada to visit temples I hadn't attended.  My family went to Mexico and some of us went to temples I hadn't been to before.  At one point, I'd been to every dedicated continental US and Canadian temple along with every temple in some other countries, too.
Adding to My Every Temple Goal
In February 2020, I had a Saturday training class scheduled in Atlanta, Georgia.  I'd been to the Atlanta temple years ago, but Fort Lauderdale was built after I'd moved to Hawaii. With a little planning, the Fort Lauderdale Temple could be my 100th temple!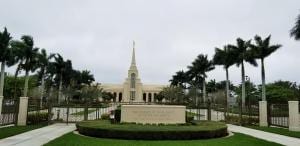 I left Honolulu midafternoon on Thursday and flew overnight to Atlanta arriving at 7:00 AM.  I caught a 9:00 AM flight to Fort Lauderdale.  I prefer to drive myself, but every second counted. While planning the trip, Anthony suggested I check Uber. The estimated Uber ride to and from the temple was cheaper than the rental car and would take less time! I took Uber for the 30-minute ride to the temple and back.
The skies in Fort Lauderdale were cloudy and gray, accentuating the awesome limestone colors of the temple's exterior.  I walked in and started scanning everything. I love seeing holy patterns on the ceiling, floor, and walls.
As I walked through the grand hallway behind the recommend desk, a tall, stately man strode towards me.  He stopped right in front of me, took both of my hands in his and welcomed me to the temple. He said he could tell I was celebrating something, happiness exuded from me.  I told him Fort Lauderdale Temple was my 100th temple on my quest and such a significant number to me and I was so happy. He celebrated with me and wished me well.
Time flew and soon I was summoning my Uber back to the airport to catch my flight back to Atlanta. I arrived at my hotel at 9;00 PM with enough time to prepare and sleep for my training the next morning.
I was so happy about that trip! I've been an opportunist to attend every temple I can and to attend a temple as often as I can.
So today as I miss entering the doors and breathing that temple air and learning there, I celebrate the milestone of 100 temples visited and look forward to many more.
Every Temple I've Visited
Temple Name 
Location 
Dedicated
Albuquerque New Mexico Temple 

Albuquerque, New Mexico, United States 

5 March 2000
Atlanta Georgia Temple 

Sandy Springs, Georgia, United States 

1 June 1983

Baton Rouge Louisiana Temple 

Baton Rouge, Louisiana, United States 

16 July 2000

Billings Montana Temple 

Billings, Montana, United States 

20 November 1999

Birmingham Alabama Temple 

Gardendale, Alabama, United States 

3 September 2000

Bismarck North Dakota Temple 

Bismarck, North Dakota, United States 

19 September 1999

Boise Idaho Temple 

Boise, Idaho, United States 

25 May 1984

Boston Massachusetts Temple 

Belmont, Massachusetts, United States 

1 October 2000

Bountiful Utah Temple 

Bountiful, Utah, United States 

8 January 1995

Brigham City Utah Temple 

Brigham City, Utah, United States 

23 September 2012

Calgary Alberta Temple 

Calgary, Alberta, Canada 

28 October 2012

Cardston Alberta Temple 

Cardston, Alberta, Canada 

26 August 1923

Cedar City Utah Temple 

Cedar City, Utah, United States 

10 December 2017

Chicago Illinois Temple 

Glenview, Illinois, United States 

9 August 1985

Ciudad Juárez Mexico Temple 

Ciudad Juárez, Chihuahua, Mexico 

26 February 2000

Columbia River Washington Temple 

Richland, Washington, United States 

18 November 2001

Columbia South Carolina Temple 

Hopkins, South Carolina, United States 

16 October 1999

Columbus Ohio Temple 

Columbus, Ohio, United States 

4 September 1999

Copenhagen Denmark Temple 

Frederiksberg, Hovedstaden, Denmark 

23 May 2004

Dallas Texas Temple 

Dallas, Texas, United States 

19 October 1984

Denver Colorado Temple 

Centennial, Colorado, United States 

24 October 1986

Detroit Michigan Temple 

Bloomfield Hills, Michigan, United States 

23 October 1999

Draper Utah Temple 

Draper, Utah, United States 

20 March 2009

Edmonton Alberta Temple 

Edmonton, Alberta, Canada 

11 December 1999

Fort Collins Colorado Temple 

Fort Collins, Colorado, United States 

16 October 2016

Fort Lauderdale Florida Temple 

Davie, Florida, United States 

4 May 2014

Frankfurt Germany Temple 

Friedrichsdorf, Hessen, Germany 

28 August 1987

Freiberg Germany Temple 

Freiberg, Sachsen, Germany 

29 June 1985

Fresno California Temple 

Fresno, California, United States 

9 April 2000

Gilbert Arizona Temple 

Gilbert, Arizona, United States 

2 March 2014

Guadalajara Mexico Temple 

Zapopan, Jalisco, Mexico 

29 April 2001

Halifax Nova Scotia Temple 

Dartmouth, Nova Scotia, Canada 

14 November 1999

Houston Texas Temple 

Spring, Texas, United States 

26 August 2000

Idaho Falls Idaho Temple 

Idaho Falls, Idaho, United States 

23 September 1945

Jordan River Utah Temple 

South Jordan, Utah, United States 

16 November 1981

Kansas City Missouri Temple 

Kansas City, Missouri, United States 

6 May 2012

Kona Hawaii Temple 

Kailua-Kona, Hawaii, United States 

23 January 2000

Laie Hawaii Temple 

Laie, Hawaii, United States 

27 November 1919

Las Vegas Nevada Temple 

Las Vegas, Nevada, United States 

16 December 1989

Logan Utah Temple 

Logan, Utah, United States 

17 May 1884

London England Temple 

Newchapel, Surrey, England 

7 September 1958

Los Angeles California Temple 

Los Angeles, California, United States 

11 March 1956

Louisville Kentucky Temple 

Crestwood, Kentucky, United States 

19 March 2000

Lubbock Texas Temple 

Lubbock, Texas, United States 

21 April 2002

Manhattan New York Temple 

New York, New York, United States 

13 June 2004

Manti Utah Temple 

Manti, Utah, United States 

21 May 1888

Medford Oregon Temple 

Central Point, Oregon, United States 

16 April 2000

Memphis Tennessee Temple 

Bartlett, Tennessee, United States 

23 April 2000

Mérida Mexico Temple 

Mérida, Yucatan, Mexico 

8 July 2000

Meridian Idaho Temple 

Meridian, Idaho, United States 

19 November 2017

Mesa Arizona Temple 

Mesa, Arizona, United States 23 October 1927

Mexico City Mexico Temple 

México, Distrito Federal, Mexico 

2 December 1983

Monterrey Mexico Temple 

Monterrey, Nuevo Leon, Mexico 

28 April 2002

Monticello Utah Temple 

Monticello, Utah, United States 

26 July 1998

Montreal Quebec Temple 

Longueuil, Quebec, Canada 

4 June 2000

Mount Timpanogos Utah Temple 

American Fork, Utah, United States 

13 October 1996

Nashville Tennessee Temple 

Franklin, Tennessee, United States 

21 May 2000

Nauvoo Illinois Temple 

Nauvoo, Illinois, United States 

27 June 2002

Newport Beach California Temple 

Newport Beach, California, United States 

28 August 2005

Oakland California Temple 

Oakland, California, United States 

17 November 1964

Ogden Utah Temple 

Ogden, Utah, United States 

18 January 1972

Oklahoma City Oklahoma Temple 

Yukon, Oklahoma, United States 

30 July 2000

Oquirrh Mountain Utah Temple 

South Jordan, Utah, United States 

21 August 2009

Orlando Florida Temple 

Windermere, Florida, United States 

9 October 1994

Palmyra New York Temple 

Palmyra, New York, United States 

6 April 2000

Payson Utah Temple 

Payson, Utah, United States 

7 June 2015

Phoenix Arizona Temple 

Phoenix, Arizona, United States 

16 November 2014

Portland Oregon Temple 

Lake Oswego, Oregon, United States 

19 August 1989

Preston England Temple 

Chorley, Lancashire, England 

7 June 1998

Provo City Center Temple 

Provo, Utah, United States 

20 March 2016

Provo Utah Temple 

Provo, Utah, United States 

9 February 1972

Raleigh North Carolina Temple 

Apex, North Carolina, United States 

18 December 1999

Redlands California Temple 

Redlands, California, United States 

14 September 2003

Regina Saskatchewan Temple 

Regina, Saskatchewan, Canada 

14 November 1999

Reno Nevada Temple 

Reno, Nevada, United States 

23 April 2000

Rexburg Idaho Temple 

Rexburg, Idaho, United States 

10 February 2008

Sacramento California Temple 

Rancho Cordova, California, United States 

3 September 2006

Salt Lake Temple 

Salt Lake City, Utah, United States 6 April 1893

San Antonio Texas Temple 

San Antonio, Texas, United States 

22 May 2005

San Diego California Temple 

San Diego, California, United States 

25 April 1993

Santiago Chile Temple 

Providencia, Santiago, Chile 

15 September 1983

Seattle Washington Temple 

Bellevue, Washington, United States 

17 November 1980

Snowflake Arizona Temple 

Snowflake, Arizona, United States 

3 March 2002

Spokane Washington Temple 

Spokane, Washington, United States 

21 August 1999

St. George Utah Temple 

St. George, Utah, United States 6 April 1877

St. Louis Missouri Temple 

St. Louis, Missouri, United States 

1 June 1997

St. Paul Minnesota Temple 

Oakdale, Minnesota, United States 

9 January 2000

Star Valley Wyoming Temple 

Afton, Wyoming, United States 

30 October 2016

Stockholm Sweden Temple 

Vasterhaninge, Sweden 

2 July 1985

The Gila Valley Arizona Temple 

Central, Arizona, United States 

23 May 2010

The Hague Netherlands Temple 

Zoetermeer, Zuid-Holland, Netherlands 

8 September 2002

Toronto Ontario Temple 

Brampton, Ontario, Canada 

25 August 1990

Twin Falls Idaho Temple 

Twin Falls, Idaho, United States 

24 August 2008

Vancouver British Columbia Temple 

Langley, British Columbia, Canada 

2 May 2010

Vernal Utah Temple 

Vernal, Utah, United States 

2 November 1997

Washington D.C. Temple 

Kensington, Maryland, United States 17 September 1974

Winter Quarters Nebraska Temple 

Omaha, Nebraska, United States 

22 April 2001

Jerusalem Temple
Kirtland Ohio Temple
Far West Temple Site, Independence Missouri Temple Lot, Adam-ondi-Ahman Temple Site