We live in a time when a living prophet speaks and makes promises.  President Russell M. Nelson recently promised that, by taking appropriate courses of action, our families could be strengthened physically and spiritually, we could withstand physical and spiritual latter-day storms, and our relationship with the Lord would and must increase.
So in the midst of the day-to-day struggle and journey, we have to decide if we'll hearken to the prophet's admonition because we believe the promises will be fulfilled.
I've been thinking about this mental dance of doing, believing, and seeing and ran across this story yesterday about my third great-grandfather William Jordan Flake (1839-1932).  It perfectly captured the "do, believe, and see" in two trying experiences.
"I never knew of one of Brigham Young's promises to fail."
Third great-grandmother Lucy Hannah White Flake (1842-1900) recorded grandpa's confidence in following the prophet in her memoir "To the Last Frontier."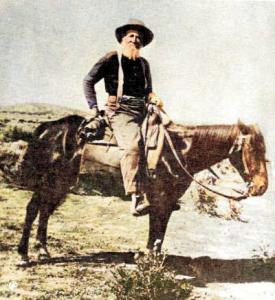 In the winter of 1873, William Jordan Flake was asked by Brigham Young, the Great Western Colonizer, to go with a party of twelve men on an

exploring trip to Arizona. They had pack horses to carry their bedding and provisions and each one was mounted on a good saddle horse. They crossed the Colorado at Lee's Ferry, traveled south, passed the San Francisco Mountains and into the Upper Verde Valley. They passed through the vicinity of where Flagstaff is now located.

They encountered deep snows and extreme cold weather. The snow in one place was so deep it was up to the shoulders of their saddle horses. The men took turns breaking the trail through these drifts. The lead horse would make six jumps then drop behind to catch his breath while the second horse would take six jumps. In this way, they traveled all day.

When Brigham Young sent the party out, he told them that they would have grass for their horses every night. The men had great confidence in his word and faith in his promises, but on this day it looked impossible for this promise to be realized. About four o'clock in the afternoon, they looked down into a valley and there saw a small patch of green grass where the wind had blown the snow away. They headed their poor tired horses for it and that night they had the promised grass.

After about two weeks of this intense cold and hardship, the men decided they had had enough of Arizona and started to return. At a certain place, Adam Greenwood and William turned off to come to Beaver. Provisions were scarce and as they were only two days from home, they gave what they had to the others who still had several days travel ahead of them. By night, William and his companion were pretty hungry.

Brigham Young had also promised the company that if they would not waste game, which was plentiful in those days, that they should have meat when they needed it. They hadn't seen any game for two or three days and were getting hungry for meat. The two men had camped for the night, had unsaddled their horses, built a campfire, and were wondering how they were going twenty-four hours more without food.

As they sat there warming and resting their tired limbs Adam said, "Bill, President Young promised us meat when we needed it, didn't he? Well, we need it now, if anyone ever did."

William Jordan Flake

"We will get it," my husband answered confidently. "I never knew of one of Brigham Young's promises to fail."

"Well, this is the one time when his promise will fail to the ground," said Adam.

The two men hovered around the fire. The sun was setting. Suddenly they saw at a distance a big white hare standing in the snow.

William said, "Well, Adam, there is your meat."

Adam remarked, "Bad as I want meat, I wouldn't go that far through this snow after it. If we are to have meat tonight, it will have to come to us."

I have heard William tell many times how that big mountain hare came as direct to their fire as an arrow could fly. When it got near enough, he hit it with a hard snowball he had made; it gave one jump into the air and was lying there in the snow kicking when he went to it, picked it up and wrung its head off. They had plenty of meat for supper and breakfast. They reached home that night.
Ultimately after that trip, Brigham Young asked the Flakes to settle Arizona and they did.
The Lord Fulfills All of His Promises
Grandpa's statement "I never knew of one of Brigham Young's promises to fail" really settled on my heart. I recently told a friend that while some people I know now wrestle with the validity and authority of prophets in our history, I realized my foundation is built on my own faith, yes, and that faith foundation is built on a bedrock of the faith and the experiences of my ancestors.  They recorded their triumphs and struggles and what they felt like the Lord asked them to accomplish—and they accomplished impossible things!
Generation after generation, they all testify to me that there is a prophet and that he speaks for the Lord.  Their lives declare that the promises of the prophet and the Lord did not fail them.
Some of those promises have even reached from them down through the generations to me.  A prophet promised my ancestors that their descendants would never want for bread or go hungry.  I am acutely aware of that promise and have relied on its fulfillment many times. And it always is fulfilled.
The Lord promises fulfillment of His promises to everyone in the scriptures.
"What I the Lord have spoken, I have spoken, and I excuse not myself; and though the heavens and the earth pass away, my word shall not pass away, but shall all be fulfilled, whether by mine own voice or by the voice of my servants, it is the same."
"And inasmuch as he is faithful, I will multiply blessings upon him and his seed after him."
"Look unto me in every thought; doubt not, fear not."
I doubt I'll ever need to hit a rabbit with a snowball to fulfill promises the Lord makes to me through His prophets. I look for His prophetic promises to be fulfilled during my ordinary days and in regular ways as well as in extremities when I'm hovering over a spiritual campfire believing the Lord will do His work, just as He promised.