When our dog Stig rides in the back of our Toyota FJ, he only looks out of the windows on the driver's side of the car. Sometimes when I know he'd love to see something interesting on the passenger side, I call him and try to convince him to look out those windows, but he just doesn't.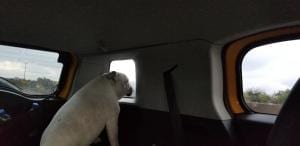 I feel like he misses a lot of different perspectives and interesting visual opportunities by choosing to limit his view.
My friend Kathy Spendlove shared a human example of one way a limited view inhibits different perspectives. So grateful for her willingness to let me share her story.
Different Perspectives
I keep thinking about different perspectives. We had an experience that comes to mind as I think about things going on. Our oldest daughter, Summer, missed the cut off for kindergarten by four days so we put her in private school for kindergarten and then tried to transfer her to public school for 1st grade.
The school in Texas refused to let her start 1st grade unless she took a four-subject test and then they would allow her to skip kindergarten if they saw fit. She took the tests and did very well, but fell short by a tiny bit.
I was able to see Summer's test. When I saw one question she got wrong, I strongly objected.
She was given a black and white picture of a body of water going into the horizon with a swing set next to it and asked to identify the image. The test's correct answer was "park," but Summer answered "beach."
When I explained to the proctor that while it is a park, it is also a beach with the body of water. the proctor scoffed at me and said, "There are no playgrounds beside the beach." I told her that actually there were parks next to the beach and plenty of them.
I explained how Summer was used to going to Ventura Beach in California by her grandparents' house and there is a playground on the beach. I think I even showed her a picture. So in Summer's mind, the main focus of the picture was the body of water.
This proctor admitted that she was only used to Lubbock and the playa lakes. Playgrounds, to her, is a park. She had only been to one beach in Texas and it did not have a playground, so that limited her perspective.
Both answers were correct through the way they saw the world and through the experiences Summer had.
Needless to say, the proctor allowed Summer's answer and Summer started school a little earlier than Texas usually allowed.
I often think of this experience and realize how different our answers are because of the different perspectives and experiences we have had and that there is sometimes more than one right answer. It is a reminder to me to try to not judge hastily and listen to others' perspectives and experiences with respect.