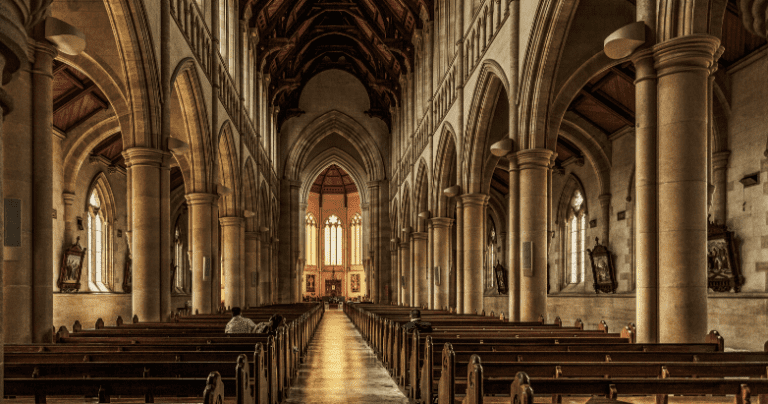 Christians are notorious for pulling out a random Bible verse that "fits" their needs—even though that verse might be contradicted by another.
One may cite "We must obey God rather than men" (Acts 5:29)
While another will cite, "Every person is to be in subjection to the governing authorities" (Romans 13:1).
How do we know which Bible verse applies in a given situation?
Too often, the answer is, "the one I prefer."
In order to discern which applies it is essential to distinguish between what relays a matter of principle and what reflects a deeper fundamental purpose.
Let me apply this to the matter of reopening our churches.
I would contend, and I will keep this as brief as a blog post will allow, that the purpose of the Christian life is to make God known.
That is, the church, both the individual life of each Christian and, more specifically, the corporate life of God's people, are called in order to be God's witnesses.
That we are created to be God's witnesses, or to make Him known, is inherent in what it means to be God's "image bearers" (Gen 1).
It is affirmed in the covenant call to Abraham in Genesis 12:1-3: which I would summarize as "Go and be a blessing."
It is iterated in the covenant call of Israel given to Moses at Sinai: "you shall be to Me a kingdom of priests and a holy nation" (Exod 19:6).
It is reiterated throughout the prophets: "And I will appoint You as a covenant to the people, as a light to the nations" (Isa 42:6).
"I will also make You a light of the nations so that My salvation may reach to the end of the earth" (Isa 49:6).
The call to be his witnesses reaches a climax in the Great Commission: "All authority has been given to Me in heaven and on earth. Go therefore and make disciples of all the nations, baptizing them in the name of the Father and the Son and the Holy Spirit, teaching them to observe all that I commanded you; and lo, I am with you always, even to the end of the age" (Matt 28:18-20).
This call is stated emphatically by Peter: "But you are a chosen race, a royal priesthood, a holy nation, a people for God's own possession, so that you may proclaim the excellencies of Him who has called you out of darkness into His marvelous light" (1 Pet 2:9).
All of which climaxes in the book of Revelation in which the Two Witnesses are key to the narrative. They are the solution as to how God will redeem the nations. The nations are redeemed through the faithful, loving, sacrificial, witness of God's people.
This means that we are to place equipping the saints (Individually and corporately) for the role of our prophetic witness to the world as an essential purpose of what it means to be a Christian.
This does not mean that there are not other essential priorities (remember this is a blog and not a book). Nor, does it means that we all accomplish this task the same way. I am not suggesting that we are all called to the foreign mission field—at least not as "foreign missionaries" as one commonly thinks of this designation.
Certainly, we need to recognize that we all have different gifts within the body of Christ. Consequently, we all work together, as one, to accomplish this goal of making Christ know to the nations.
We might also include worship as an essential purpose alongside our role as God's witnesses.
This creates some interesting sidebars, many of which I will need to refrain from delving into at this time—after all this is a blog and not a book!
What happens then if someone says:
"we need to reopen our churches immediately so we can worship."
But another says:
"it is in the best interest of public health that we stay closed"?
Do we not have two competing claims? Each one can easily have Scriptural support.
Those who contend that we must be worshiping will cite,
"not forsaking our own assembling together, as is the habit of some" (Heb 10:25).
Those who suggest public health is more concerning will cite the plethora of verses I have already noted about the chief concern of the Church is our witness to the world. Or they may even add,
"Seek the welfare of the city where I have sent you into exile" (Jer 29:7).
We could then add to the debate as to whether or not one can worship in private. One can ask is we must gather weekly? Does the citation in Hebrews 10 constitute a principle that must be obeyed or are that permitted exceptions?
Does zoom or YouTube constitute "assembling" in accord with Hebrews 10? (that's right, this is a blog and not a book).
How do we resolve these tensions?
Mind you: there are no easy answers. I would suggest that one place to begin is with the law of love.
We must recognize that we are inclined to lean towards our own self-interests in such matters. And we tend to cover our self-interests in theological and religious garb that makes it look like it is not actually self-interest.
"I just want to go to church to worship my savior!" And though this is likely very true, it may also be true that it is, "I just want to go to church and see my friends and be in the community where I have been for the last 40 years."
This is not wrong. But what if it harms our witness to the world?
The fact is that many pastors and church leaders are protesting to have their churches reopened simply does not send a good message. In the public's eye it looks like churches are only concerned about reopening because they were losing tithe dollars.
After POTUS's declaration on Friday, that churches were "essential," I know a pastor who received a text message from a "congregant" who asked if they were opening Sunday. Interestingly, the man's text to this pastor said, "we gotta do it bud."
Now I say "congregant" because this person has lived in this pastor's community for a year but has yet to actually attend his church—though the pastor has been discipling the man frequently during the past year.
I love the man's enthusiasm, but I am disheartened by his lack of concern for the well-being of others. This man has not been to this pastor's church in a year, but now he is enthusiastic about attending even though it may mean that others could be exposed to a deadly virus?
From the outside perspective, the concern to reopen churches does not appear to have the public's health in view. Churches appear more concerned with gathering on Sundays than they do with the potential of fostering a public health crisis.
We need to ask, then, if churches are clamoring to meet too soon? And, if so, what this will mean for our witness?
The fact is that in the public perception, like it or not, agree with it or not, it appears that churches are clamoring to meet out of their own self-interests and not in consideration of the greater good of public health.
And in doing so, they are failing to love their neighbors as themselves. This means that the very heart of the Gospel is lost.
Now there will come a point when churches will need to be allowed to reopen. When that happens churches will need to lead the way. We will need to show that we care about public health. As Jeremiah says, "Seek the welfare of the city where I have sent you into exile" (Jer 29:7).
This means, practicing safe distancing; providing masks, sanitizing stations, and following the CDC guidelines.[1]
NB: As I was finalizing this blog and about to go to press, word was coming down that the governor of Ca., where I reside, was about to reopen churches in our state. Let us do so carefully and lovingly and prayerfully!
[1] I am not about to argue if the CDC guidelines are correct or if they work or not. Our job is simply to follow them