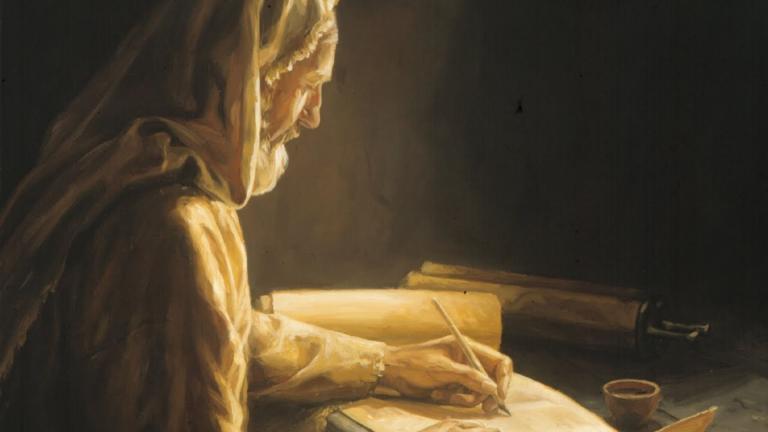 Monday: Read Titus 3:1-15
Paul concludes his letter to Titus with a list of exhortations that Titus is to "remind" those in his churches (1-2). Although the items in the list may come across as basic Christian duties, we must remember that Paul was speaking into the Roman world. In that world, and to a lesser extent even today, it was reasonable to "malign" (2; or "speak evil") others in order to defend one's social standing. One's place in the social hierarchy was a critical element of the culture.
Paul then explains that our behavior should be motivated by the fact that "we also once were foolish" (3). As a result, we used to behave that way. But now, he adds, "kindness of God our Savior and His love for mankind appeared" (4). And because of this, "He saved us" (5). Therefore, it is only natural that we should behave differently!
Titus 3:5-6 is a classic statement: "He saved us, not on the basis of deeds which we have done in righteousness, but according to His mercy, by the washing of regeneration and renewing by the Holy Spirit, whom He poured out upon us richly through Jesus Christ our Savior."
Paul concludes the letter with his customary greetings (11-15).
Questions to ponder/discuss:
Paul contends at the beginning of today's passage that God's love for us should change the way we behave toward others. Looking at the list of exhortations in 3:1-2, which one stands out as something that you need the Lord's help in order to better put it into practice?
It is really easy to "malign" (2; or "speak evil") others. We do so and often do not think twice about it. In fact, I suspect that most people are in the habit of doing so without realizing that it is even problematic. In a work environment, employees regularly complain about other employees or their supervisor.
Perhaps, it would help us to consider whether or not we would say such things if the other person were present. Or, perhaps better yet, we might consider the consequences of our words by considering what they would think if they heard what we said about them. Words are powerful. We must consider the impact of our words on others. And we must consider the impact of our witness. After all, we testify that we love our enemies. But is it loving to speak about them the way we often do? Of course, we excuse ourselves by noting, "I'm only speaking the truth." But even if it is true, are we not better served by first asking, "is it loving?"
Tuesday: Read Philemon 1:1-9
The book of Philemon was written by Paul to a man named Philemon concerning Onesimus who was widely believed to have been Philemon's runaway slave. Though it is commonly believed that Paul was in prison (1) in Rome, his location is disputed among scholars. Regardless of where Paul is located at the time of writing, it appears that Onesimus has run away from Philemon (who was in Colosse) and come into contact with Paul. Paul led Onesimus to the Lord during this time
The letter is Paul's appeal to Philemon (9) with regard to the welcoming back of Onesimus.
Questions to ponder/discuss:
This letter raises the question of slavery and the Church. Tragically many Christians used the Bible to justify the African slave trade. They reasoned from the fact that Paul spoke in other letters about how masters and slaves were to treat one another. Why didn't Paul just condemn slavery? Why didn't he just demand that Philemon release Onesimus on the basis that slavery is wrong?
Of course, the answers to these questions are complex. I will note here that America's racially based slave trade was different than ancient Roman slavery. In addition, Paul did not live in a democracy. Speaking up was not quite available to him. Finally, Paul's ethic to masters (Eph 6:9) radically undermined the practice of slavery. That is, Paul did speak up. By demanding that masters love their slaves as Christ loved us, he weakened master's one means of controlling slaves: namely, abuse.
The role of the western Church in the slave trade is inescapable. Though some Christians at the time spoke against the horrors of slavery, many more advocated for it. Though we ourselves did not participate in the evils of slavery, we must recognize that the Church is "one body" (1 Cor 12:20) and, therefore, it behooves us to lament and repent on behalf of the actions of the Church (see Daniel 9 for an example of praying on behalf of the sins of the community). I would strongly encourage you to spend some time contemplating and praying on this issue: including lamenting and asking for forgiveness.
Lament and forgiveness are critical first steps. But they are not in themselves sufficient. Make it a goal to learn more about slavery and its effects. You might begin by talking with a person of color and learning their story.
 Wednesday: Read Philemon 1:10-25
Paul's letter to Philemon focuses on his appeal to Philemon regarding Onesimus: "If then you regard me a partner, accept him as you would me" (17). Paul would like to have Onesimus returned to him (13) in order to assist Paul with his ministry.
Paul knew, however, that if he kept Onesimus with him and sent only a letter to Philemon asking for his permission to keep Onesimus, it would have made it much harder for Philemon to say "no" to his request (14). So, Paul sent Onesimus back (12) with the letter. For Philemon to agree to Paul's request now, means that he would also have to be willing to incur the expense of paying for Onesimus' travel back to Paul.
At the heart of this letter is the issue of reconciliation. Paul's basic understanding of the church began with his conviction of the unity of God's people. Onesimus is a brother now. From the perspective of the church, Onesimus will be of greater service to Paul and his work.
Paul concludes this letter with his customary greetings (19-25). These greetings have several noteworthy elements.
First, Paul states that he writes the greeting with his own hand (19), which we noted in 2 Thess 3:17 (see Col 4:18 also). This indicates that Paul did not personally write the bulk of his letters. He used a scribe and then signed the end of the letter himself.
Second, Paul notes that Mark sends his greetings (24; see Col 4:10). This is important because it indicates that reconciliation has happened with Paul, Barnabas, and Mark. The last time the book of Acts recorded them together was in a heated dispute as to whether Mark should join Paul and Barnabas on their next journey (Acts 15:36-41).
Questions to ponder/discuss:
Did Philemon grant Paul's request? The fact that we have this letter today suggests that he did. Otherwise, the letter would not have been circulated.
Yesterday we noted the importance of lamenting and repenting. But Reconciliation is a vital next step. At the same time, reconciliation is a difficult topic. Many people deal with reconciliation by not dealing with it; not discussing it; ignoring the issue in hopes that it will go away. Discuss what reconciliation looks like. Are there times when reconciliation is not possible? What does that mean for the party that is willing to reconcile?
Thursday: Read Hebrews 1:1-3
Hebrews is perhaps one of the greatest writings in the NT. The book's contribution to the NT is primarily in its focus on Christ.
Oddly, however, we do not know who wrote it. It is placed after Philemon because the early church connected it with the writings of Paul. But if the Church was certain that Paul wrote it, they would have placed it after Romans (the letters are arranged by size).
It is not likely Paul's writing. After all, in 2:3 the author indicates that he was not an eyewitness. This is not something that Paul was likely to state. After all, Paul was constantly having to defend that he was a legitimate apostle and his defense was built on the claim that Jesus indeed appeared to him (1 Cor 15:8; Acts 22:6-9). He may not have been an eyewitness of Jesus' ministry as the other disciples, but he was an eyewitness of the resurrected Christ (Acts 9:1-5) who appointed him as an apostle.
Some suspect that we do not know the author of Hebrews because it was a woman: perhaps, Priscilla. The reality is that we simply do not know who was the author.
In addition, we are not certain when the book was written, where it was written, or to whom it was written. It appears that the recipients were Jewish Christians who had a good understanding of the OT and Jewish practices.
We can also discern that some of them had recently left the church and returned to their Jewish faith. And it appears that others were considering a return to Judaism as well. Thus, the letter (which is more of a sermon than a letter—it does not open with a formal greeting or thanksgiving) responds by noting the superiority of Christ.
We can also discern that the recipients had undergone some persecution (10:32-34), though this had not resulted in any deaths (12:4).
The purpose of the letter is to confirm the superiority of Christ to Judaism. The letter is immersed in the OT and the covenant God made with Israel. The term "covenant" appears 17 times in Hebrews (a total of 33 times in the entire NT). The author argues that Jesus is the mediator of a better covenant (8:6); a new covenant (9:15; 12:24); an eternal covenant (13:20); and a covenant effected by His blood/death (10:19; 12:24; 13:20). This is the covenant promised in Jeremiah 31:31-33 (see Heb 8:8-13; 10:16-18).
Questions to ponder/discuss:
Meditate on Heb 1:1-3 today. As you do reflect on what the passage says about Christ. What does it say about Christ with respect to the revelation of the prophets (1-2)? What does it say about Christ with respect to God (3)?
Then ask, how does this affect your understanding of Christ and your commitment to Him?
Friday: Read Hebrews 1:4-14
As noted in yesterday's study, the book of Hebrews is an extended argument on the superiority of Christ.
The author begins by comparing Christ to the angels (4-14). To understand this passage well, we must recognize that Judaism, and the OT for that matter, had a very high view of angels (or perhaps we might say that we have too low a view of angels).
The author argues that Jesus has become "better than the angels" (4). In defense of this claim, the author notes that Jesus has "inherited a more excellent name than they" (4). That name is "Son" (5). In fact, the author notes, God never referred to the angels as "sons" (5). But He has with Jesus (5)!
In addition, the Father acknowledges concerning Jesus, that "Your throne, O God, is forever and ever" (8; Ps 45:6). This may well be one of the most emphatic affirmations of Jesus' divine nature. Even the Father calls Jesus "God."
Also, note that Jesus not only has inherited the throne but that His throne is "forever and ever" (8).
Finally, the author notes that to Jesus, and not the angels, God has also said, "Sit at My right hand" (13: Ps 110:1). This is a citation of Psalm 110. This Psalm, in fact, is the most commonly cited OT passage in application to Jesus in the NT (e.g., see Mark 12:36).
Questions to ponder/discuss:
It is critical that we have a high Christology (view of Jesus). This is one of the great values of the Nicene and the Apostles' Creeds. Review the creeds (available online) and discuss all that they say about Christ. What do you think is the importance of the creeds and their affirmations of who Jesus is?