This Beltane is an especially juicy time for some big bang-up workings. The actual astrological cross-quarter day is May 3rd, which also happens to be the next Full Moon!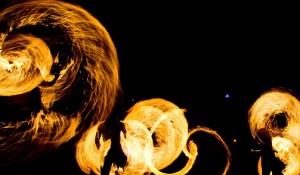 We can harness the energies of this chaotic and abundant time of year, enhanced by the sweet juju of our Sister Luna, to invigorate our experience of our flesh and open us to new ways of feeling. We can swim for a bit in the current of desire that flows through all things, that binds our molecules together, that holds us to the breast of our Mother the Earth.
Whatever our choice about where and how we place ourselves in relationship with others, the energy of wanting lives in us. However our 'sex' energy moves, the fire of creativity has a home in our hearts. We can choose to feed that flame and open to new and wondrous manifestations of the amazing art project that is our lives.
Here's a really simple spell for healthy sex (whatever that means to you). It will take a few minutes of your day every day for the entire cycle of the Moon, full to full.
What you need:

Patchouli or Rose essential oil
4 red candles (6″ is probably the smallest you'd want to use)

How you do:

Write around the 1st candle: your name, alternating with the words "Healthy SEX" 3x, like so:

Jenya T. Beachy
Healthy SEX
Jenya T. Beachy
Healthy SEX
Jenya T. Beachy
Healthy SEX

Dress the candle with the oil, from foot to head (base to wick) chanting these words:

May I be blessed with Healthy SEX
May my desires flow freely
May I be immersed in the power and bliss
Of my Lady's infinite ecstasy

(You could also say, "my Lord's" or "my Love's" or whatever you like)

Mark the candle into 7 sections, by pressing straight pins into the wax at equal intervals.

Light the candle and let it burn until a pin falls out. Pinch (don't blow) out the flame.

Do this for 7 days and on the last day, let the candle burn out completely.

Start a new candle.

Repeat until the next Full Moon.

At each burning, notice how you feel. Observe any changes without judgment. Let it be what it is.

When you are finished, gather all wax and bury at the foot of a friendly tree.
Blessed be our magick!