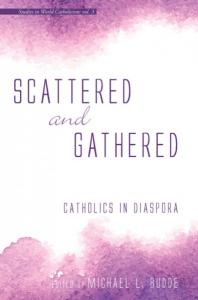 The good folk at Wipf & Stock have just published the third volume in their "Studies in World Catholicism" series, which draw on papers presented in "World Catholicism Week", which is organised by the Center for World Catholicism and Intercultural Theology at Depaul University in Chicago.
Prof. Michael Budde of the Department of Catholic Studies at Depaul University has edited a volume entitled Scattered and Gathered: Catholics in Diaspora which as the back cover describes, looks at the Catholic faith in the context of "human movements (voluntary and coerced), hybrid identities and wide-ranging cultural interactions". The chapters within the volume look at the theological, missiological and sociological aspects of living as a dispersed people that nonetheless gathers as a worshipping Church.
I am proud to say that I spent the 2013-14 academic year as a Visiting Professor of Catholic Studies and Visiting Research Fellow at the Center for World Catholicism, under the directorship of Prof. William Cavanaugh. I was very privileged to have both he and Prof. Budde as my bosses.
I am also privileged to be included in this volume with my piece "The Love of Many Lands: Theology, Multiplicity and Migrant Identity". Very self-consciously, the chapter looked at the issue of multiple loyalties displayed by many migrants in light of the patristic theme of multiplicity as the fruit of sin. It particularly focused on the Augustinian theme of loving a multitude of things, the things here of course being countries. After laying out the problem in light of social theory, the chapter concludes with a consideration of migrant identity in light of St Bonaventure's trinitarian theology.
The book is available for purchase by clicking here and here if you live in Australia. A video of the paper that gave rise to the book chapter can be seen in full here.