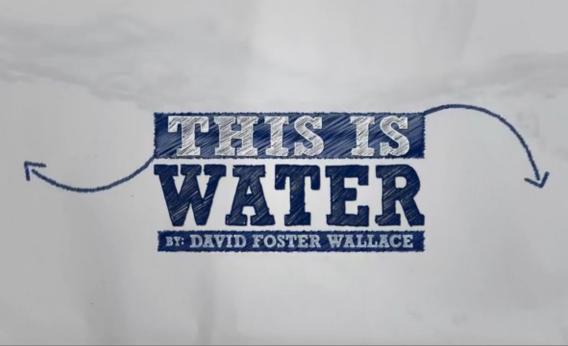 As a college professor, I have endured sooooo many graduation speeches.    It is a tough assignment, speaking to graduates who simply want to march across the stage.   The clock is ticking against graduation speakers before they even begin.   How to capture the attention of grads who veer between naivete and cynicism?   Steve Jobs delivered an inspiring salvo at Stanford. Speakers must resist the temptation to put forth empty platitudes.   The grads may respond to cynical humor that matches their own state of mind.  Conan O'Brien brought the funny to Dartmouth in 2011.   But he also recognized jokes rarely stay with us after the ceremony ends.   We crave something substantial even amidst our desire to move the tassel.   The simple shorthand of allegedly profound things is a way to hedge a bet, to serve up warm, fuzzy bromides that grads and their parents can both acquiesce towards.  It makes the rite of passage glide by painlessly.   A milque toast speech makes the requisite post graduation-lunch-with-family so much easier.
That is why David Foster Wallace's graduation speech to the Kenyon University Class of 2005 is so bracing.   He cuts through our efforts to reassure students that everything will work out.   Wallace unmasks the false promise that a college education will protect us from mundane jobs or menial settings.  "This is Water" is a wake up call of the highest order, a short, bittersweet rant against self-importance.    At a time when every college graduation wants a self-satisfying pat on the back, Wallace delivers a shot across the bow.    It is an invitation to compassion and empathy in a world that will gladly grind us into unfeeling automatons.
Wallace had a remarkable ability to cut through our clutter.   Unfortunately, his piercing insights were also accompanied by profound depression.   DFW was the sharpest literary voice of his generation.    But he couldn't go the distance, cutting his remarkably productive life short via suicide.     The influence of his satirical novels like
Infinite Jest
was immense in select circles.   I had the privilege of hearing him read his hilarious and biting essays in person.  I miss his comedic voice and his earthy spirituality.   While DFW captured the pop cultural zeitgeist in his work, he never crossed over into broad, word-of-mouth phenomenon–until now.
Young filmmakers in Los Angeles, calling themselves The Glossary, have honored Wallace's words and legacy by turning his speech for Kenyon into a short film.   The smart, accessible video has gone viral, timed perfectly to the graduation season.    The truths contained therein apply to all of us who are navigating life after graduation.   Every time we are faced with inanity, Wallace has given us an alternative.   He calls that the power of education.   I agree; but as the video proves, it was also the glory of DFW.   Enjoy.
http://www.youtube.com/watch?v=gGLavCC9HSE