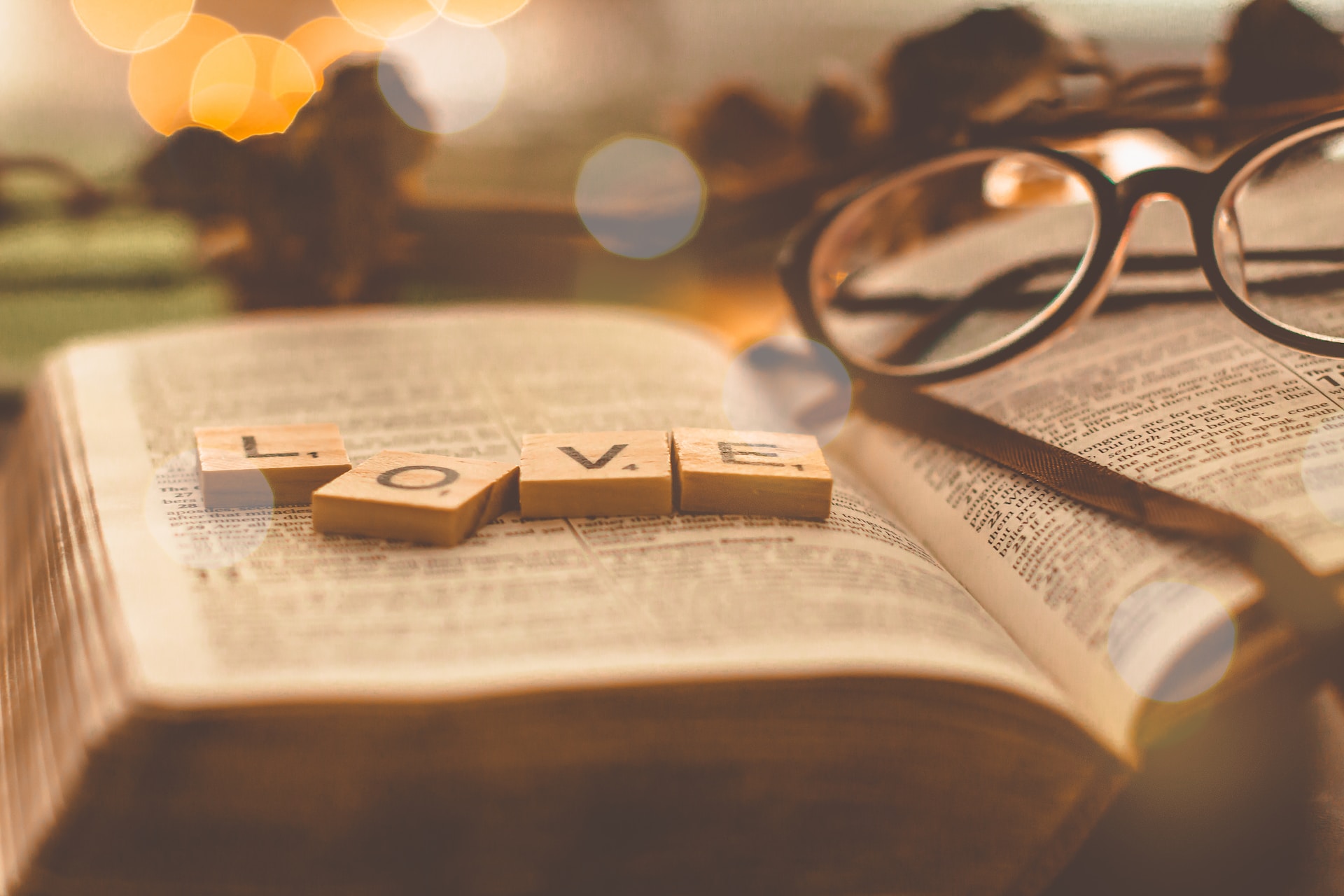 Love is a universal concept that transcends time, culture, and religion. It is a powerful force that has the ability to bring people together and heal wounds. It can also inspire acts of
kindness
and compassion. For Christians, the concept of love is especially important, as it is deeply rooted in the teachings of the Bible. The Bible is full of verses that explore the different dimensions of love. These Bible verses about love shed light on its true meaning and significance. In this article, we will delve into some of the most popular ones to uncover the profound wisdom and guidance they offer.
The Significance of Love
Love is at the very core of every Christian's walk through life. In fact, the two greatest commandments, according to Jesus, both have to do with love.
"Teacher, which is the greatest commandment in the Law?"

Jesus replied: "'Love the Lord your God with all your heart and with all your soul and with all your mind.' This is the first and greatest commandment. And the second is like it: 'Love your neighbor as yourself.' All the Law and the Prophets hang on these two commandments." (Matthew 22:36-40, NIV)
These commandments serve as guiding principles for all Christians, reminding us of our need to show love to God and others. Love is not an emotion or feeling. Love is an action. For Christians, it is the most important action that should fuel everything else we do. Through love, we can reflect the nature of God to others, thereby successfully living out our faith.
Understanding the Different Types of Love Mentioned in the Bible
The Bible presents us with descriptions of various types of love, each with its own unique characteristics and significance. The Greek language, in particular, offers four distinct words to describe different forms of love.
agape – unconditional, sacrificial love. In the Bible, this word is used to describe the love of God for a person, or the love of a person for God. This love seeks the well-being of others above oneself, as Paul talks about in Philippians 2:3.
philia – affectionate regard or friendship, especially among equals. This type of love is characterized by loyalty, trust, and mutual affection. William Penn had this type of love in mind when he founded Philadelphia, Pennsylvania, and called it "the city of brotherly love."
storge – love and affection, especially that of children for their parents. This is obedient, humble love. While the word storge does not actually appear in biblical text, the idea is certainly there. Jesus tells His disciples in John 14:15 (GWT): "If you love me, you will obey my commandments."
eros – love, especially as the expression of sexual passion. This is the type of love most of us think about when we think of "falling in love." As is the case with storge, the word eros does not actually appear in the Bible. It is implied, however, in Paul's first letter to the Corinthians, as well as throughout the Song of Solomon.
Thus, we see that the Bible talks about love as sacrifice, love as trust and affection, love as obedience, and love as passion.
Bible Verses about God's Love for Humanity
One of the most profound aspects of love in the Bible is the depiction of God's agape love for humanity. Numerous verses in the Bible highlight the depth and magnitude of God's love. For instance, John 3:16 (NIV) states:
For God so loved the world that he gave his one and only Son, that whoever believes in him shall not perish but have eternal life.
This verse encapsulates the essence of God's love, emphasizing its sacrificial nature and the incredible gift of salvation it offers.
Here are some other verses highlighting God's sacrificial,
loyal love
for us:
Know therefore that the 

Lord

your God is God, the faithful God who keeps covenant and steadfast love with those who love him and keep his commandments, to a thousand generations … (Deuteronomy 7:9, ESV)
But you, O Lord, are a God merciful and gracious, slow to anger and abounding in steadfast love and faithfulness. (Psalm 86:15, ESV)
"For the mountains may depart and the hills be removed, but my steadfast love shall not depart from you, and my covenant of peace shall not be removed," says the

Lord

, who has compassion on you. (Isaiah 54:10, ESV)
The 

Lord

appeared to him from far away. I have loved you with an everlasting love; therefore I have continued my faithfulness to you. (Jeremiah 31:3, ESV)
The 

Lord

your God is in your midst, a mighty one who will save; he will rejoice over you with gladness; he will quiet you by his love; he will exult over you with loud singing. (Zephaniah 3:17, ESV)
A new commandment I give to you, that you love one another: just as I have loved you, you also are to love one another. (John 13:34, ESV)
But God shows his love for us in that while we were still sinners, Christ died for us. (Romans 5:8, ESV)
No, in all these things we are more than conquerors through him who loved us. For I am sure that neither death nor life, nor angels nor rulers, nor things present nor things to come, nor powers, nor height nor depth, nor anything else in all creation, will be able to separate us from the love of God in Christ Jesus our Lord. (Romans 8:37-39, ESV)
But God, being rich in mercy, because of the great love with which he loved us, even when we were dead in our trespasses, made us alive together with Christ—by grace you have been saved … (Ephesians 2:4-5, ESV)
So we have come to know and to believe the love that God has for us. God is love, and whoever abides in love abides in God, and God abides in him. (1 John 4:16, ESV)
Bible Verses about Love between Spouses and Partners
Marriage is a sacred Christian institution, and the Bible offers guidance on how love should be expressed within the context of this relationship. Ephesians 5:25 (ESV) states:
Husbands, love your wives, as Christ loved the church and gave Himself up for her.
This verse emphasizes the sacrificial love husbands are called to have for their wives. It mirrors the love Christ demonstrated for the church.
Similarly, 1 Corinthians 13:4-8 (ESV), a passage often read during wedding ceremonies, provides a beautiful description of love. It highlights the patience, kindness, and selflessness inherent in true love.
Love is patient and kind; love does not envy or boast; it is not arrogant or rude. It does not insist on its own way; it is not irritable or resentful; it does not rejoice at wrongdoing, but rejoices with the truth. Love bears all things, believes all things, hopes all things, endures all things. Love never ends. As for prophecies, they will pass away; as for tongues, they will cease; as for knowledge, it will pass away.
Agape love is a crucial component of every good marriage. But marriage is unique among other human relationships, in that marital love encompasses each type of love mentioned above.
Here are some verses that highlight the four kinds of love as expressed in marriage:
Do not deprive one another, except perhaps by agreement for a limited time, that you may devote yourselves to prayer; but then come together again, so that Satan may not tempt you because of your lack of self-control. (1 Corinthians 7:5, ESV) – This verse highlights the importance of eros love in marriage.
Likewise, wives, be subject to your own husbands, so that even if some do not obey the word, they may be won without a word by the conduct of their wives. (1 Peter 3:1, ESV) – This verse points to the storge love and respect wives are to show to their husbands.
Then the 

Lord

God said, "It is not good that the man should be alone; I will make him a helper fit for him." (Genesis 2:18, ESV) – This verse highlights the philia nature of marriage. Women are not beneath their husbands in any way. Rather, they are equal companions in service to God.
For the wife does not have authority over her own body, but the husband does. Likewise, the husband does not have authority over his own body, but the wife does. (1 Corinthians 7:4, ESV) – This is another verse that talks about agape love in marriage. Interestingly, it comes right before the mention of eros love listed above.
We do not belong to ourselves. We belong to God, and to each other. Marriage is the ideal relationship in which this agape love plays out. It is no accident, after all, that the Bible labels all believers "the bride of Christ" (see John 3:29, 2 Corinthians 11:2, and Revelation 19:7-9, among other verses demonstrating the beautiful truth that we are to consider ourselves married to Christ).
Bible Verses about Love for Family and Friends
The Bible also emphasizes the importance of love within family relationships and friendships. Proverbs 17:17 (NIV) states:
A friend loves at all times, and a brother is born for a time of adversity.
This verse underscores the loyalty and support that should be present in friendships. Further, 1 John 4:20-21 (NIV) reminds us of the inseparable connection between love for God and love for our brothers and sisters. It states:
Whoever claims to love God yet hates a brother or sister is a liar. For whoever does not love their brother and sister, whom they have seen, cannot love God, whom they have not seen.
Some other verses that highlight this sort of love are:
But Ruth replied, "Don't urge me to leave you or to turn back from you. Where you go I will go, and where you stay I will stay. Your people will be my people and your God my God. Where you die I will die, and there I will be buried. May the LORD deal with me, be it ever so severely, if even death separates you and me." (Ruth 1:16-17, NIV)
As soon as he had finished speaking to Saul, the soul of Jonathan was knit to the soul of David, and Jonathan loved him as his own soul. (1 Samuel 18:1, ESV)
Greater love has no one than this, that someone lay down his life for his friends. (John 15:13, ESV)
…Above all these put on love, which binds everything together in perfect harmony. (Colossians 3:14, ESV)
Above all, keep loving one another earnestly, since love covers a multitude of sins. (1 Peter 4:8, ESV)
Bible Verses about Love for Enemies and Strangers
The Bible challenges us to extend love not only to those who are close to us. We are also called to love strangers, and even our enemies.
Matthew 5:44 (NIV) instructs:
But I tell you, love your enemies and pray for those who persecute you.
This verse encourages Christians to embody the radical love of Christ, even in the face of adversity. It calls for forgiveness, compassion, and a willingness to show love to those who may not deserve it.
Similarly, Hebrews 13:2 reminds us to show hospitality to strangers, as we may unknowingly entertain angels.
Here are some other verses about showing love to strangers and enemies:
And the 

Lord

appeared to [Abraham] by the oaks of Mamre, as he sat at the door of his tent in the heat of the day. 

He lifted up his eyes and looked, and behold, three men were standing in front of him. When he saw them, he ran from the tent door to meet them and bowed himself to the earth

 

and said, "O Lord, if I have found favor in your sight, do not pass by your servant.

Let a little water be brought, and wash your feet, and rest yourselves under the tree,

 

while I bring a morsel of bread, that you may refresh yourselves, and after that you may pass on—since you have come to your servant." So they said, "Do as you have said."

  (Genesis 18:1-5, ESV)
If you see the donkey of one who hates you lying down under its burden, you shall refrain from leaving him with it; you shall rescue it with him. Exodus 23:5, ESV)
If your brother becomes poor and cannot maintain himself with you, you shall support him as though he were a stranger and a sojourner, and he shall live with you. (Leviticus 25:35-36, ESV)
If your enemy is hungry, feed him; if he is thirsty, give him something to drink. In doing this, you will heap burning coals on his head. (Romans 12:20, ESV)
Show hospitality to one another without grumbling. (1 Peter 4:9, ESV)
Applying the Lessons of Love from the Bible to Our Daily Lives
The lessons of love found in the Bible are not meant to remain mere words on a page. Rather, they are to be lived out in our daily lives. As Christians, we are called to be ambassadors of love. Our mission is to reflect the love of God to the world around us.
This means showing kindness, forgiveness, and compassion to others, even when it may be difficult. It means extending love to those who are different from us and seeking to understand and empathize with their experiences. By doing so, we can make a lasting impact in the lives of others and bring glory to God.
Embracing Love as a Foundational Christian Principle
Exploring Bible verses about love reveals the profound wisdom they offer. Love is at the very core of Christianity. It is meant to be the guiding principle for all believers. By understanding the different types of love presented in the Bible and applying the lessons of love they teach us to our daily lives, we can truly embrace love as a foundational faith principle.
As we strive to love one another as Christ loves us, we can transform our communities and make a lasting impact on the world. Let us, therefore, immerse ourselves in the teachings of the Bible and allow love to be the driving force in our lives.
As you reflect on these Bible verses about love, may you be inspired to live out the teachings of love in your own life. Let love shape your thoughts, words, and actions. Embrace the transformative power of love, and allow it to make a difference in your relationships, your community, and the world.