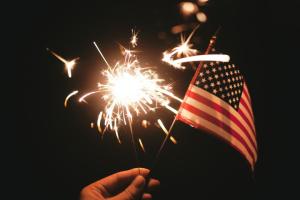 Independence Day, celebrated every Fourth of July, is an important holiday in the United States. On this day, the nation celebrates the freedom it declared from Great Britain in 1776. We recognize this day as the birth of a new nation. Our nation.
Christians can find deep significance in this day, as it reminds us of the freedom we have in Christ. Just as our country fought for independence from tyranny, Jesus Christ fought for our freedom from sin and death. Independence Day is an opportunity for us to reflect on the blessing of liberty and honor our nation's Christian heritage.
Understanding Our Christian Heritage
To truly appreciate the significance of Independence Day for Christians, it is important to understand our Christian heritage. The United States was founded on principles rooted in the Christian faith. The founding fathers, many of whom were thought to be devout Christians, sought to establish a nation that would guarantee religious freedom and uphold the values of righteousness, justice, and equality. Our Christian heritage is deeply intertwined with the history of our nation, and Independence Day provides us with an opportunity to reflect on and appreciate this heritage.
The Role of Faith in the Founding of America
The founding of America was deeply influenced by the faith of its founders. Many of the founding fathers were guided by the teachings of Jesus, if not by any personal Christian belief. Clearly, they sought God's wisdom in establishing a nation that would uphold the principles of freedom and justice.
The Declaration of Independence itself acknowledges the "laws of nature and of nature's God" and asserts that "all men … are endowed by their Creator with certain unalienable rights." This recognition of God's role in the founding of America reminds us of the importance of faith in the shaping of our nation's history and values.
Celebrating Freedom in Christ
However, as Christians, our ultimate source of freedom is not found in any earthly nation. Rather, it is found in our relationship with Jesus Christ. The Apostle Paul reminds us in Galatians 5:1 (NIV):
It is for freedom that Christ has set us free. Stand firm, then, and do not let yourselves be burdened again by a yoke of slavery.
Our freedom in Christ is not just an abstract concept. Instead, it is a transformative reality that impacts every aspect of our lives. Independence Day is a time to celebrate this freedom and express our gratitude to God for the liberty we have in Him.
Reflecting on the Principles of Freedom and Liberty
Independence Day provides us with an opportunity to reflect on the principles of freedom and liberty our nation was founded upon. These principles, deeply rooted in the Christian faith, have shaped the identity of our nation and continue to guide us today.
As Christians, we can draw inspiration from the teachings of Jesus found in John 8:31-36 (NIV):
To the Jews who had believed him, Jesus said, "If you hold to My teaching, you are really My disciples. Then you will know the truth, and the truth will set you free."

They answered him, "We are Abraham's descendants and have never been slaves of anyone. How can you say that we shall be set free?"

Jesus replied, "Very truly I tell you, everyone who sins is a slave to sin. Now a slave has no permanent place in the family, but a son belongs to it forever. So, if the Son sets you free, you will be free indeed."
The truth of God's Word and the principles of freedom and liberty go hand in hand. Independence Day allows us an opportunity to reflect on these timeless truths.
More Bible Verses that Highlight Freedom and Liberty
The Bible is filled with verses that highlight the concepts of freedom and liberty. These verses can serve as a source of inspiration and reflection on Independence Day.
Some notable passages include:
Meditating on these verses and others like them can deepen our appreciation for the freedom we have in Christ and remind us of the importance of honoring our Christian heritage on Independence Day.
How Christians Can Honor Independence Day
As Christians, there are several ways we can honor Independence Day and celebrate our Christian heritage. First, we can take time to pray for our nation and its leaders, seeking God's guidance and wisdom for those in authority over us. We can also engage in acts of service and love by reaching out and demonstrating the love of Christ to others in our communities.
Additionally, we can participate in patriotic events and celebrations. As we do so, it is important for us to remember the sacrifices made by those who have fought for our freedom over the years.
By actively engaging in these activities, we honor our Christian roots and demonstrate our gratitude for the blessings we have been given.
Incorporating Faith into Independence Day Celebrations
When celebrating Independence Day, Christians can easily incorporate faith into the festivities. Begin the day with prayer, thanking God for the freedom we enjoy and praying for the continued blessing of liberty. Read and meditate on Scripture passages that highlight freedom and liberty.
In addition to the ones listed above, consider Psalm 119:45 (NIV). It states:
"I will walk about in freedom, for I have sought out Your precepts."
Share meaningful conversations with family and friends, discussing the significance of Independence Day from a Christian perspective. By intentionally including faith into our celebrations, we deepen our understanding of Independence Day. We uncover the true meaning of what it means to be free.
Connecting Our Christian Heritage with Patriotism
As Christians, we have the unique opportunity to connect our faith heritage with patriotism. Our faith calls us to be good citizens and to contribute positively to society around us. By actively participating in the democratic process, respecting the rule of law, and advocating for justice and righteousness, we demonstrate our love for God and our love for our country.
As we celebrate Independence Day, let us remember that our faith and patriotism are not mutually exclusive. Instead, they can beautifully intertwine to create a society that reflects God's love and grace.
Embracing Our Christian Roots on Independence Day
Independence Day is not just a time for barbecues, fireworks, and parades. It is a day to reflect on and be grateful for the freedom we enjoy as both Americans and Christians. As we celebrate this important day, let us embrace our Christian roots and honor the sacrifices made by those who fought for our freedom. May we never take our liberty for granted. Instead, let us seek to live lives that reflect the principles of justice, righteousness, and love our nation was founded upon. By doing so, we can truly honor our Christian heritage and celebrate Independence Day in a meaningful and impactful way.
---
Take time to reflect on the significance of this day and how it connects with your faith. Engage in acts of service and love, and actively participate in patriotic events. Let us embrace our Christian roots and demonstrate our gratitude for the blessing of liberty.