My mother usually waits until the epiphany before she starts un-decorating from Christmas. With the way my parents go all out in their decorating, this is a big job – carefully removing 50-year old ornaments from the tree, packing up four decades of Christmas books, wrapping each Christmas dish and glass…all before my brother carries boxes and tubs up the rickety attic stairs to be stored for another year. My family never looked forward to putting all these treasures away. In fact, my dad calls it "killing Christmas" and jokes with my mother about this from the moment the first candy cane is taken off the shedding tree.
When I was a child, I would notice my mother lying on the couch, with a distant look in her eyes as she gazed at the lit Christmas tree days after December 25th had come and gone. The brightly colored bulbs provided the only light in the room, revealing her face that reflected a combination of wistfulness and sadness. Perhaps a bit melancholy over Christmases gone by, including the one that was quickly coming to an end. She was always the most disappointed to see it go. So, when my dad tells her she's killing Christmas, he's kidding. And we laugh. But, in a way, we're serious.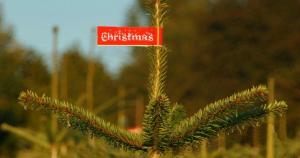 For many people, it can be hard to move on from Christmas. And this isn't about whether or not you toss your fire hazard tree to the curb at 12:01 AM on December 26th or whether you wait the full 12 days of Christmas (or beyond) before taking down all reminders of the season. No – this is about what is taking place in your heart. For some, the ball dropping on New Years Eve is a reminder that another year has come and gone. And the look back is a reminder of heartache that it brought. Perhaps the look forward brings heartache too. Or it could be that you are one of many who just don't like to see "the most wonderful time of the year" come to an end. You miss the festive decorations, the TV specials, or all the yummy food (but I guarantee your scale won't miss them!) You enjoy dressing up in your Christmas garb. You love all the parties that December brings, and stare sadly at the blank January calendar. You don't look forward to the cold days ahead, and are ready for warm weather before Santa makes it back to the North Pole. For any of these reasons or a reason of your own, you just don't like Christmas to come to a close.
If this is you – then the "killing" of Christmas may be particularly difficult. And not in the (mostly) joking kind of way I was talking about earlier. But the change of season doesn't have to be so tough. I get it – I have been that person that hated to see the festivities end and dreaded the long, cold days between Christmas and Spring. Yet, when I take the time to reflect on the true meaning of the season, it reminds me of two important facts that bring me comfort:
First, we can celebrate the birth of Christ every day. The hope, joy, and light that the season brings can stay with us day in and day out throughout the entire year because it is Jesus Himself who provides them for us. How this makes us feel and the actions it results in can linger long after December. You can still give. You can still volunteer. You can still have family and friends over for fellowship. You can be kind and charitable, regardless of the month – all the while pointing people to the reason for your hope: Jesus.
Second, the birth of Jesus is not the most important day in history – the day of his resurrection is! And Easter Sunday is always coming. In fact, it's just a few months away. The retail industry often spends well beyond that amount of time prepping for Christmas. We can invest the same time and energy into preparing for the most important holiday of the year. I'm not talking about finding items for Easter baskets or dying eggs (they'll long be rotten if we start now). Rather, much like the familiar Christmas carol that reminds every heart to prepare Him room at Christmas, we can prepare our hearts for Him at Easter.
Perhaps the end of Christmas doesn't have to be so bad. Maybe instead of killing Christmas, we're actually keeping it. But rather than relying on red and green wrapped gifts and manger scenes all around to remind us, we're keeping Christmas in our hearts. We're keeping Christ in our hearts. Celebrating the birth of Jesus daily and daily waiting expectedly for resurrection day. Maybe this year, un-decorating won't be so bad after all.
NOTE: This post was previously published on Patheos in 2018.