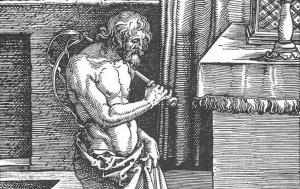 In this instalment, I'll be looking at the fourth point of Calvinism – Irresistible Grace. Calvin believed first of all that human beings are corrupted by sin in every part, lacking any innate goodness, and therefore unable to respond to God at all. Therefore, he concluded that God alone chooses who is to be saved, and who is destined for eternal damnation in Hell, and that you and I have no part or choice in our response. In addition, as explored in part three of the series, he believed that the sacrifice of Jesus was only for those who God has chosen to receive it, rather than for the whole world. Therefore, for Calvin, grace must be irresistible, or we might take some credit for its reception.
If salvation itself is irresistible, then the outworking of salvation in our lives (sanctification) must also be beyond our ability to resist. This was certainly Calvin's belief – that the saints will persevere – but his understanding of spiritual growth was limited to notions of increasing holiness, rather than, for example, increased use of spiritual gifts, which are also manifestations of grace, according to the Bible.
Calvinism divides grace into two categories – Saving Grace and Common Grace. Saving Grace includes anything pertaining to salvation, from the moment of conversion to continued discipleship, and Common Grace defines the many blessings all people experience, regardless of belief, such as sunshine, rain, and the air we breathe. Here we run into a problem. The Bible does not differentiate between various types of grace. Grace is grace, end of story. By dividing grace this way, Calvinism enables the adherent to ignore statements about the goodness of God being over all his works, dismissing them as descriptors of Common Grace. In turn this preserves the idea of exclusive, selective grace, when it comes to salvation. Essentially, this false division exists to permit continuance in a deception.
As discussed in a previous post, grace is the power and ability of God, through which our lives are transformed. This starts with the forgiveness of sin, but extends to all matters of personal growth in the life of the believer. Grace can be expressed in miraculous healing, the impartation of wisdom, the dispensing of spiritual gifts, financial provision, overcoming harmful behaviours and habits (sin), and a myriad of other manifestations of divine power, made available to us through the cross. Calvin had little understanding of this at all. To be clear, Common Grace is a misnomer, renaming the goodness of God in creation. Grace is always and only the power and ability of God, focussed entirely through the cross; it has nothing to do with food, drink, sunshine, rain and oxygen. It doesn't cover the ability to fall in love, or anything that is just a reflection of the divine in creation. Grace is never common; it is always to be sought after and of the highest value.
As previously stated, what Calvin refers to as Saving Grace is actually just part of the wide provision of grace through Christ. Grace is always a transaction (our inability for his ability, our righteousness for his righteousness, our weakness for his strength, our sorrow for his joy, our mortality for his immortality etc.). Grace is always powerful and active, and it always calls for a response from us. Calvin's grace is static, and any co-operation on our part is involuntary.
In his second epistle, Peter urges us to grow in grace. 2 Peter 3: 18,
'But grow in the grace and knowledge of our Lord and Savior Jesus Christ.'
If grace is something we can grow in, and we are urged to do our part in co-operating with that growth, then clearly we have a part to play. As already established, grace is the active, transforming power of God, and as such we are called to embrace it step by step, in increasing measure, as we overcome. According to James, we get more grace as we yield to God. In other words, our response results in either an increase or loss of grace, which doesn't exactly sound irresistible, does it? James 4:6,
'But He gives more grace. Therefore He says: 
"God resists the proud,
But gives grace to the humble."'
Paul outlines the dynamics of growing in grace, in 2 Corinthians 8: 7, where we see that grace is something we can abound in, and are indeed urged to do so. It is a matter of discipleship to embrace more grace, as we walk with God, grow, and overcome.
'But as you abound in everything—in faith, in speech, in knowledge, in all diligence, and in your love for us—see that you abound in this grace also.'
The context of this urge to abound is financial giving and blessing. Paul continues in chapter 9, verse 8:
'And God is able to make all grace abound toward you, that you, always having all sufficiency in all things, may have an abundance for every good work.'
Paul is urging the Corinthians to put together a generous gift, for use in the spreading of the Gospel, explaining to them that if they give with abundant, cheerful hearts, God will increase their ability to give to every good work. This financial blessing is referred to as grace, and its increase, an increase of grace.
If we look past the specific context of financial giving, the principle can be applied more broadly, across any manifestation of grace. For example, spiritual gifts such as tongues, prophecy and the discerning of spirits are manifestations of grace. The word gift, as used by Paul in 1 Corinthians 12-14, is actually the word grace – 'charis' – and as such, spiritual gifts can be more accurately understood as 'gracelets'; divine power and ability, dispensed by the Holy Spirit. Using such a gift develops our sensitivity to other gracelets, which is why you'll rarely come across a person who only uses a single gift. When I first spoke in tongues, it awoke in me a supernatural dynamic that soon led to prophecy, discerning of spirits, the laying on of hands for healing, and so on. As we open the door to grace, that grace begets more of the same, allowing the power and ability of God to transform our lives.
To be clear, any increase of grace is not a new download from Heaven, but a release of that which already lies in our renewed spirits, but which we are yet to yield to. In yielding to grace, the power and ability of God flows more abundantly. It is not that grace itself increases, or the provision of grace through the cross expands; we simply access more of it, by faith. Romans 5:1-2,
'Therefore, having been justified by faith, we have peace with God through our Lord Jesus Christ, through whom also we have access by faith into this grace in which we stand, and rejoice in hope of the glory of God.'
Positionally, we already stand in grace, but if we want to see its outworking in our lives, we must access it by faith. Grace does not stop at forgiveness for sin; it begins there, but continues into an exciting life of transformation and growth.
Paul explains the dynamics of grace once more, in 2 Cor 12:9-10, when discussing a personal weakness he struggled to overcome, referred to as a 'thorn in the flesh'. The lesson in Paul's thorn, whatever it might have been, is that we are called to rely on God's ability (grace), rather than our own.
"My grace is sufficient for you, for My strength is made perfect in weakness." Therefore most gladly I will rather boast in my infirmities, that the power of Christ may rest upon me. Therefore I take pleasure in infirmities, in reproaches, in needs, in persecutions, in distresses, for Christ's sake. For when I am weak, then I am strong.
Paul was an incredibly capable and determined man. As a pharisee, he had achieved what he described as perfection, in terms of keeping the Hebrew Law, and considered himself righteous for it until he met Christ on the Damascus Road. Self-reliance would always have been a temptation for him; a ready trap, that used to be his entire identity, but because of this weakness he couldn't overcome (his thorn), he was reminded to be reliant on the power and ability of God, instead of the power and ability of Paul. For Paul, as for us, grace flows abundantly when we get out of the way.
The writer of Hebrews knew that grace was the power of God to overcome, in times of need, and that we can access more of it when we approach the Lord in faith. Hebrews 4:16,
'Let us therefore come boldly to the throne of grace, that we may obtain mercy and find grace to help in time of need.'
Calvinism fails to grasp any of the above. It doesn't understand that grace is something we are called to grow and abound in. It misses entirely that grace is the power and ability of God, from the forgiveness of sin through to personal discipleship, including using spiritual gifts, performing miracles, praying in power, overcoming personal struggles, mastering the tongue, receiving divine provision and walking in love. In the end, it is grace which will raise us from the dead; it is grace that will liberate our flesh from the grave and clothe mortality with immortality.
In biblical terms, there is no differentiation between any manifestation of grace. The power and ability of God is at work in us in every part of our lives, and the Bible is clear that we are to respond to it with determination and courage, embracing the transforming power of God and journeying through life as a disciple, forever growing and learning. Philippians 2:12-13,
'Therefore, my beloved, as you have always obeyed, not as in my presence only, but now much more in my absence, work out your own salvation with fear and trembling; for it is God who works in you both to will and to do for His good pleasure.'
As we yield to God's power and love, he is free to work in us, to change us, and to flow through us to the world. But all of this takes our co-operation. We can say yes to grace or we can say no to it. It is backwards to acknowledge the Bible's clear teaching, that we can quench, resist and grieve the Spirit of God, but insist that grace, which flows from the Spirit, is irresistible. In yielding to Him, we yield to grace, and are changed.