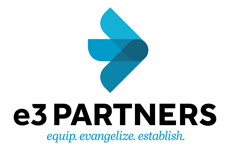 E3 Expedition Podcast 11: God's Miraculous Works in Bodies and Hearts in Myanmar and India
[ 16:32 ]
Play Now
|
Play in Popup
|
Download
We start out this week with Mary's story of how she saw God show up in a miraculous way in Myanmar:
Not knowing where we were going on our first day, I was almost in tears, wrapped up in fear, on the first day of our trip. The sights, sounds, and smells of Myanmar's poverty were overwhelming. I found myself crying out to God to help me overcome my fear so that I could just simply get out of the van when we stopped. And by the time the van stopped at our destination, God gave me a spirit of peace and calmness. All I could see was the people – not all the things that had scared me before.

The house where we ended up at belonged to a local pastor who had about 15 orphans staying at his home; and the pastor's brother – who lived nearby – had another 25 orphans staying at his house.

The interesting thing about this first day, though, was that we didn't have much of an opportunity to evangelize to the unchurched as much as we simply encouraged a group of fellow Believers there to stand firm in their faith and continue to share God's Word with their neighbors.

Later that day, we began hearing stories about people being healed – paralytics walking, sick being made healthy, etc. I was doubtful, to say the least.

The next day, it donned on me that YES, GOD CAN DO THESE THINGS! I had allowed myself to believe the lies circling around in my head that had caused me to doubt God's power.

By Thursday, I was walking boldly in God's hope – not even letting my own sickness get in the way of me serving God that day. And, I'm so happy that I did, otherwise I wouldn't have been able to witness what God did that day.

We went into one of the area's poorest neighborhoods, where we met a woman who was holding her sick, listless baby in her arms. The baby had a growth on his chest and really didn't move in his mother's arms all day. We all gathered around the pair and prayed for the baby boy and his mother.

The next day, when some of us returned, we were amazed to see this same baby, crawling around, bright-eyed and smiling!

When we asked his mom how he was doing today, she unbuttoned his shirt to reveal that the entire growth was completely gone and he was healthy. I am so thankful that God allowed me to see Him work in such a miraculous way and touch this little baby's life like that!

My doubt was obliterated!
One of the things that many people who travel from the U.S. to far off lands are afraid of is encountering the levels of poverty and terrible living conditions beyond what we see, even in our poorest of neighborhoods. And, each time, we see God granting people who seek Him the grace to see beyond the situation and into the hearts of the people.
Next, we hear from Tom, as he and his wife set off for Northeast India to learn more about how the Lord works to save Hindus of that region:
When we arrived, they had partnered me with the local pastor and best interpreter of the lot! I had foolishly thought that they had established an all-star team, combining the two of us. But, I later found out that they often take the weakest team member and place them with the best interpreter and spiritual leader.

Nevertheless, I knew that God was with us and that's what really mattered.

Now, throughout much of the Hindu world, there exists a "Yeah, Sure, Why Not?" syndrome when it comes to Jesus Christ. It's as if they'd be more than willing to accept Jesus as god – along with all the other gods they have on their shelves.

Therefore, when we shared with them, we had to make it tremendously clear that Jesus is the ONLY way to the ONE TRUE GOD. Therefore, when we saw entire families come to Christ, it was even more amazing, knowing that they deeply considered all that they were giving up in order to follow Jesus.

As we were leaving one house, the family there asked me to pray for their daughter. She had a huge growth on her leg, and Dan Watson's words rang through my head. So, I leaned in and faithfully prayed. We laid hands on her lump, which was about the size of a baseball, and pleaded that God would heal her.

Now, I wish that I could tell you that as we said "Amen", there was a pop and her growth was gone, but that's not the way it went. I learned that the most important part of faith is to not just place things into God's hands but leave them there. So, we prayed and then had to leave that little girl in His hands.

And God does the same with people's hearts, minds, and lives, as He calls people to Him. We can share His Word with them and pray for them, but sometimes they need to be left in God's hands for some time before they actually decide to follow Him.

The trip definitely broadened my understanding of God's power, and the need for my humility as I grow in my knowledge and love for Him. When we see people who seem to have so little, yet still are filled with God's presence – in contrast to my own life when I have so much yet too often forget about God.
We had wanted to go on a trip with E3 Partners for a long time, but had never been able to find the right time to squeeze in the training, the trip, not to mention the finances. Then, seemingly out of nowhere, everything lined up and we jumped on a plane to India – without any training, I must add. Luckily, it's a long flight with a layover in Singapore where we were given a crash course in overseas missions. Dan Watson told me that we may have an opportunity to pray over someone for supernatural healing. Dan told me that when this happens, to lean forward and do it with full faith that God wants to heal that person.
Tom's story reminds me of Psalm 67, which says:
1 May God be gracious to us and bless us
and make his face shine on us—[b]
2 so that your ways may be known on earth,
your salvation among all nations…

7 May God bless us still,
so that all the ends of the earth will fear him.
You see, God has blessed us here in the U.S. – abundantly even – so that people all around the earth with know Him!
For more engaging and encouraging podcasts and videos, visit the E-Squared Media Network at www.e2medianetwork.com