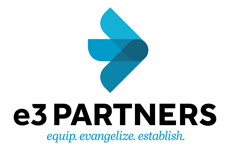 E3 Expedition Podcast 9: God Giving Hearts' Desires in India and Flights to Ethiopia
[ 14:47 ]
Play Now
|
Play in Popup
|
Download
Many times, local pastors accompany teams overseas on their missions trips, but the truth is that often these pastors don't have much experience ministering in other countries in foreign cultures. It's particularly in these experiences where we see these "advisory pastors" discover God's hand in their lives like never before and in unexpected ways. One such trip took pace in Silchar Assam, India with Pastor Norlyn Kent:
This was absolutely the most exciting time in my life. You see, when I was about eight-years-old, my parents were a little confused why I wasn't like other boys and would eagerly race to bed each night. What they didn't know was that I had discovered a crystal radio and I could take the alligator clip, clip it onto the springs under my bed and listen to a Christian radio program that gave missionary reports. Each night, I would run to bed and eagerly listen to the stories of what God was doing around the world. I remember praying, "God, someday could I go someplace overseas and share the Gospel with someone whose language I had never spoken?" I don't know why He took almost 50 years to answer that prayer, but I am so happy that He did.

So, while we were in India, we came to this one house and spoke with a gentleman, his friend, their families and a couple neighbors. Now, while we gave our presentation, there were a bunch of people sitting on a bed in the corner – so many people that it collapsed and sent them all tumbling over each other right in the middle of our Gospel message.

Well, this gave us an opportunity to take 20 minutes or so to push pause on our presentation and just visit with the people there. However, one concern that kept running through my mind is the legality of what we were doing. It's really not allowed to have that many people gathered for a meeting like this in that part of town. But, as we were chit-chatting, I asked the man whose house we were at what he did for a living. He said he was the Chief of Police. Then, as he introduced his friend, I found out that his friend was the City Attorney. Couple that with the fact that Silchar is a city of about 500,000 people, and this is no small coincidence – nor was it that the two of them were actively engaged with what the Bible says and they, as well as over a dozen others, accepted Christ that day. Oh, and we didn't have to worry about any legal issues.

But the story of what happened in that house doesn't end there. You see, 35 years earlier, my interpreter had decided to follow Christ, and had thus been separated from his Hindu family. And, as we were wrapping things up at the end of the day, I saw him talking with the Police Chief. Then, seemingly out of nowhere, he jumped up and began running around the room, dancing and shouting. Then the Chief of Police started doing the same thing. It was crazy! Then, all of a sudden, they started touching each other's feet, and then their legs, and then they'd touch each other's shoulders. They were touching each other all over. Finally, they calmed down enough that my interpreter was able to tell me, "This is my nephew. For 35 years, I have prayed that I would be able to find my family again and share the Gospel with them, and I have found them today!"

This is so remarkable because my interpreter actually lived 100 miles away from where we were that day, and he had no idea that he had any family living in that particular village. Also, we had nine teams that had gone out that day all over the area, and God place us in this particular house, so that his nephew could hear the Gospel.
Psalm 37:4 says "Take delight in the Lord and He will give you the desires of your heart. We see in this story, the power of God on display, giving Pastor Kent the desire of his heart since he was eight-years-old and his interpreter's heart with the opportunity to reunify with his family and see them come to Christ.
Next, we hear from Amber who was en route to Ethiopia, but God had some things planned for her before she even got off the plane:
We were flying from the US to Frankfort on our way to Ethiopia, and I was sitting next to an Indian woman whom I assumed was Hindu. So, I immediately started praying that God would give me an opportunity to share my faith with her. Well, as I was reading a book about Christianity, she asked me if I was a Christian (talk about an answer to prayer!). I asked her about her religion – expecting to hear that she was a Hindu – but she told me that she had come to the Lord about six years earlier.

After 10 years of not being able to have children, she took her situation to God and made a vow that if He granted her a child, she would do all she could to further His kingdom. Since then, she annually went back to her hometown in India to share the Gospel with her friends and family. She usually brings some sort of tool (a tract, visual aid, or something) with her to help with her missionary efforts, but she had run short on time this trip and didn't have one. What's amazing is that before she even started telling me about this part of her story, I had decided to give her my "Evangicube". We then took the next couple hours to go over how to use it to share Jesus' story. We were in tears, excited that God had provided her a tool to use to share the Gospel, and how He brought the two of us together to encourage one another in expanding His kingdom.