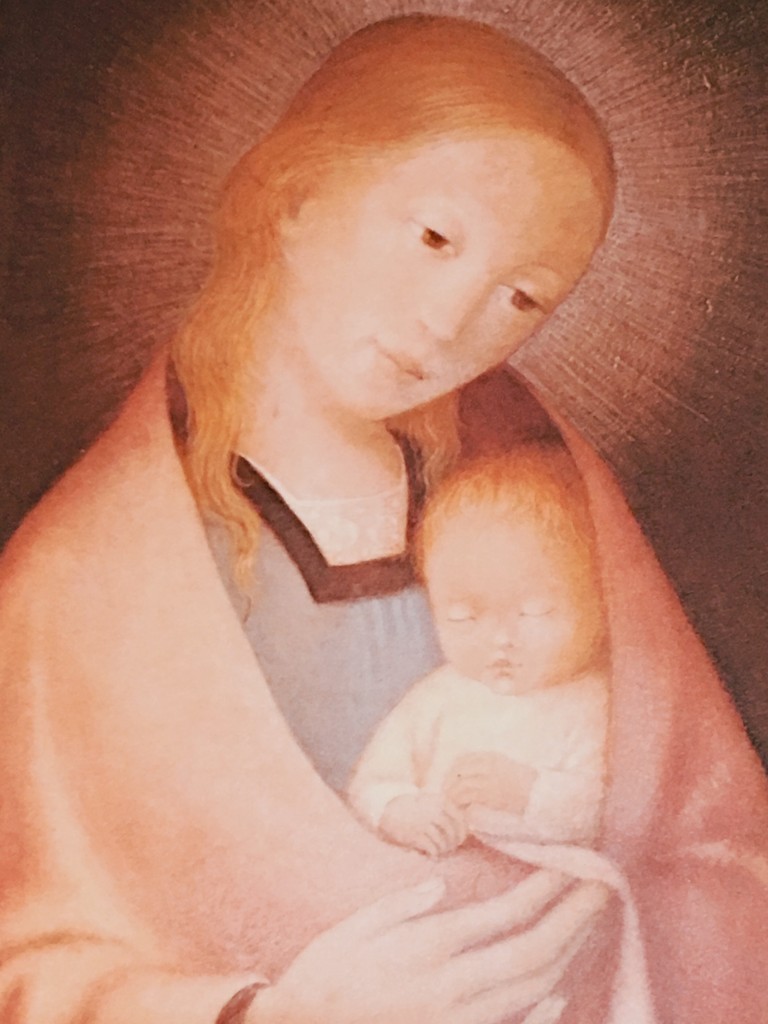 I was reading The Lord by Romano Guardini at one am, as I am wont to do when I've sufficiently freaked myself out by watching Criminal Minds while home alone, and I was struck with the realization of something I had never seen before. So how many times have I read or heard the various Mary moments that happen in the Gospels? Enough.
And a sword will pierce your heart too.
And yet, much like Belle in the best movie ever, I found myself wondering why I didn't see this there before: Mary and Abraham faced a similar crisis of faith. Both were asked to offer their sons, making a sacrifice not only of their children, but of the hopes and promises these children represented. They were called to a vocation of sacrifice that is an image of the love of the Father for us.
See Mary, the most perfect model of our Christian life, never struck me as a model of faith in our crisis moments. Sure, she assented with her fiat, her let it be done unto me according to Thy word.  Sure, Joseph wanted to divorce her quietly. Sure, she and Jesus had some strange interactions at times. And sure, she was there at Calvary. Endurance, patience, hope, trust, love, humility—the Blessed Mother has been the obvious example of these virtues to me, even before I was calling her by that title.
But, I never really thought of her as having "faith," of having
assurance in things hoped for and belief in things not seen
.
And yet, mustn't she have had it?
She believed at the Annunciation in a story which did not have Christmas. That first Christmas morning, she believed in the truth and unfolding of a story which did not yet have 5,000 fed or Lazarus returning from his tomb. And on Good Friday, she believed in her Son before Death had lost its sting.
Blessed are those who have not seen and yet believe.
Mary's path of faith, in many ways, is not so foreign to us. While her story is ultimately her Son's story, she still had to live out that story day by day, without the benefit of a last page to glance at. She didn't know that it ended happily ever after.
When I think about my own struggles in life, and those of my friends, many of our struggles come from that same indeterminacy about how our lives will all work out.
Will I find my purpose? Will I find love? Why can't I understand the person I love? Why am I facing this rejection? What if I do the wrong thing? What if I lose them? Will my child live? How can anything possibly get better? Will I ever be happy?
These questions are not unfamiliar to the Blessed Mother, I am sure.
Yet, in those moments of indeterminacy, trepidation, and the temptation to despair, she does offer us a model of faith. She does what I myself so often find impossible; she asks that it be done according to God's word.
Mary stood at the foot of the Cross. Mary stood at the moment of defeat, at the seeming crisis of faith for the entirety of creation. Mary believed that God was a good Father, and that her slain Son would save us. Not because she had special knowledge, not because she knew how the story ended. Because she didn't. Mary's faith didn't have a last page: Mary had faith when the story most clearly was a tragedy.
Mary is model of faith for us because at the moment her faith seemed most foolish, she believed that what she saw was not the end. She believed in God when He lay dead in her arms.
Mary's faith testifies to one of the most profound truths of the Gospel; before she saw how, she believed the words of Sacred Scripture: love is stronger than death.