"The Lord is my shepherd . . ." I only have to say those first five words, and almost everyone to whom I have given pastoral care could join with me in reciting this most precious Psalm 23. It is the psalm that each of us should know by heart. Allow me to first offer a "tour" through Psalm 23, and then share a story of how this psalm actually shepherded me in my own life.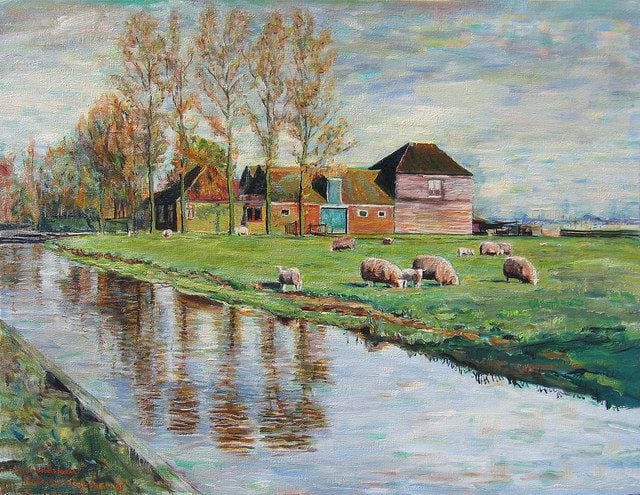 A Tour of Psalm 23
Most of us don't know any sheep herders personally. But when this psalm was written thousands of years ago, herding sheep was a common profession. Sheep, as you may know, are not the brightest animals on the farm. They have to be led where you want them to go. It is up to the shepherd to find suitable pasture for the sheep to graze.
Still Waters
The shepherd also must find water for them. Not just any water – but still water, so that they won't be swept away by currents that are too fast for them. When we think of this image of water, as Christians, we can't help but think of the baptismal waters when we hear these words. In the still waters of our mother's wombs we were created. In the waters of the font we were baptized Children of God. And this water sustains us all our lives.
Protecting the waters of Creation, then, is part of our calling as people of faith. God leads us beside still waters. And God expects us to make sure they are kept clean, free of pollutants, and used with the utmost care.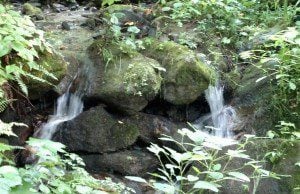 On a spiritual level, this psalm so beautifully expresses our need for God. I don't know about you, but my personality is Type A, so I actually have to be led to places that replenish my spirit. Those places often include green meadows and still waters. By reconnecting with God's Creation, my soul is restored.
The Valley
But Psalm 23 does not shy away from the fact there will be difficult times in life. "Yea, though I walk through the valley of the shadow of death, I will fear no evil. For you are with me, your rod and your staff, they comfort me." What is this rod and staff?
Again, this has to do with the shepherd. A shepherd always carries a long stick to beat away any predators that may attack the sheep. The staff is the crook, a long hook used to reach out and pull back the sheep that are wandering close to danger. The psalmist is saying that just the sight of the rod and the staff are a comfort to him. It says to me, "God's got my back! God's looking out for me."
The Table
Then the imagery of the psalm changes from a shepherd to that of a host welcoming us to a table full of good food. God has lays out a banquet, even with enemies lurking around. That's often the way I think of communion. Here we come to the table to partake of the bread and the wine. A whole world of worry, danger, fear and pain awaits us beyond this table. But for this moment we're invited to the banquet of Jesus Christ to feed on the food of forgiveness, restoration, and rejuvenation.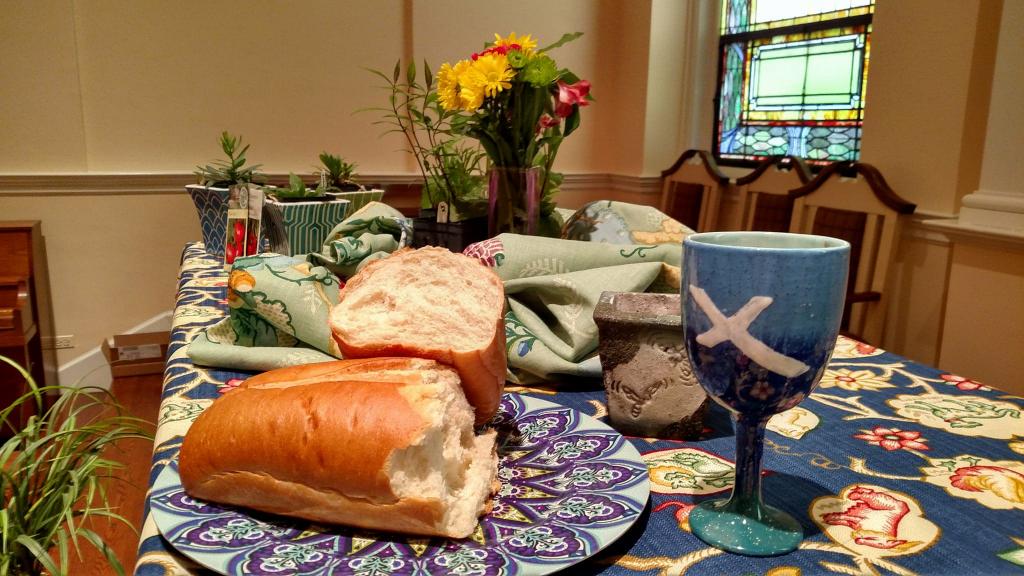 This table reminds us how important it is to ensure that all people have access to nutritious food free of chemicals and industrial waste that harms our bodies. The table is where all of our efforts to care for God's Creation are most visible. Have we made sure that the land on which the grapes and wheat grow is healthy, the water clean, the air pure? Are we addressing issues of food distribution, unnecessary waste, and equitable sharing of what God's Creation has produced?
The Spa
Then the psalmist says that God has anointed his head with oil. I read this one time to a group of teenagers, and they said, "Ew, that's gross. I don't want oil poured on my head." I explained that in the desert of the Middle East, hair and skin gets very dry. So they would pour fragrant oil on themselves to keep the moisture in and smell nice. It's the same as washing your hair with conditioner, or putting aftershave or fragrant lotion on yourself after a bath or shower. Think of it as God putting baby lotion on you – smoothing out the rough spots.
How do we smooth out the rough spots for others, letting them know that God is still caring for them? Oil is a healing balm – are we advocating for people who are in need of healing? Are we reaching out to those who are hurting? Our actions for and on behalf of the sick, the suffering, and the dying help to provide assurance that the sacred oil of God's healing power is still at work today.
The promise of abundance follows.
"My cup runs over. Goodness and mercy will follow me all the days of my life." You might have heard of the phrase: "being pursued by the hounds of hell." Well, this is just the opposite. The psalmist is saying that he is being pursued by goodness and mercy. Even in the dark valley, even in the midst of enemies and danger, God the good shepherd does not stop pursuing us.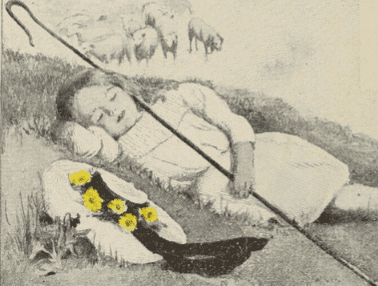 The House of the Lord
Finally we come to our journey's end, our heart's desire, our soul's rest – the house of the Lord. There are different ways of translating this. Traditionally, we say, "I shall dwell." But it can also be read as "returning" or "coming home." In any case, it tells us that when all is said and done, we will be with God. We came from God, God was with us through the journey, and we will return again to God.
How Psalm 23 Once Shepherded Me
I'll tell you why I think it's so important to have this psalm memorized. Many years ago when my daughter was a restless baby who would not sleep through the night, my husband took her up to his office on the third floor of our home so I could get some rest. But after she had fallen asleep, as he was bringing her back down to the crib, his foot slipped on the step, and they both fell down the stairs. She slipped from his arms and her head banged against the wall at the bottom of the steps.
As I held her in my arms sitting in the emergency room, I went numb when the doctor told us that she had a fractured skull. We waited for the ambulance to take us to Children's Hospital. With all my seminary training, all the scripture I had read over the years, all the experience I had with pastoral care, only one phrase would come to my mind:
"The Lord is my shepherd."
I just kept repeating those words silently to myself. I needed something to cling to – something to get me through that dark valley, if that was indeed where we were headed. And at that point we just didn't know what was ahead. Those words became my prayer mantra in the days that followed. God's rod and staff were with us when they put the neck brace on her, when she screamed as they did the CAT-scans and x-rays, and during the two long nights we spent in her hospital room. Psalm 23 shepherded me every step of the way.
Thankfully, it turned out that her fracture was neither life-threatening nor brain-damaging. She was going to be okay. But Psalm 23 and I developed a very close relationship during those days. And I will always be grateful to it for getting me through that very difficult time.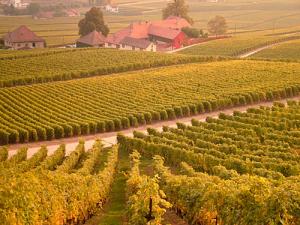 The Value of Memorizing by Heart
The reason I was able to turn to Psalm 23 was because it was ingrained in my brain from the time I was a young child. I was made to memorize it in Sunday School. I heard it at funerals. And I repeated it so many times with parishioners. When I have visited people with Alzheimer's or dementia who have difficulty remembering even their own children or what they had for lunch that day, there are always two scripture passages that they can repeat – The Lord's Prayer, and the 23rd Psalm. Even when the rest of their memory has failed, even when their minds are being whited out by that terrible disease, they still retain those precious Bible passages.
Psalm 23 is an intimate reflection on the grace of God.
It is the psalm of the sacraments – baptism and communion. It is the psalm of life and death – the dark valley and the house of the Lord. This psalm touches on so many important aspects of our lives and faith. So it is the psalm that each of us should know by heart. Just as we say the Lord's Prayer from memory, so should Psalm 23 be right at the forefront of our minds, ready to to shepherd us when we are going through both the joys and sorrows of life.
We need these sacred words to give shape and meaning to our lives. This psalm can frame our experiences within the larger picture of God's loving will for us. Psalm 23, when we learn it by heart, can be the very presence of God shepherding us, restoring us, protecting us, guiding us, and blessing us with goodness and mercy. If you have the opportunity to interact with children or grandchildren, I encourage you to help them learn this psalm, to memorize this psalm – because it will be one of the greatest gifts you can give them for their lives.
Psalm 23
The Lord is my shepherd, I shall not want.
God makes me to lie down in green pastures.
The Shepherd leads me beside still waters. God restores my soul.
God makes me to walk in right paths for his name sake.
Yea, though I walk through the valley of the shadow of death,
I will fear no evil, for you are with me.
Your rod and your staff, they comfort me.
You prepare a table before me in the presence of my enemies.
You anoint my head with oil. My cup runs over.
Surely goodness and mercy shall follow me all the days of my life,
And I will dwell in the house of the Lord forever.
---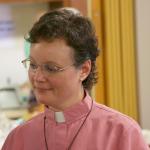 Leah D. Schade is the Assistant Professor of Preaching and Worship at Lexington Theological Seminary (Kentucky) and author of the book Creation-Crisis Preaching: Ecology, Theology, and the Pulpit (Chalice Press, 2015). For ideas to incorporate your faith and your passion for caring for Creation, visit: https://www.creationcrisispreaching.com/.
You can follow Leah on Twitter at @LeahSchade, and on Facebook at https://www.facebook.com/LeahDSchade/.