The 2018 ELCA Youth Gathering concluded July 1 after 30,000 Lutheran youth and their adult leaders came together for five days in Houston, Texas. The triennial Gathering brings together teens of the Evangelical Lutheran Church in America (ELCA) from across the nation. We gather for faith formation, exuberant worship, interactive learning, thoughtful Bible study, meaningful service projects throughout the city, and fun-filled fellowship. In the days prior to the main Gathering, there were also smaller gatherings for multicultural youth (MYLE) and differently-abled youth (tAble).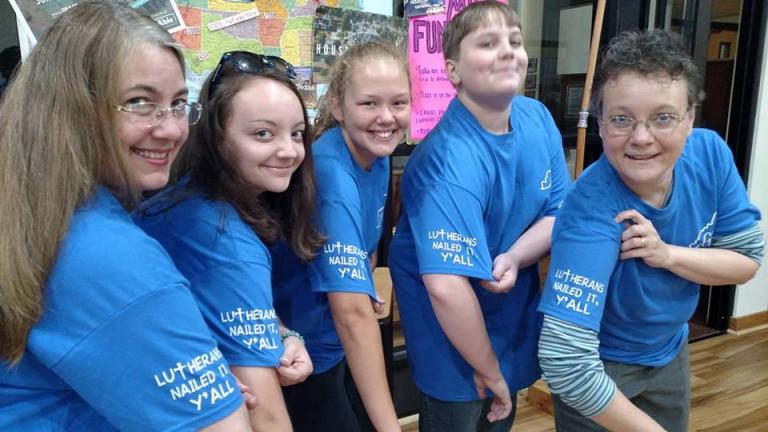 "This is what it means to be Lutheran. I get it now!"
I came to the ELCA Youth Gathering with four youth and one other adult leader from our church, Gethsemane Lutheran in Lexington, Kentucky. Lutheran churches are sparse in Kentucky, so our kids often feel out of place when talking with their friends about their denomination.
"Lutheran? What's that?" their friends ask.
Having been through Confirmation classes, our kids know enough to explain who Martin Luther was (a 16th century German monk who started the Protestant Reformation). They can talk about what our worship services are like, and the ways in which they serve the community through different church projects.
But it was attending the ELCA Youth Gathering that gave them a sense of their identity for the first time.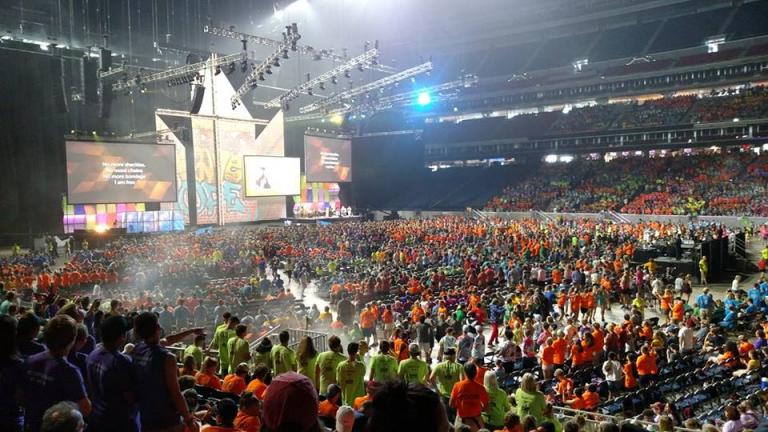 "Now I've seen an entire stadium full of people who are like me, but also very diverse," explained one of our youth. "I learned that we are supposed to accept everyone – all races and nationalities, LGBTQ people, refugees and immigrants, and people who have made mistakes or don't have it all figured out yet. We come together in unity because of our faith. And we do that because of God's grace. This is what it means to be Lutheran. I get it now!"
Tackling the tough topics
The speakers at the Mass Gatherings each evening were the ones who conveyed to the teens this sense of authenticity and belonging. In short but powerful and moving testimonies, the speakers shared their challenges and journeys in faith. It was the first time many of our youth heard people of faith speak openly about taboo topics such as substance abuse, eating disorders, racism, gender identity, rape, and cutting. The honesty and inspiration in these well-crafted monologues moved many in our group to tears of recognition, seeing their own struggles reflected in other teens and adults brave enough to share their stories.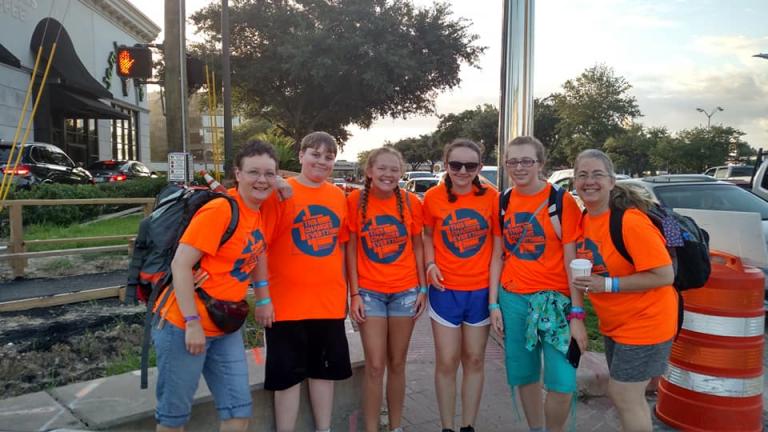 "It was life-changing for me," said one of our youth. "I realized that it's important for me to be more patient and less judgmental. Everyone is going through something, so we need to be kind to each other."
Being connected to the larger church
"I thought it was going to be 'preachy' and that I would be around a bunch of Jesus-freaks," one girl in our group admitted. "But it wasn't like that at all. It was refreshing to discover there are other teens who share my values. And I realized that God has a bigger impact than I thought – hearing all the stories of people who have gone through these struggles. I knew God was there, but I wasn't aware of all the ways in which God has worked in people's lives."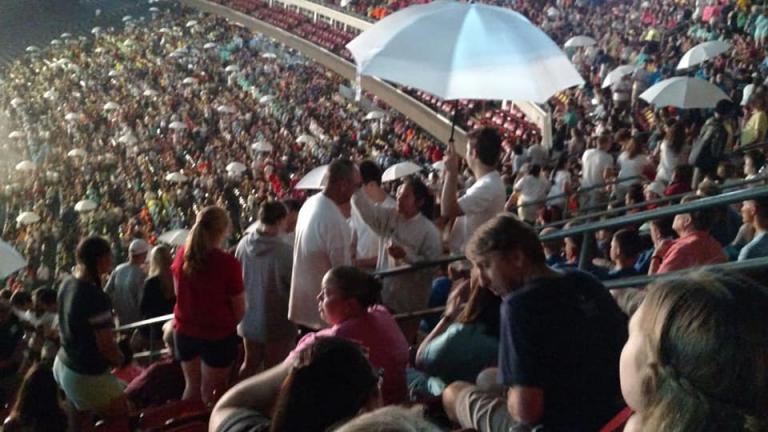 Kathy Gosnell was the other adult leader with me on this trip. I asked her why she thought the ELCA Youth Gathering had such an impact on our youth. "I think it's extremely important that our teens learned that there are so many other Lutherans around the country and the world. We're not just one little church in Kentucky. We have brothers and sisters everywhere. This was an eye-opening experience for them to see a stadium full of other teens that worship in the same denomination as they do. That big feeling – knowing that you're connected to something larger than your own church – our kids hadn't yet experienced that. But this week they did. They'll be able to carry that with them wherever they go."
This feeling of being connected to the world beyond their church and community extended not just to their fellow Lutherans, but also to the people of Houston. The city's residents saw thousands of orange-shirted teens throughout the city working on service projects ranging from planting community gardens, to raising awareness about human trafficking, to organizing books for children's book fairs, just to name a few.
Day of Service
Our group was assigned to St. Mary Missionary Baptist Church which had been devastated by Hurricane Harvey. An ELCA Youth Gathering group that came in just before us earlier that morning went through and cleaned out all the debris still left over from the storm.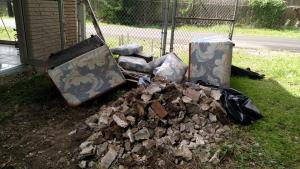 Then our two busloads arrived and cleaned the sanctuary, classrooms, kitchen and fellowship hall. Most people don't realize that many areas of Houston (especially in non-privileged areas of the city) are still recovering from the storm nearly a year later.
"It felt good to help people and really make a difference for them," said one of our youth. "The theme for our Gathering is This Changes Everything, and we could actually see the church changed right in front of our eyes because of all the work we did," he said.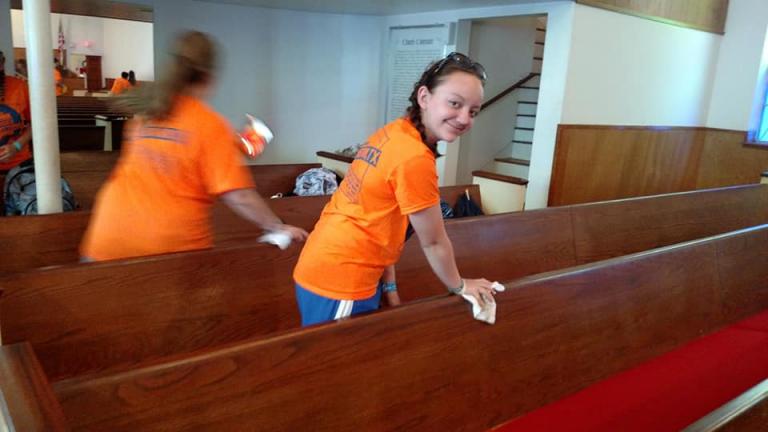 Synod Day – connecting with fellow Lutherans closer to home
The ELCA Youth Gathering wasn't all work. One day consisted of learning and faith formation with other members of our synod. (Synods are groupings of congregations by geographic area. There are 65 synods in the U.S.). In addition to meeting hundreds of other youth from within the Indiana-Kentucky synod, the teens engaged in a series of active learning experiences engaging scripture, their understanding of faith, and what it means to be the church in the world.
Every synod's bishop also attends the Gathering and preaches at the youth-led worship service on synod day. Our bishop of the Indiana-Kentucky synod, the Rev. William Gafkjen, helped our teens come to a deeper understanding of the story of the Samaritan woman encountering Jesus at the well (John 4:4-30) and how his love changes everything for her, and for our own lives today.
"It was just so much fun!"
What makes the ELCA Youth Gathering work are generous opportunities for play alongside the learning and service components. An entire arena in the NRG complex was dedicated to full-on recreation, with inflatables, dancing, games, and teen-centered activities of all kinds. In addition, the Interactive Learning Center had areas for zip lines, volley ball, bumper cars, giant tricycles, miniature golf, and other fun activities.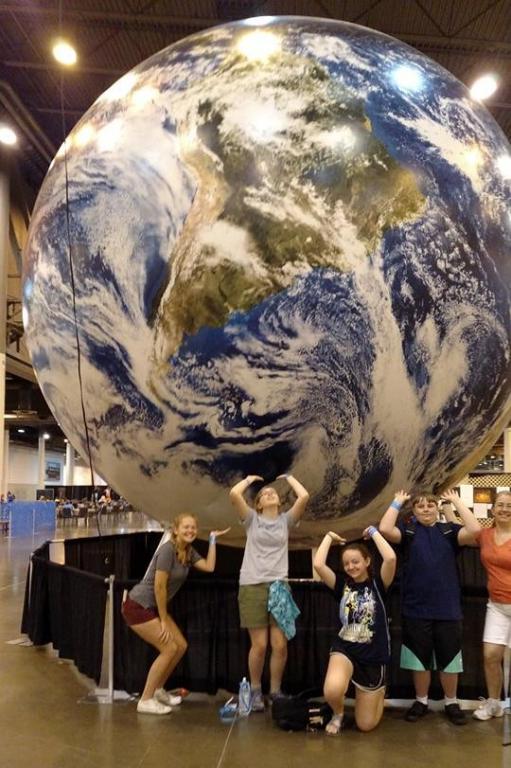 The Center was also filled with learning booths that engaged the senses and helped youth learn about all aspects of the church – from justice and advocacy, to worship and leadership, to prayer and the arts. Our group went through an interactive activity to learn about the complexities of immigration at the AMPARRO station, for example. And my colleague Phoebe Morad, director of Lutherans Restoring Creation, created an experience for kids to learn how they can care for God's Creation by taking steps to minimize their environmental impact at home, at work, at play, and in rest.
For participants who wanted time for reflection, rest, and art or craft projects, there were a plethora of options. Prayer labyrinths, meditative coloring, yoga, and an area of inviting hammocks for just chilling out were all available.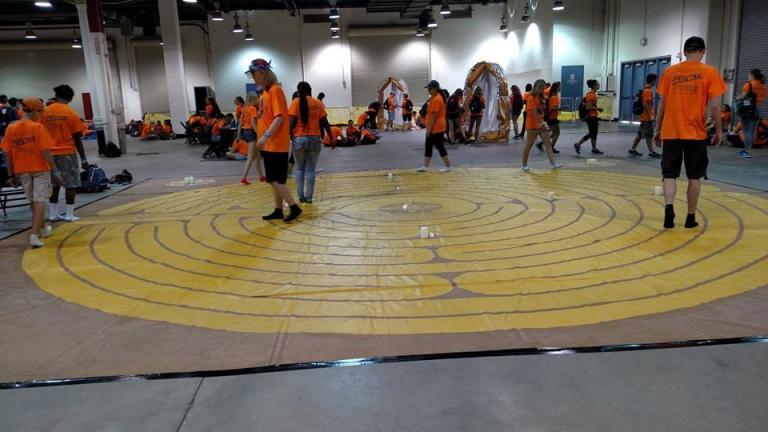 It's okay to dance!
In addition to our theology of grace, our worship services are another aspect of our denomination that binds Lutherans together. Gathering, hearing God's Word read and preached, sharing Holy Communion, praying, singing, and being sent to serve are all part of the Lutheran worship experience. But, frankly, teens rarely experience this weekly worship as something that engages them.
"Church is sometimes boring," one of our kids didn't hesitate to say. "But I learned that it's actually okay to dance when you worship! I loved the energy of all of us singing the songs, running in conga lines, putting our arms around each other and swaying to the slower songs." Kathy added, "The sense of connectedness and community was liberating and exhilarating for the kids. They were so uninhibited. You could really see the Holy Spirit moving through them."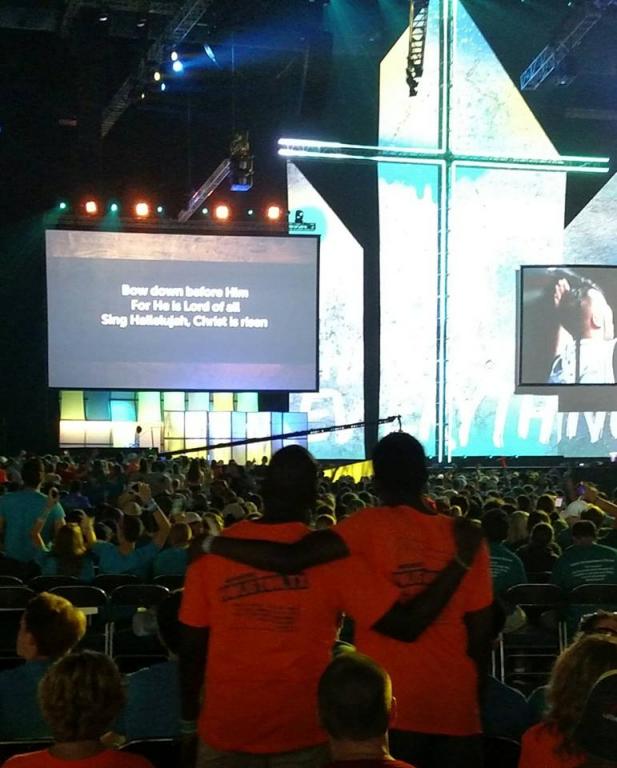 What's next?
This was the first time our church had ever sent youth to the Gathering, and our four young people are already making plans for the next one in three years. All of them just finished 9th grade and will be able to attend one more time after they graduate. And they are excited about mentoring and encouraging the upcoming middle school students who will be old enough to attend the next Gathering which will be held in Minneapolis, MN.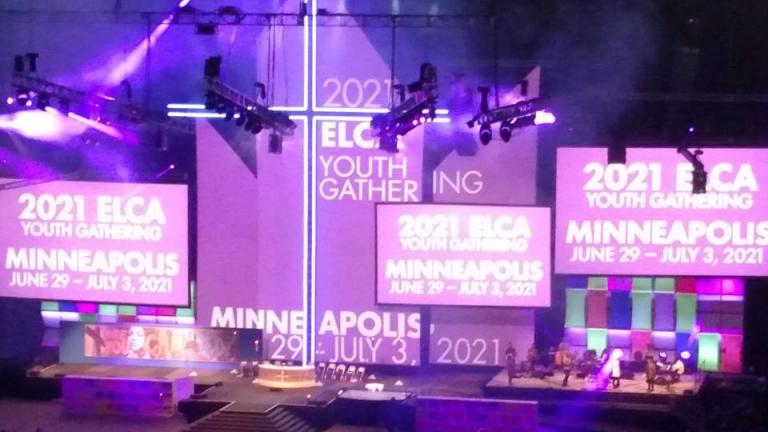 Our pastor and congregation were enthusiastic supporters of our efforts to raise the funds for the trip over the past year. I expect that they'll see a continued surge of energy and engagement with our youth in the years ahead. "This experience made me feel like I should help more people," said one. They are looking forward to serving the needs of their own community, just as they served in Houston.
A thousand points of Lutheran light
One of the most profound moments of the ELCA Youth Gathering happened during Saturday night's Mass Gathering. All the speakers from the three nights gathered together on the stage. One of them was Rebekah Bruesehoff, a 12-year-old who shared the story of being a transgender child who made the transition to becoming the girl she knew she was meant to be. She invited everyone in the stadium to text someone this message: "May God hold you in the grip of hope," and then to turn on their cell phone light when they had sent the text.
Then we were instructed to hold our phones next to our legs, keeping the light hidden. On the count of three, we lifted our phones up in a wave starting from the stage and going up through the highest stands – a wave of silent light washing up through the stadium.

The radiance filled the cavernous space in a moment of numinous light. Then the we brought our phones back down again, the light quietly fading in another wave back to the stage. It was a truly breathtaking experience.
"All those lights – it's like our hearts are on fire with love."
"That light wave symbolized the entire ELCA Youth Gathering for me," said my daughter Rachel, reflecting on the experience on our final night in Houston. "I felt God in my life and in the world this week more than ever before. I feel more of God's presence. After being in an arena with 30,000 people, seeing God moving through all those people – you realize God's Spirit can now flow through you.
"All those lights – it's like our hearts are on fire with love. Even when I'm back home, I know all of those lights are in me. We have 30,000 lights of God inside of us. We're united. We can take all that light home with us. And we can share that light with our churches, our families, our schools, and our communities."
Amen to that!
---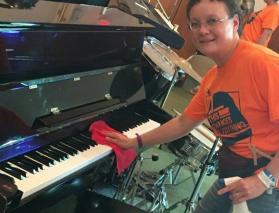 Leah D. Schade is the Assistant Professor of Preaching and Worship at Lexington Theological Seminary (Kentucky) and author of the book Creation-Crisis Preaching: Ecology, Theology, and the Pulpit (Chalice Press, 2015). She is an ordained minister in the Lutheran Church (ELCA).
Twitter: @LeahSchade
Facebook: https://www.facebook.com/LeahDSchade/.
Read also:
An Iconic Moment: ELCA Synod Elects First Female African-American Bishop