---
At the 2019 Churchwide Assembly of the ELCA, the gathering of pastors, lay leaders, and bishops took an extraordinary step of declaring the ELCA to be a "sanctuary denomination."  This is the first denomination to declare itself a "sanctuary church body." A press release from the churchwide office stated that "as a sanctuary church the ELCA is committed to serving and supporting migrant children and families in communities across the country."
But there's been a lot of debate about what it means to be a "sanctuary denomination."  What does it look like to be a "sanctuary church"?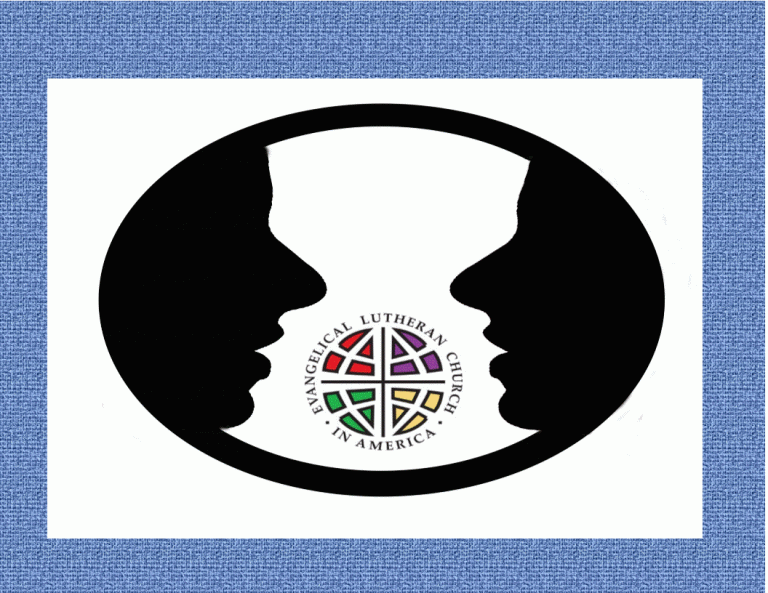 In one sense, this is nothing new.  There wouldn't even be Lutheranism in America were it not for the immigrants who came here to this country from Europe in the 1700's.  Because our ancestors we were once strangers in a strange land, Lutherans have often practiced hospitality when it comes to welcoming newcomers to this country.  We've done it in both informal and formal ways. Sometimes it's as simple as inviting a new neighbor from a foreign country to church. Other times, it's been congregations gathering household supplies and even building houses for people immigrating to this country.
Lutherans thought it was so important to welcome new immigrants, in fact, that they set up a formal office:  Lutheran Immigration and Refugee Services.  Their website explains they've been doing this work for migrants and refugees for 80 years.
Our history reflects American Lutherans' deep immigrant roots and passionate commitment to welcoming newcomers, especially those who are most in need. In partnership with community-based legal and social service providers nationwide, LIRS has helped over 500,000 migrants and refugees rebuild their lives in America.
More recently, the ELCA established a strategy called AMMPARO, which stands for Accompanying Migrant Minors with Protection, Advocacy, Representation and Opportunities.  The word "amparo" in Spanish means "protection from harm." According to their website, AMMPARO was "envisioned after witnessing the plight of children who are forced to flee their communities because of complex and interrelated reasons, including chronic violence, poverty, environmental displacement and lack of opportunities in El Salvador, Honduras and Guatemala."
This work has pretty much flown under the radar in terms of national attention.
Lutherans quietly do what we've always done. We follow the Bible's teaching to welcome the stranger, be kind to the foreigner, bring children into safety, and practice hospitality toward those sojourning in our land.
But that changed on Wednesday, August 7, 2019, when the Churchwide Assembly voted on this sanctuary church resolution. The vote "has triggered a great deal of interest, debate, and criticism in social and news media, as well as among the members and friends of the ELCA across the country and this synod," as Bishop William Gafkjen wrote in his letter to the Indiana-Kentucky Synod.
In other words, we're not flying under the radar anymore.
"Some of this has risen to a confused frenzy of questions and accusations, many of which arise from misunderstanding and, in some cases, misrepresentation of what the resolution actually says and means."  For example, a panel of commentators on Fox News and Friends lambasted the vote.  One stated (without any substantiation) that the action this denomination has taken is "a public health risk."  She said that the church should "leave the issue of immigration to the authorities."
Another commentator said, "We don't want to create a place in which the rule of law is not respected." Then Rev. Robert Jeffress, senior pastor of a Southern Baptist church in Dallas, Texas, said, "The ELCA is assisting people in breaking the law . . . This denomination is absolutely wrong in encouraging people to break the law."  He quoted Romans 13:1 which reads: "Let every person be subject to the governing authorities."
All of this is, of course, hogwash, lies, and deliberate misrepresentation of the resolution.
I want to be very clear that the resolution is neither illegal, nor does it instruct Lutherans or churches to break the law.  Further, what Rev. Jeffress failed to mention is that just before Romans 13 is this verse from Romans 12:21.
21Do not be overcome by evil, but overcome evil with good.
And following the passage cited by Jeffress is Romans 13:8 – 10.
8 Owe no one anything, except to love one another; for the one who loves another has fulfilled the law. 9The commandments … are summed up in this word, 'Love your neighbor as yourself.' 10Love does no wrong to a neighbor; therefore, love is the fulfilling of the law.
Thus we have to read Romans 13:1 within the context of Paul's intention for the Christians he was addressing in Rome. These verses are a warning not to succumb to anarchy. Yes, we are to support governing powers but – and here's the key – only when they are exercising their power within the proper context of the commandments and the goodness of God. 
What the Churchwide Assembly did in their vote was in response to the concern that the government has NOT been exercising its power within the proper context of the commandments and the goodness of God.
In light of thousands of children being held in detention centers, and thousands of families separated from each other, Christians cannot – must not – "leave the issue of immigration to the authorities." Do you know why?  "For the Bible tells us so."  The Bible specifically tells us that we are called to welcome, accompany, advocate for, and protect those who come from other places to live among us.  Here are just a few examples.
"Do not oppress a foreigner; you yourselves know how it feels to be foreigners, because you were foreigners in Egypt." [Exodus 23:9]
"For I was hungry and you gave me something to eat, I was thirsty and you gave me something to drink, I was a stranger and you invited me in." [Matthew 25:35]
"The stranger who resides with you shall be to you as the native among you, and you shall love him as yourself, for you were aliens in the land of Egypt: I am the Lord your God." [Leviticus 19:34]
"Do no wrong to the resident alien." [Jeremiah 22:3]
These Bible verses have profound ramifications for the issues of immigration in our country, and how we are to love our neighbors.
Yet, as Bishop Gafkjen points out:
We disagree with one another about how that love is expressed in the context of a dysfunctional immigration system and in light of the vulnerability of many refugees and immigrants among us. We also disagree with one another about whether, how, and when to resolve the tension between the call to "be subject to governing authorities" and the call to invite the stranger in and to "do no wrong to the resident alien."
So how can we have discussions about sanctuary, immigration, refugees, and all these issues without further polarizing our congregations?
How can we be "repairers of the breach" when it comes to the divisions we experience around immigration?
"Repairers of the breach" is a phrase we find in Isaiah 58:12.
 Your ancient ruins shall be rebuilt;
 you shall raise up the foundations of many generations;
 you shall be called the repairer of the breach,
 the restorer of streets to live in.
Isaiah was writing to a people who, like us, were trying to figure out how to live in community together given the numerous ethical and moral challenges they faced.
Isaiah was telling them that their faith must intersect with politics – the issues of public concern that affect the entire community.  How do we know this?  Because he tells them that honoring the sabbath (or in our context, going to church) can't just be about our private worship.  It has to be about how we deal with injustice.  It has to be about removing the yoke from people – lifting their burdens.
That's why Jesus healed the woman on the sabbath day.
In Luke 13:10-17, he lifted the yoke that was crushing her spirit and her body.  What he did that day in the synagogue was a political act because he did it in a public place and it affected the entire community. Also, he did it in the presence of religious leaders who derided him like a panel of Fox commentators.
"We don't want to create a place in which the rule of law is not respected."  "Letting that woman in this synagogue is 'a public health risk.'"  "Leave the issue of healing for the other six days of the week."  "Jesus is breaking the law and is absolutely wrong in encouraging this woman to break the law. Let every person be subject to the governing authorities."
So what does Jesus do?
He calls them out for their hypocrisy. He points out that they were more than willing to care for their own livestock on the sabbath, but cruelly dismissive of this woman's need for healing. He did not back down.  And the woman remained healed.  Jesus even gave her a title of honor that recognized her worth, her heritage, and her value in God's eyes.  Her called her:  Daughter of Abraham.
So I wonder what it would look like for this congregation to do the work of Jesus – lifting the yoke and honoring people as children of God engaging the issue of immigration?
Because, in fact, there is a wide range of options for living out our call to be a sanctuary church.  Southeastern Pennsylvania Synod Bishop Patricia Davenport noted that "Sanctuary may include providing information about undocumented persons' rights, connecting them with legal assistance, providing food, funds or housing – or simply having faithful discussions of immigration issues in our churches."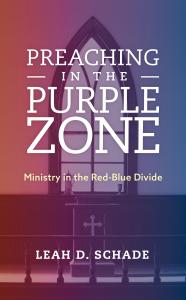 Let's pick up on her last suggestion – having faithful discussions of immigration issues in our churches.  This is an option that is right in my wheelhouse because of the research, writing and teaching I've been doing around deliberative dialogue.  Deliberative dialogue is a process of civil discourse that brings people together from diverse perspectives to discuss an issue with respect and discernment. [See my book Preaching in the Purple Zone: Ministry in the Red-Blue Divide.]
For three Sundays, beginning today, we will embark on this process of deliberative dialogue around immigration.
We'll use a nonpartisan issue guide from the National Issues Forum Institute called "Coming to America:  Who Should We Welcome?  What Should We Do?"
First, we'll establish some ground rules for how to talk with each other respectfully. Then we'll take some time to reflect on how the issue of immigration has affected us, family or friends, or people we know.  Immigration issues affect virtually every American, directly or indirectly, often in deeply personal ways.  So the guide we'll use is designed to help people deliberate together about how we should approach the issue.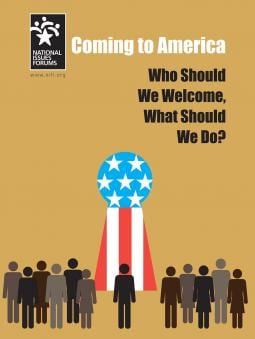 The second Sunday, we'll look at the three options presented in the guide that reflect different ways of understanding what is at stake.  This will help us think about what matters most to us when we face difficult problems for which there are no easy answers. Questions like:
Should we strictly enforce the law and deport people who are here without permission? Or would deporting millions of people cause undue harm to them and their families?
Should we welcome more newcomers to build a more vibrant and diverse society? Or does this pose too great a threat to national unity and security?
Should we accept more of the growing numbers of refugees from war-torn regions and areas devastated by climate disruption? Or should we avoid the risk of allowing in people whose backgrounds may not have been fully checked?
Should our priority be to help immigrants assimilate into our distinctively American way of life, including learning English? Or should we instead celebrate a growing mosaic of different peoples?
I want to stress that the concerns that underlie these issues are not confined to party affiliation.
Nor are they captured by labels like "conservative" or "liberal."  Instead, they get at the very heart of what it means to be a human being dealing with extraordinary circumstances of socio-economic and political upheaval. They get at the heart of what it means to be the church in the midst of a very complicated but very necessary conversation.  I believe our church can have that conversation in faith, following the model of Jesus Christ.
As we have this conversation here in this church, we will truly be honoring the sabbath.
Isaiah has promised that when we call, God will answer. We shall cry for help, and God will say, "Here I am" (58:9).  God will guide us continually and make us like a watered garden, like a spring of water, whose waters never fail" (58:11).  Imagine that – our baptismal waters leading us to the parched places, refreshing us as we "raise up the foundations of many generations" (58:12). And we will be called "repairers of the breach."
Let's see what it's like to be a breach-repairing church.
Amen.
This sermon was preached at St. Thomas Lutheran Church in Richmond, Kentucky, where I am serving as a supply pastor.
See this a two-page list of talking points by the ELCA's Presiding Bishop, Elizabeth Eaton, that can be helpful for discussions about being a sanctuary denomination.
Also visit Repairers of the Breach to learn how you can join the moral movement of addressing justice issues like immigration with partners across the United States and in your own community.
---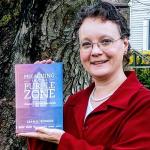 Leah D. Schade is the Assistant Professor of Preaching and Worship at Lexington Theological Seminary in Kentucky.  She is the author of Preaching in the Purple Zone: Ministry in the Red-Blue Divide (Rowman & Littlefield, 2019) and Creation-Crisis Preaching: Ecology, Theology, and the Pulpit (Chalice Press, 2015).
Twitter: @LeahSchade
Facebook: https://www.facebook.com/LeahDSchade/
Read also:
Breach-Repairers: Preaching Isaiah 58 Using a Dialogical Lens
When God Breaks the Law: Immigration, Asylum & Pastor Betty Rendón