The Festival of Homiletics is like the Olympics of preaching. I attended twice in person when I was still a parish pastor. In five days, I gathered enough sermon illustrations, homiletic strategies, and inspiration to last me an entire year. I saw preaching colleagues and seminary friends and made new connections. I experienced profound worship and had my spiritual and preaching well filled.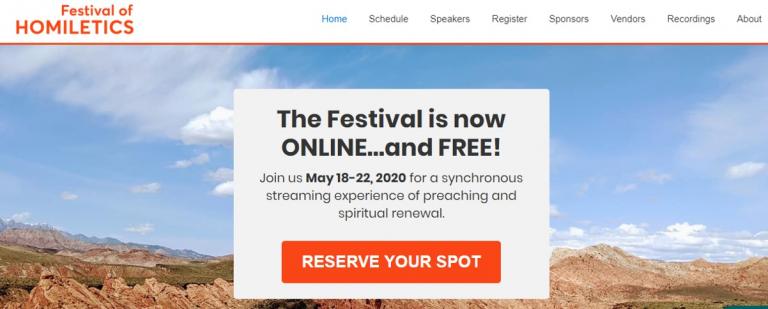 Now I am one of the presenters for the Festival of Homiletics. It's a dream come true!
The theme this year is "Preaching a New Earth: Climate and Creation," which is exactly what I preach and teach about.
I've written several books (see links below) and teach courses and workshops about the intersection of environmental issues and the Christian faith for preaching. To be invited to present at the Festival of Homiletics is an honor and an incredible opportunity to bring this justice issue to thousands of people.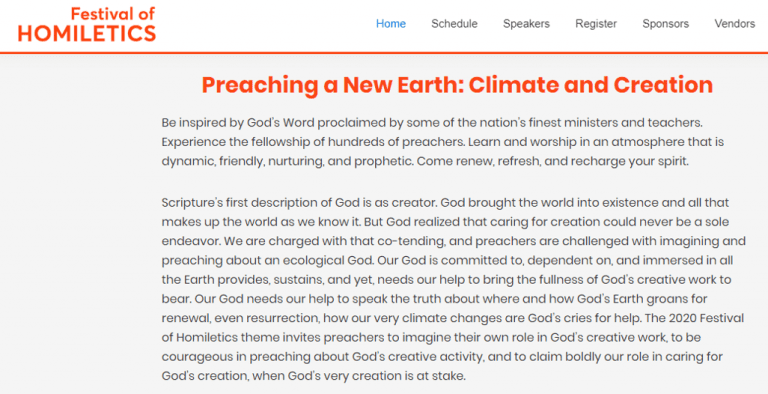 Yes – thousands! Usually the Festival of Homiletics draws a crowd of about 750-1000. Because of the coronavirus pandemic, they had to move to an online platform. They made the brilliant decision to make the majority of the content FREE! So more than 13,000 people have registered for the free online event.
For a ridiculously reasonable price of $75, registrants can get access to the additional content – sermons and lectures that engage preaching and Creation in an even deeper way.
And that fee allows you access to go back and listen to the lectures and sermons of this week's presenters. People like Katharine Hayhoe (who contributed a chapter to my book co-edited with Margaret Bullitt-Jonas, Rooted and Rising: Voices of Courage in a Time of Climate Crisis), Stacey Abrams, Rev. Dr. William Barber, and Bill McKibben (who wrote the forward to Rooted and Rising), are just a few of the other presenters – nearly 40 in all! (See the full list of speakers here. See the daily schedule here.)
On Tuesday, May 19, 3:00 p.m. Eastern, the Festival of Homiletics will broadcast Karoline Lewis's interview with me. We talk climate, COVID-19, and how preachers can address environmental issues in the "purple zone," the red-blue divide that politicizes our congregations and communities.
In the on-demand bonus content, I present a lecture entitled, "Green Preaching in the Red-Blue Divide: Strategies and Tactics for Creation-Crisis Preaching." I offer practical ideas for incorporating environmental issues into sermons in a way that bridges divide rather than exacerbating the divisiveness of our current political situation.
Register for the Festival of Homiletics today!
So go register for the Festival of Homiletics and treat yourself to incredible, inspiring, edifying, and prophetic presenters. Even if you are not a preacher, I invite you to "attend" the Festival of Homiletics. You will experience so much rich theological, biblical, and faith-building preaching and conversations. And if you are a preacher – sign up now! Your congregation – and your preaching vocation – will thank you!
P.S. – Sign up for the on-demand bonus content right away, because the price goes up to $150 after May 22!
---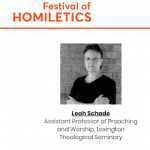 Leah D. Schade is the Assistant Professor of Preaching and Worship at Lexington Theological Seminary in Kentucky and ordained in the ELCA. Dr. Schade does not speak for LTS or the ELCA; her opinions are her own. She is the author of Preaching in the Purple Zone: Ministry in the Red-Blue Divide (Rowman & Littlefield, 2019) and Creation-Crisis Preaching: Ecology, Theology, and the Pulpit (Chalice Press, 2015). She is also the co-editor of Rooted and Rising: Voices of Courage in a Time of Climate Crisis (Rowman & Littlefield, 2019).
Twitter: @LeahSchade
Facebook: https://www.facebook.com/LeahDSchade/
Read also:
A Dozen Bible Passages for Preaching a Creation-Care Sermon