Preaching in the age of Covid-19, Black Lives Matter, a deteriorating planet, and the most contentious political season of our lifetimes is a risky proposition. Congregations are weary, wary, and wondering if there is truly any good news when news cycles pummel us with bad, even horrific news hour upon hour. As a professor of preaching and worship and co-founder of the Clergy Emergency League working with student and pastors across the U.S., I am always on the look-out for resources that can equip preachers in this perilous time. Lisa Cressman's book, The Gospel People Don't Want to Hear: Preaching Challenging Messages, is one I highly recommend.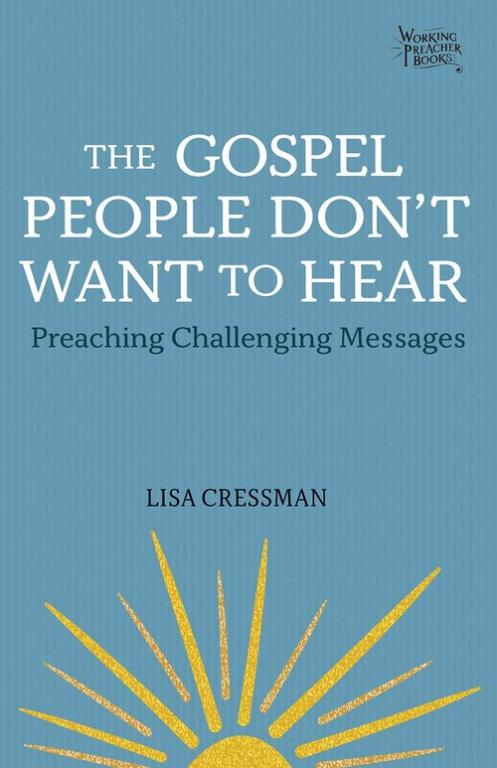 Lisa Cressman is an Episcopal priest and the Founding Steward of Backstory Preaching (BsP). BsP is an online community supporting preachers in their task of crafting sermons, with practical tips, mentoring, and continuing education programs. Since founding BsP in 2016, Cressman has worked with more than a thousand clergy through the Mentorship, Sermon Camps, and Collective/+ programs. BsP participants join from across the United States, Canada, Great Britain, Scotland, Australia, New Zealand, South Africa, and Madagascar to work with mentors on honing their craft. BsP has partnered with or offered programs to many dioceses, synods, and religious organizations like Faith+Lead, the Craft of Preaching, the Damascus Project (UCC), and numerous seminaries. Their ecumenical reach spans from Episcopal to Mennonite, including at least ten denominations.
All this to say that Cressman has her finger on the pulse of preaching and congregational life.
She hears the concerns preachers raise about struggling to preach within politically mixed or polarized congregations. Churches are under unrelenting societal pressures that strain even the strongest pastoral relationships. Her goal in The Gospel People Don't Want to Hear is to equip preachers with tools to navigate these fraught waters and find ways to assure listeners that God is not only present, but actively involved in "creating a new sky."
"The sky is falling. Let it!" That's the gospel people don't want to hear.
Cressman's primary metaphor for the book is "falling skies"—but this is no Chicken Little squawking. This is the existential angst felt when loss, world-shattering change, and death either threaten or overtake us. The challenge for preachers is how to help their listeners think theologically about this very real fear, pain, and suffering that accompanies the vicissitudes of our lives. As Jesus said to his disciples, "For those who want to save their life will lose it, and those who lose their life for my sake, and for the sake of the gospel, will save it" (Mark 8:35). This is the gospel people don't want to hear.
So how do we coax listeners to lower their arms from holding up this sky so that they can trust that "God is already painting a new sky, and we're all invited to grab a brush" (xviii)?
Cressman notes that "a challenging sermon is determined by the relationship the listener has to their sky . . . something we say reminds listeners they're holding up a sky they're not yet ready to let go of" (13). The backlash to such a sermon can range from outrage to dismissiveness to attempts to silence the preacher. So the key is to find ways to proclaim the word of God so that people will actually listen instead of stopping their ears, stomping out the door, or clicking the little x in the corner of the screen.
Cressman's book offers several tools to help preachers gauge the "brittleness" of their congregations. She explains that congregants only have so much bandwidth for hearing challenging sermons depending on how much conflict they are dealing with in their families, workplaces, communities, and the church itself. With prudence, preachers can assess how much force they can apply so that listeners bend but do not break from a prophetic sermon. Rather than seeing the prophetic task as concentrated in a single sermon, Cressman offers an approach that guides a congregation over time with varying degrees of strength depending on the experiences and circumstances of the listeners.
The key is building trust.
On page 39, Cressman suggests that preachers ask themselves what price their sermon is asking parishioners to pay, in terms of the "trust tax." She uses radial maps to help preachers visualize the ripple effects of what the sermon is asking of listeners. The six areas of systems, well-being, livelihood, identity, role, and relationships can be impacted by the change we invite our listeners to undergo. If they trust the preacher, however, they will be more willing to be led where the Spirit is guiding them. In chapter 6, Cressman offers ten suggestions for preaching challenging messages that maintain these bonds of trust. Through empathy, authenticity, and rhetorical tactics that engage different perspectives, preachers can help listeners encounter the gospel people don't want to hear that will, paradoxically, be life-giving and transformative.
For me as a white person, pages 77-79 were among the most important in the book.
Cressman asks the question that leads where preachers fear to tread: "how do we help white people through their feelings of loss?" (77). She acknowledges the necessity of dismantling white privilege that has become a "false god of superiority." "White people's fear for their safety is a deep-seated, emotional, irrational response . . . White people are not telling themselves a true story about their fears, but they believe the story they're telling themselves nonetheless" (78). Yet, as she points out, "if we say their losses don't matter, that it's high time they lost power and should get over it, they'll feel shamed, isolated, and backed into a corner – and, I fear, act out accordingly, as we see a growing number doing now" (78).
At the same time, she suggests that we need a "Truth and Lamentation Commission for people of color and all oppressed people to speak their truth, lament, and, because reconciliation demands it, tell their oppressors what 'amendment of life' requires" (79). Cressman insists, and I agree, that "we belong to a church that, on its holiest days, exhibits holy courage for hard conversations, tears, and divine courage to begin again" (79).
On Tuesday, Oct. 13 at 7:00 p.m. Eastern, I will be talking with Lisa Cressman in a live-streamed interview hosted by the Clergy Emergency League (https://www.facebook.com/ClergyEmergencyLeague).
We will discuss the challenges of preaching during this divisive election when many are concerned that democracy itself is on the line. We'll consider how preachers can lend their voices and moral authority to the defense of democracy while navigating the minefields of politics in the pulpit.
In the meantime, I strongly encourage preachers to read The Gospel People Don't Want to Hear as well as her other book, Backstory Preaching: Integrating Life, Spirituality, and Craft (2018). Cressman's passion for the craft of preaching, her pastoral heart for the parishioners we serve, and her skills of leadership and writing are a timely and practical gift for the church!
If you'd like to purchase any of Lisa's books, here's a link with black-owned bookstores from which you can order online:
https://www.elitedaily.com/p/22-black-owned-bookstores-you-can-order-from-online-22952386?fbclid=IwAR2m4gj5bKWYOYeEmHp6mLF3nBCgL4ncR_FHIjuNZp3LjZVUa6EQcspdbYE
Read also:
What to Do When Parishioners Leave – Because of Politics
How to be a Christian (and a Pastor) After the Midterm Elections
Preaching Across Divides: Purple Zone Strategies for Pulpit and Public Square
---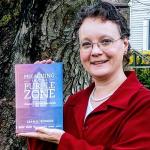 Leah D. Schade is the Assistant Professor of Preaching and Worship at Lexington Theological Seminary in Kentucky and ordained in the ELCA. Dr. Schade does not speak for LTS or the ELCA; her opinions are her own. She is the author of Preaching in the Purple Zone: Ministry in the Red-Blue Divide (Rowman & Littlefield, 2019) and Creation-Crisis Preaching: Ecology, Theology, and the Pulpit (Chalice Press, 2015). She is also the co-editor of Rooted and Rising: Voices of Courage in a Time of Climate Crisis (Rowman & Littlefield, 2019). Her latest book, co-written with Jerry Sumney is Apocalypse When?: A Guide to Interpreting and Preaching Apocalyptic Texts (Wipf & Stock, 2020).
Twitter: @LeahSchade
Facebook: https://www.facebook.com/LeahDSchade/