When someone we love dies, that relationship does not end.  It is constantly unfolding and refolding itself in different ways.  Like an origami of grief.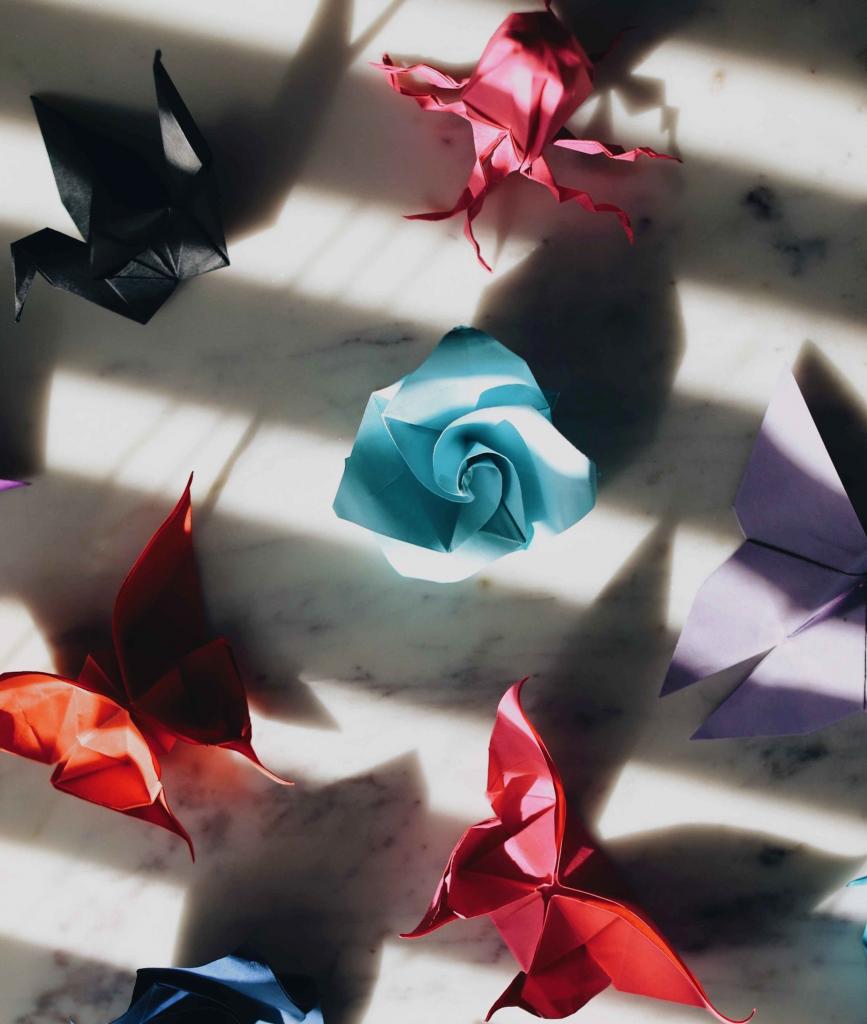 Last month we went home.
My husband, children, and I made the eight-hour trek to Pennsylvania to finally visit family and friends we had not seen or touched or hugged in nearly a year and a half.  The Covid-19 pandemic had shrunk our relationships down to 7×12-inch screens and tinny phone speakers.  Now we were able to step into the fullness of arms outstretched, smiles on soft cheeks, voices in rich tones.
But I also noticed that the memories of family and friends who had died revisited us in different ways that I had not expected.  At my parents' home, seeing the urn of my sister's ashes next to her high school senior picture blossomed into new conversations about death and grief with my now teenaged children.  Travelling the road I would drive to visit my best friend when cancer was draining her life turned up a different kind of reflection between my husband and me.  Sitting at kitchen tables with our family members reminiscing about relations long gone unearthed memories both honeyed and acrid.
Some of these feelings were familiar.  But I noticed new shapes and textures that I hadn't experienced before.
The conventional wisdom I was taught in seminary is that we should allow at least a year when it comes to grieving a loved one.  That first cycle of birthdays, holidays, anniversaries, and significant events is a time of complete disorientation without this person in our lives in a living, breathing way.  But even a year is not enough.  Contrary to what our culture expects, we don't just "get over" grief.  Our relationship with that person never goes away, even after they die.  It is constantly unfolding and refolding itself in different ways.
Like an origami of grief.
Origami is the Japanese art of paper folding. 
Using both simple and complex techniques, a flat sheet of paper becomes any number of beautiful figurines like cranes, whimsical frogs, or intricate designs.  There is both an art and a science to origami.  Skilled minds and hands can blend sharp, mathematical angles with gentle curves resulting in pieces that amuse, enchant, or astound us.
Origami is like geometry taking the form of a three-dimensional poem – a sculptured haiku, if you will.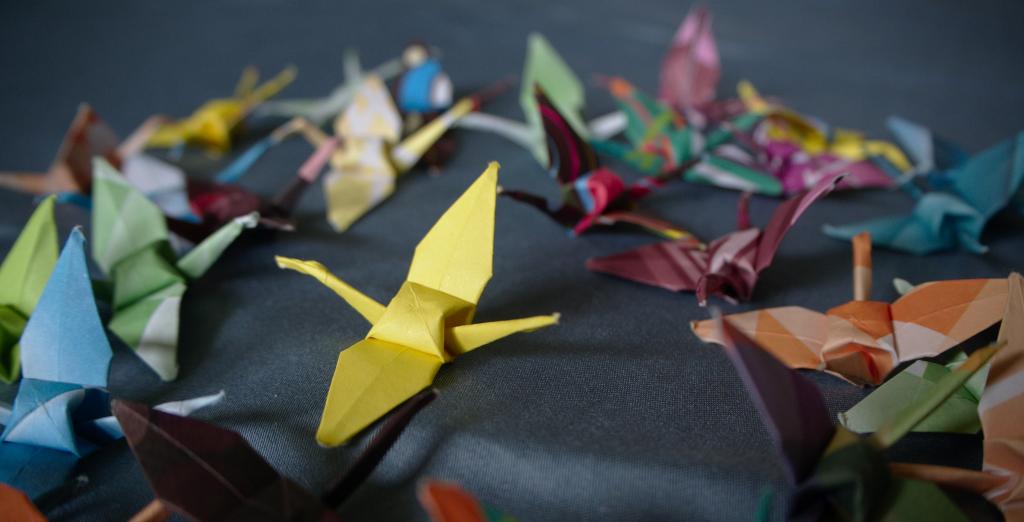 My daughter once received an origami kit as a gift. She encouraged me to join her in following the instructions to make a simple design.  My fumbling fingers soon gave up.  I'm more adept at using words and music for my creative expression.  But my fascination with origami remains.  And I find it to be an apt metaphor describing the way my grief takes shape.
The Origami of Grief
Sometimes I am the one who does the folding.  When death is placed in my hands like a new square of paper, it cuts and bleeds as if the paper is shot through with barbed wire.
Later, when I try to refold it into a smaller shape to fit my "moving on" life, it leaves splinters behind, as if the paper is woven with filaments of glass that break off and embed themselves in my skin.
Other times the material feels like acidic sandpaper, brush-burning my hands, and I must put it down for relief.
But there are times when my origami of grief takes on a life of its own, reconfiguring itself of its own accord.  I am left puzzling about what it has become, trying to read the folds like the living hieroglyph of a language too ancient to translate.
I hold these origami shapes in my hand, delicate as a kaleidoscope design that collapses in on itself at the slightest touch.
What is the shape of your origami grief these days?
Maybe your origami of grief takes the form of a cradle.  Or a trembling butterfly.  Perhaps a window opening.  Or closing.
A colleague of mine recently shared with me a profoundly moving piece she wrote about grieving the death of her daughter.  [Read: All the Things by Wendy Lynne Lee.] Each exquisite memory unfolds like an origami of grief, unfolding, refolding, shape-shifting. Her words are like fingers sculpting the designs.
Or maybe the designs are sculpting her.  Maybe we ourselves are nothing but delicate sheets of paper creased and pleated by mourning and loss until our edges fray and our fibers wear thin.
I recently learned that there is a technique called "wet-folded" origami.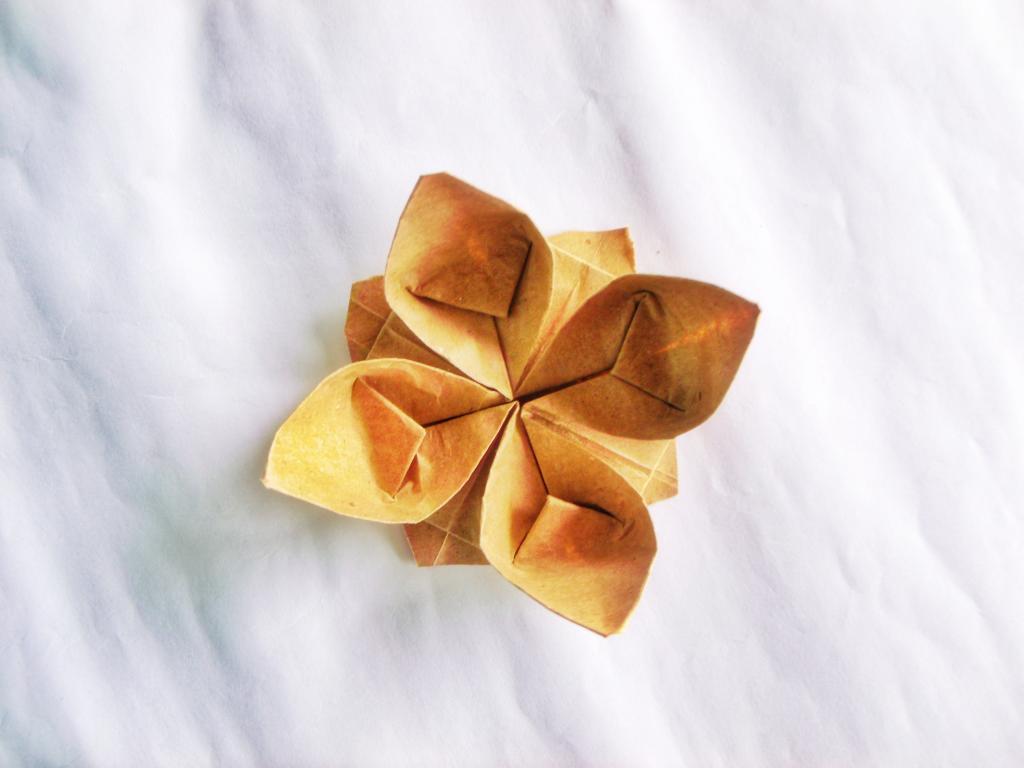 The artist uses water to moisten the paper so that it can be shaped more easily.  The paper must be a heavier weight to withstand the dampness and resist tearing.  As I learned in elementary school art classes using papier-mâché, too much water will saturate the paper and make it split.  But with just enough, the paper can be rounded and smoothed, curved and molded into designs not possible with traditional origami.
I sometimes pull back when tears rise up in surprising moments. When I miss my best friend, when I regret how my sister died, when I long to hear my grandparents' voices.  But perhaps I should see those tears as a way to work with my origami of grief, make it more supple and pliable.  Or maybe I should see the tears as a way to soften me, to unstiffen and relax the material that makes up my heart and soul.
May your tears moisten just enough to soften your origami of grief.  May your fingers heal from the shards of new mourning as well as aging lament.  And may loving hands reach out to cup your delicate designs however they unfold, refold, and enfold you.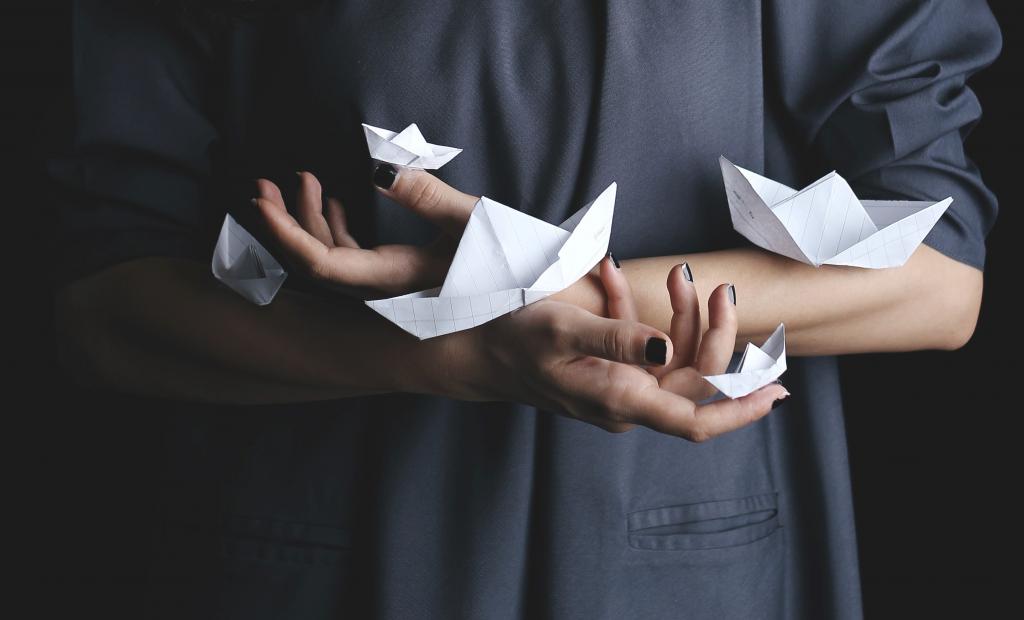 [Note: Doing origami can also be a way to therapeutically process one's grief.  See Grief Is an Origami Swan: An Art Book About Grief by Michèle Saint-Michel (Michelle Sander Media, 2020).]
Read also:
Composting Our Anger and Grief: Luke 13:1-9
The Pietà of a Mother Orca: Carrying the Grief of an Eco-Crucifixion
Like Tears in Rain: Rutger Hauer, Blade Runner, and Being Fully Human
---
The Rev. Dr. Leah D. Schade is the Assistant Professor of Preaching and Worship at Lexington Theological Seminary in Kentucky and ordained in the ELCA. Dr. Schade does not speak for LTS or the ELCA; her opinions are her own.  She is the author of Preaching in the Purple Zone: Ministry in the Red-Blue Divide (Rowman & Littlefield, 2019) and Creation-Crisis Preaching: Ecology, Theology, and the Pulpit (Chalice Press, 2015). She is the co-editor of Rooted and Rising: Voices of Courage in a Time of Climate Crisis (Rowman & Littlefield, 2019).  Her latest book, co-written with Jerry Sumney is Apocalypse When?: A Guide to Interpreting and Preaching Apocalyptic Texts (Wipf & Stock, 2020).
Twitter: @LeahSchade
Facebook: https://www.facebook.com/LeahDSchade/