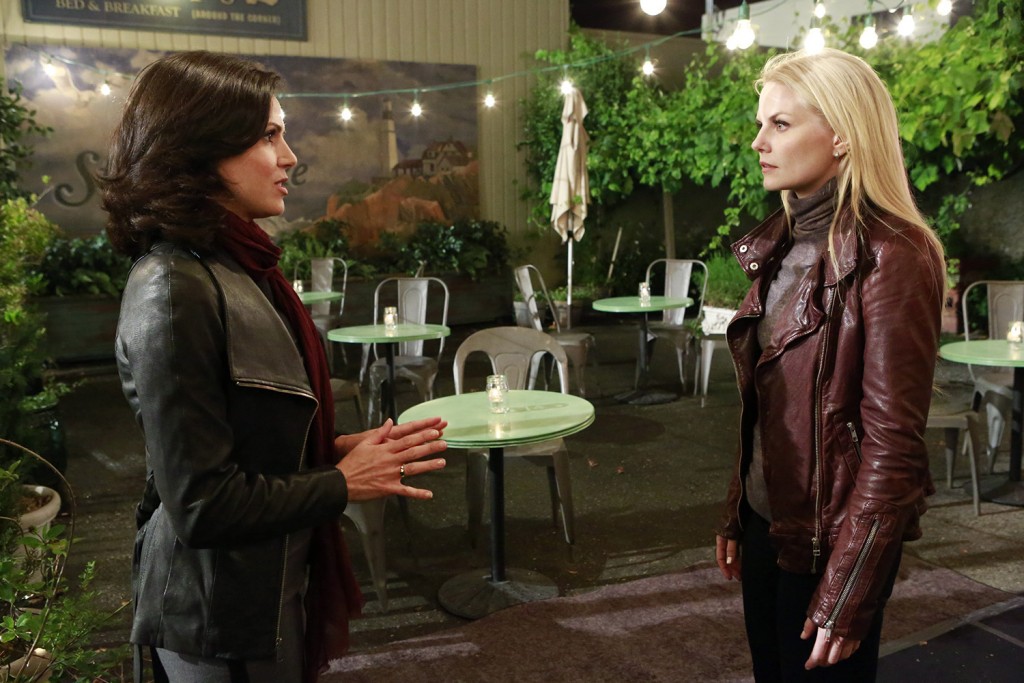 As I prepare to move to Seattle, I am also saying goodbye to a place dear to both my wife's and my heart. That place is Steveston in Richmond, British Columbia. While we were both educated at the University of British Columbia and work in Vancouver proper, we have both called Steveston home for upwards of ten years. It has in fact been a place that has been central for our lives together. We began dating here. I proposed to her here. We took our wedding day photos here. You could say that this place is magical. The beauty is that it is also quite literally our backyard.
Most people, however, know our backyard as Storybrooke, Maine, 'the Land without Magic.'
It's no little source of pride, of course, in the Richmond community (or at least at the Richmond Night Market during the summer) that ABC's Once Upon a Time is filmed right here in our backyard. But for all the quips about how Steveston has a sort of magical air about it, the point of Once Upon a Time is that the Dark Curse of the Evil Queen (Lana Parilla) transported fairy-tale characters from the Enchanted Forest to our world, a disenchanted world without magic that ought to be called 'secular' (though there are nuns in this town; they used to be fairies) because it doesn't have happy endings.
Except that isn't entirely the point. If the Enchanted Forest is full of happy endings, after all, then it would be difficult, to say the least, to explain the body count that is generated from tragedy after political tragedy in the magical land that led to the casting of the Dark Curse in the first place. Yes, there is magic, but it is a world of intrigue, a land where fairy-tale creatures themselves fight for their 'choices' to be 'free' (in scare quotes, as I'm quoting from the show) from the structures, hierarchies, and Rumplestiltskin contracts that keep them in their place. That those structures are then replicated in Storybrooke suggests that the show has a decidedly disenchanted view of the world. The characters in Once Upon a Time have always been political creatures, making places, contesting space, and drawing up geopolitical maps with or without magic.
I say all this because New Year's Eve is upon us. It is a day for reflection and resolution. As I leave Steveston (and Storybrooke) for an academic job, it may well be worth reflecting on academia itself. I'd like to do that via the Dark Curse of Once Upon a Time.
Let me make clear about what I am doing in this post and what I am not doing in this post. By way of trying to break the Dark Curse, I am proposing that academics explore a way forward from its current dire straits. If my proposal sounds naïve, then perhaps I am trying to play the part of Once Upon a Time's Henry Mills (Jared Gillmore). I am not saying anything definitive, I am not minimizing the direness of the current academic situation, and I do not have a fully worked-out agenda.
Here's what I have so far:
As I have laboured over my doctorate, I have been bombarded with the constant repetition of a certain narrative that has made its way through the media. That message is, for lack of better words, that academia is under a curse. Never before, it is said, has the academy been so corporatized. With the spate of budget cuts exacerbated by the financial crisis, tenure-track jobs are being slashed while the corporate university is built on the backs of contract sessional lecturers who live in precarious financial situations. New graduates are increasingly unable to find work, and some faculty are practicing 'academic birth control.' Meanwhile, tenured faculty find themselves squeezed because fewer faculty means fewer people who can sit on departmental and university committees. The institution is falling. It is, for lack of better words, under a curse.
I have no wish to dispute this story. Having not only heard but seen some of these stories play out before my own eyes, I have no illusions about what I can do as a freshly minted PhD. My friends struggle to find work. My faculty colleagues are groaning under the burden of added work. Much of the story is very much true, and it is not my intention to dispute it.
It is instead my intention to dispute the view that academia before corporatization was somehow an Enchanted Forest full of happy endings. Joseph Epstein's recent controversial Wall Street Journal piece on white Anglo-Saxon Protestants (WASPs) is an example of this sort of 'Enchanted Forest' thinking. It would seem for Epstein at any rate that a cutthroat meritocracy has replaced WASP 'dominance in politics, economics, and education.' Back in the days, Epstein suggests, WASPs held the keys in these sectors, and what they had in mind was the public good, which meant that they didn't have the sorts of scandals with which our contemporary neoliberal world is plagued. This thesis in turn suggests that WASPs held sway over the academy, and thus the magical aura of a WASP establishment impervious to scandal (as Epstein would put it) has given way to a corporate university meritocracy that is now facing its own demise, much as the political and economic sectors putatively are
While it is true that what we have now is hyper-competitive and increasingly beholden to private corporate interests, it does not seem entirely true that what came before was an academy of happy endings, so to speak. Like the Enchanted Forest, the university has long been an arena of political contestation. As my friends who have spent time at Oxbridge have suggested to me, the fact that you can see with your very eyes where Thomas Cranmer and Master Ridley were burnt at the stake suggests that the stakes of contestation got hot and bloody sometimes. For a more contemporary example, one might look to the activism of University of California, Santa Cruz's Angela Davis, whose faculty biography still reads:
Former California Governor Ronald Reagan once vowed that Angela Davis would never again teach in the University of California system. Today she is Distinguished Professor Emerita in the History of Consciousness and Feminist Studies Departments at the University of California, Santa Cruz. In 1994, she received the distinguished honor of an appointment to the University of California Presidential Chair in African American and Feminist Studies.
Sure, that's a happy ending. But that means that political contestation in the academy has been going on for a pretty long time.
If that indeed is the case, then breaking the curse of the academy is going to call for much more than returning to the Enchanted Forest. It will call for a fresh rearticulation of what the academy is for.
The irony is that Epstein may be half-right. His WASP establishment thesis is distasteful, to be sure; one wonders, for example, if the structures of racialization and colonization produced by these WASPs, not to mention the First Great Depression, might be enough scandal to displace his fanciful thesis. But it is true, on the other hand, that what we are left with in a conflicted neoliberal age are the tatters of publics trying to remember what they were before private corporate governance brought in the spectacles of political theatre, unsustainable financial greed that has brought the international political economy to its knees, and a hollowing-out academy that is losing its academic freedom.
If there was ever a better time for those of us struggling in the academy to articulate why theoretical academic conversations matter, it couldn't be better than now.
As a journalist friend reminded me this year, the four pillars of academic scholarship can be rearticulated for the public interest. Currently, the pillars of publication, academic service, teaching, and community service are spoken of as private interests: This is what I have to do as an academic in order to get a job, earn tenure, and rise through the ranks of the university. Without mentioning the constant stories of academic burnout that result from such a privatized mentality, one wonders if such privatization suggests that these four pillars have in fact recently been misarticulated. After all, aren't the roots of the word publish and publication indicative of a public, that what I am doing by publishing my own work is in fact to bring my work into an existing conversation outside of myself? Isn't academic service supposed to make the university into a well-functioning space to get these conversations happening? Isn't teaching supposed to call our students out of their assumptions into this conversation that exists outside of themselves? Isn't community service the academic articulation of why what we do–esoteric as it might seem at face value–is crucial to the work of building democracy?
In other words, since when did all the stuff that I'm supposed to be doing as an academic revolve around me and my attainment of some sort of elite stature? Isn't what we are doing in the academy the calling of publics outside of ourselves into existence by addressing, examining, and educating them?
Let's return to Storybrooke, Maine, or rather, Steveston, British Columbia. One of the joys of living in Steveston while studying at the University of British Columbia has been to see how exactly what I do in the academy matters in the most public of senses. Steveston itself has been the site of historic clashes in British Columbia between private corporate interests and the public good. Once an industrial hub that sought to rival Vancouver's ports, Steveston became the space in which private developers began developing farmland into apartments in the 1960s, leading Harold Steves, the grandson of the town's namesake Manoah Steves, to form a coalition that eventually led to the formation of the Agricultural Land Reserve, a system by which farmland was held in public trust for exclusive farming use so that the public interest of food security would not give way to a private development mentality. With recent news that the Agricultural Land Reserve might break up, however, Steveston itself is bracing for a dark curse. Yet here too, what came before was not so much an Enchanted Forest of happy endings, but as the conversation into which my research feeds suggests, it was also a site of political intrigue. For example, before this was farmland, why is the story seldom articulated publicly as the settlement of indigenous land (as Daphne Marlatt sees it in her poem Steveston)? To what extent have the stories of the exploitation of Chinese factory workers (as in David H.T. Wong's comic Escape to Gold Mountain) and the internment of Japanese cannery workers (as in Roy Miki's Redress) been erased from the idyllic story of Steveston? Where does the story of Steveston's public interest in agricultural land sit with Richmond's new reputation as a Chinese ethnoburb?
These are questions that I have attempted to address, whether directly or indirectly, in my academic work, be it my stuff on Chinese Christians or the joint project on Richmond's Highway to Heaven. The point, though, is that I've seldom ever seen a divergence between what I do in the academy and where I live. The academy addresses very public debates and pushes academics to address conversations outside of themselves. What we do when we publish is to make our work public; that's why it's a public good that the university functions well and why students pass through our doors–it's because all of this stuff is meant to feed into public discourse. Our work in the academy has thus always been political, and it would be helpful to try to re-imagine it with that in mind. Our reply to the privatization narrative is that the university has never been a waste of taxpayers' money. It has always been in the public interest because by publishing, we have been public from the beginning.
That's my New Year's resolution as I move on to become a postdoctoral fellow. This place called Steveston–or Storybrooke–has taught me a lot about what it means to be a public academic. My only hope is that I'll be able to live up to what I've learned here.