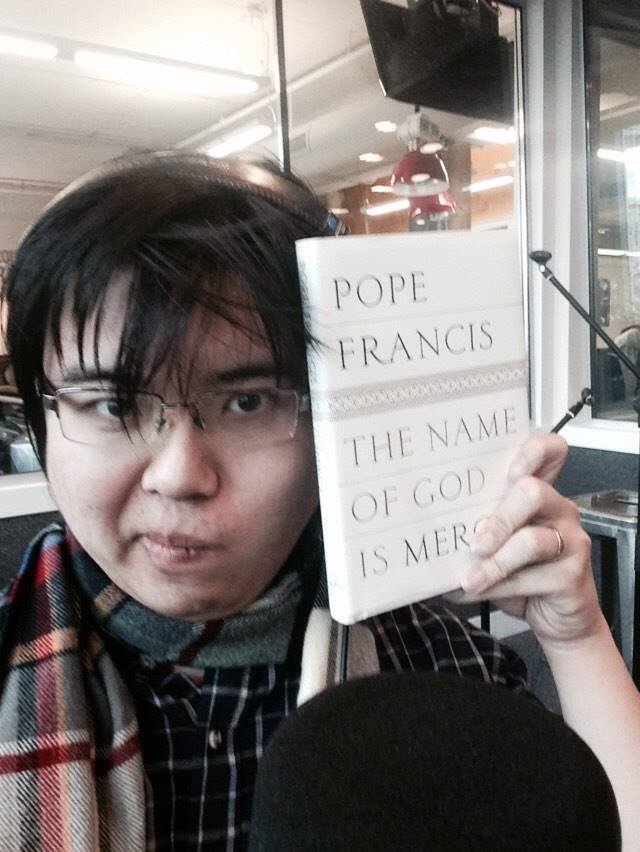 I'm gearing up for a series of reflections on Pope Francis and last week's World Youth Day, and I thought that maybe I should preface them with a bit more of what I've said previously. I realize that this is turning into what Protestant theologian Stanley Hauerwas calls a 'throat-clearing exercise,' but when you're the new kid on the block, sometimes that is what you have to do.
I spoke about the Year of Mercy at least twice on a local radio station in Vancouver, Roundhouse Radio 98.3 FM. On one show, I spoke about Pope Francis; on another show (right after Divine Mercy Sunday), I spoke about Mother Teresa and her upcoming canonization in the Latin Church (nobody on the secular radio cares about St Faustina – but maybe we can change that by talking about the Missionaries of Charity). This all happened during my Eastern Catholic catechumenate, so these segments are not only short (less than 30 minutes), but also my thoughts in development. I'm sharing them because I want to develop some of my thoughts here, especially in relation to World Youth Day.
In fact, I've been the regular contributor over the last year to the 'Grounded Theologies' segment of the show Sense of Place with Minelle Mahtani. Minelle is a cultural geographer who is interested in mixed-race bodies, especially (but not limited) to Canada, and she does a lot of very interesting work about thinking through the politics of identity on the ground. As I hope you've gathered from my posts, I'm not as interested in the politics of identity in my own work, but my work converges with Minelle's because part of geography is to be interested not so much in what I am interested in, but in what people are putting to work on the ground.
That's where what I call 'grounded theologies' comes from – they are conceptions of God, transcendence, and whatever-else-have-you that people put to work on the ground, and I write about them regardless of what I think about them. Because this means that I like to write about the work that theology does in the world in this age, I'm the most 'secular' academic there is, in the sense of the saeculum.
What that means is that I hope to do some work on grounded theologies on this blog, perhaps even starting later today, on the Year of Mercy, Pope Francis, and last week's World Youth Day. Of course, I probably won't keep as much of a distance; the advantage of being able to write here on Patheos Catholic is that I can work through Eastern Catholicism too. As my student Eugenia Geisel constantly reminds me, keeping my distance is not always an option when I'm dealing with something as erotic as Catholicism. Or to put it in exquisitely secular terms, with a #sorrynotsorry for the Latin: Ubi caritas et amor, Deus ibi est. Simul quoque cum beatis videamus, glorianter vultum tuum, Christe Deus: Gaudium quod est immensum, atque probum, saecula per infinita saeculorum.
See you all again, hopefully later today.