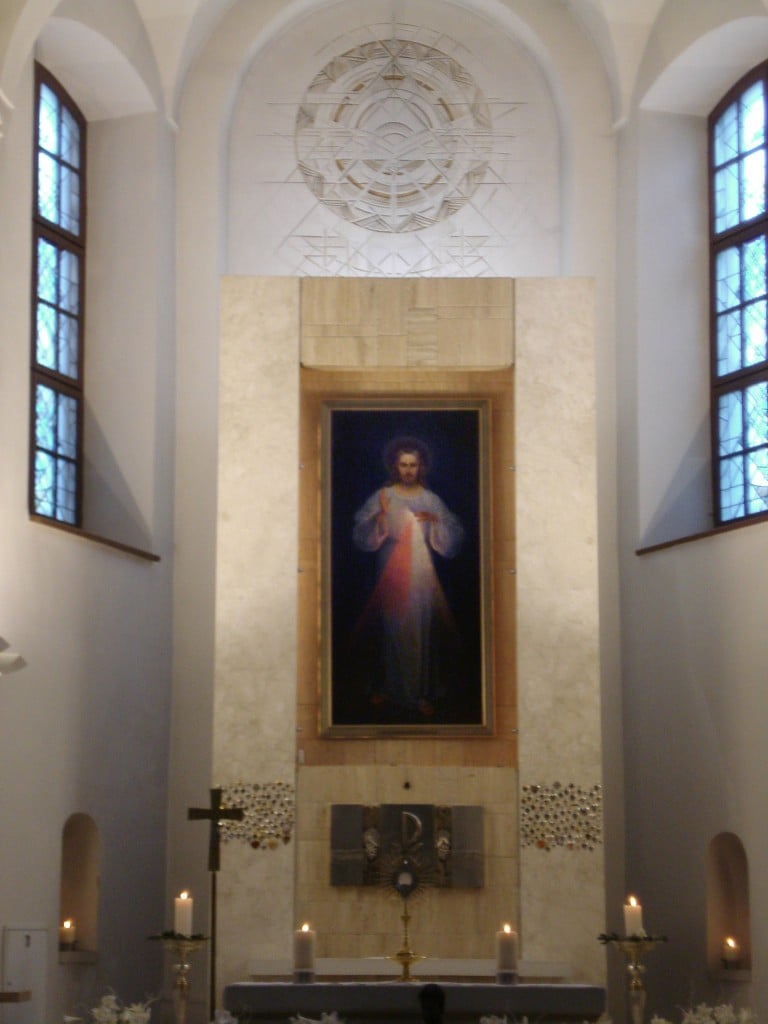 This is the third in a series of posts entitled Retracing My Footsteps in the City of Saints by Eugenia Geisel for Eastern Catholic Person on her experience of encountering the saints in Kraków as part of the ordinary supernatural during World Youth Day. There are two previous posts, one on the Black Madonna and a second on Blessed Jerzy Popiełuszko.
Eugenia is an undergraduate at the University of Washington in Seattle, majoring in Korean and minoring in Comparative Religion and Russian and Slavic Literatures; she took my course on Trans-Pacific Christianities, a class to which I recently had to issue a public retraction. Because Eugenia is a cradle Latin with Byzantine sympathies, I consider her for the purposes of this blog to be our Latin Catholic Person.
But there is another more compelling reason for Eugenia to post here. While Chris Altieri has criticized the participants at World Youth Day who are nearing age thirty for extended adulthood, Eugenia fits even his criterion for what 'youth' are. This is not to take a position on 'youth' – we can only be persons – but it is to say that this is an account of how one young Latin Catholic Person encountered the saints in the city of Kraków and cared enough about communion to tell an Eastern Catholic Person about it. The term 'City of Saints' is admittedly from George Weigel's newest book, but it was also used widely during the festivities in Kraków, so any convergences with Weigel's text is (unless noted) genuinely incidental.
It is important to note that this is a Latin Catholic reflection on an Eastern Catholic Person's blog. Eugenia makes some interesting claims about Byzantine practice while describing Latin devotions. This means that in the future, I will have to reflect more deeply on these items as well.
Things don't always go the way we plan, and there are few things in this earthly life that drive this reality home harder and more clearly than a pilgrimage. Since the moment I stepped on my first plane, every day without fail something would not go according to plan. A flight would be cancelled, someone would get lost or separated from the group, the tram would drive on past us, the bus would never come, or we wouldn't all end up on the same bus. Oftentimes, at least one person would not be feeling well, or our prayer books were all in Polish, or it would start pouring down rain. Seriously, every single day, multiple times a day, something went "wrong".
Among the saints whose relics were present at the English language catechesis site aptly named the "Mercy Centre", was St. Faustina Kowalska. Faustina was an incredibly fascinating figure. She was essentially a young Polish mystic and nun of the 20th Century who received many visions, including ones of Christ. Through these visions Jesus conveyed to her his message of Divine Mercy, and instructed her to spread this message and its devotion.
The devotion mainly includes veneration of the Divine Mercy image, as Jesus instructed her to have how she saw him painted, and the Divine Mercy chaplet. The chaplet is a simple repetitive prayer that can be said on prayer beads such as a rosary, with the most repeated prayer being: "For the sake of his sorrowful passion, have mercy on us and on the whole world". Despite being written off as an oddball at first, people eventually took her seriously and the devotion quickly grew, first in Poland and then across the globe among Latin Catholics. Karol Wojtyła — John Paul II, that is – greatly admired Faustina, and after her death he surely contributed to the devotion's spread, ultimately canonizing her in 2000 and establishing the Sunday after the Gregorian Calendar's Easter as Divine Mercy Sunday.
During the masses at the Mercy Centre, those of us who were musicians had to wait to receive communion due to logistical reasons. As soon as mass was over and we finished our postlude, we would dart down the backstage hallway to the adoration chapel, trying our best not to bump into cardinals and bishops. This area was open to all pilgrims visiting the Mercy Centre. Here, people could venerate the relics, go to confession, and of course Eucharistic adoration would be available (an admittedly very Latin thing).
After the first mass in the big arena, I clearly remember kneeling there with my choirmates, waiting for communion. The Blessed Sacrament was not exposed yet, so I placed my focus on the giant image of Divine Mercy that was being projected. Now that I think of it, though this artistic form differs greatly from Byzantine iconography, this prayer via focus on a holy image doesn't seem all that far from placing one's focus during prayer onto the iconostas or one's home icon altar.
This attempt at peaceful prayer was quickly interrupted as gnawing thoughts of my unknown future snuck into my head. As it usually goes when confronted by such thoughts, my wholly flawed prayers tend to be along the lines of "Lord, what do want me to do with my life?" or "God, is [insert specific situation] your will?", and these are typically followed by the impatient clause of "Lord, I need to know!"