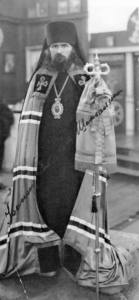 Over the weekend, folks at our temple in Richmond joined in the Orthodox celebration of the Holy Hierarch John Maximovitch of Shanghai and San Francisco the Wonderworker by adding his tropar, kondak, theotokion, prokeimen, and epistle reading to our Divine Liturgy. I have a hodgepodge of thoughts I want to get out about St John of Shanghai, possibly for further reflection and reworking in the future. Broadly speaking, they revolve around him being a wonderworker of the latter times, as he is called in the services that are written out for him.
Some places say that his day is St John of Shanghai's Saturday closest to July 2, others have it on July 2 itself. As Sister Vassa reminded us last year, the actual day of his repose was July 2. At our temple, we figured that if we are celebrating the saints of the homeland (some say we should do Rus'-Ukraine, others say we should do Canada or North America or both), we might as well make it count with a contemporary saint that also straddles Asia instead of trying to determine what exactly the homeland of our temple is. Some might take umbrage at our brazen rejection of the deification of the ethnos, but there is no way we can be called uniates for celebrating an Orthodox saint.
In some ways, it has been the weekend of homeland celebrations: Canada Day, Independence Day, National Day in Hong Kong, and the various demonstrations in Hong Kong to protest National Day, only one of which is the July 1 Demonstration. It's been busy for all of us at the temple, but the plain fact is that we are a church with a relationship to states that is ambivalent at best, so we went ahead with celebrating a saint – the wonderworker of the latter times!
Some of us were reminded of the Feast of St John the Wonderworker because of the postings of our sister temple, Our Lady of Fatima Russian Byzantine Catholic Church, as they posted the live Facebook videos of the celebrations at Holy Virgin Cathedral in San Francisco. The two temples are around the corner from each other. As a point of fact, there is in fact an Orthodox Church in America temple in Vancouver called St John of Shanghai; some of us at our temple have some dear friends there, though we sometimes spar about Greek Catholic and Orthodox ecclesiologies. In fact, it is the first Orthodox church that most Protestants in Vancouver who know something about Orthodox think of, and for that, let us all give glory to G-d!
In some ways, you could say that our temple's joining in these global celebrations is very predictable. The rumor in the Greek-Catholic Church of Kyiv is that we are the church's 'Chinese mission,' with even our Patriarch saying to the gathered people at the enthronement of Bishop Benedict (Aleksiychuk) in Chicago:
But at the same moment, at the same time, Apostle Paul was saying to us that that eparchy has a specific characteristic because it unites people not only of the Ukrainian background or origins – that eparchy prays and celebrates Divine Liturgy both in English and in Ukrainian, but many tomorrow following the spirit of St Paul, you will pray even in Spanish and Chinese, because we are Ukrainian church, but not a church for Ukrainians. We are a church of Christ, with the universal message of his gospel, which is opened to everybody who wants to receive the eternal life through the ministry of the new bishop to proclaim the word of God, to sanctify the people of God with the sacraments, and to govern that church in the name of Christ.
There is one temple right now in the Greek-Catholic Church of Kyiv that has Chinese in the liturgy: my home temple in Richmond. So of course, we would be doing some 'Chinese' things.
Learning about St John of Shanghai and San Francisco made me eat my words did indeed make me eat my words to my students when I said that Eastern Christianities don't matter in the greater scheme of 'trans-Pacific Christianities,' networks of Christian practices, communities, and institutions that straddle the Pacific Ocean. However, I think there's an important reason not to get carried away with the identity politics I might be tempted to espouse here – in no way is commemorating Holy John the Wonderworker a 'Chinese' thing; for heaven's sake, the guy wasn't even Chinese! The most I'll stretch it is to say a good word about the Russian Orthodox missions in Harbin, and then in Shanghai; as St Philaret of New York recalls:
The entire Far East, the entire land of China, has a great veneration for Saint Nicholas, you know. Once a Russian hunter had wandered far, far, into the taiga or steppe, and there he came upon a Chinese farmstead where he asked shelter. The friendly master and mistress of the house invited him in, and over their door he saw an icon of Saint Nicholas. He thought to himself, "What can these heathen be doing with it? What do they need it for?" And he wanted to take it. His host was offended and said, "Why do you want to take the Old Man away from us? He's so kind, he helps us so much. We won't give him up for anything!"
The Wonderworkers were thus certainly a presence in China, and they have become presences for some of us at this supposedly 'Chinese mission' in Richmond (we're much more diverse than a Chinese mission, but it is true that we do incorporate Chinese into our liturgy). But let's not get carried away.
The reason I have a love for Holy John the Wonderworker is because he is indeed a wonderworker of the latter times. I do not mean to say that I am impressed that he could work wonders in a modern secular age; any casual modern viewer of films and television series about the paranormal knows that the arrogant position that the supernatural is no longer applicable because it somehow expired with the dawn of modernity (whenever that was) is being set up for trouble, usually with creepy accompanying music.
What I do mean is that St John of Shanghai and San Francisco was a wonderworker in an age of shifting modern ideologies: imperialism, fascism, communism, liberal democratic capitalism. Each of these ideologies demanded a sort of identitarian allegiance, whether it was Russian imperialism or communism, Chinese nationalism or communism, Japanese fascism, and the organizational demands of personal responsibility imposed by the individualism of a liberal market economy in the United States. But wherever St John lived, he was the same – a holy man given to intense prayer with many prostrations with such a special devotion to the poor that he'd give away his possessions to them; one story has it that his housekeeper came home to find the refrigerator empty as he had given the food away already. To be a wonderworker in an age that demands the loyalty of personal identification to abstract values and then commands that one should be personally responsible for one's individual selfhood – this is already a wonder. In fact, he was sued for alleged financial mismanagement during the building of Holy Virgin Cathedral in San Francisco; being a wonderworker of the latter times with reputation for disorganization due a zealous love for the poor is not easy.
In all of this, St John of Shanghai and San Francisco exemplifies what Michel de Certeau SJ called the practice of everyday life. Certeau fully acknowledged the modern systems of discipline, control, and bureaucratic order that make up what we might call the latter times. But he also maintained that what people do with those systems is hardly ever to be controlled by them. Instead, people in their everyday lives tend to poach from these systems because they have lives in the world, which are usually informed by what modern people would call myths, superstitions, fables, and legends. By living everyday life like this, it would be a stretch to say that these people are resisting these apparatuses; it would be better to say that they are not cooperating with it and sometimes even interrupting it by failing to be part of the bureaucratic factory.
The thing about Holy John the Wonderworker is that he was affected by all of these modern, bureaucratic, ideological systems; for heaven's sake, he stared down all kinds of nationalisms, fled communism, and got sued. But the wonder in all of this is that he maintained his Orthodox practices of holiness – the prostrations, the giving to the poor, the askesis (training). No wonder his body lies uncorrupt in Holy Virgin Cathedral; no wonder he is a saint – I have no doubt, after all, that the wonders attributed to his prayers (some of them all night!) are indeed true, for it is by the wonders worked through his body that the Spirit continues to interrupt a modern world that is way too organized to recognize the primal power of the supernatural that still lies at the heart of existence for people just going about our everyday lives.
Rejoice, O holy hierarch John, wonderworker of the latter times!