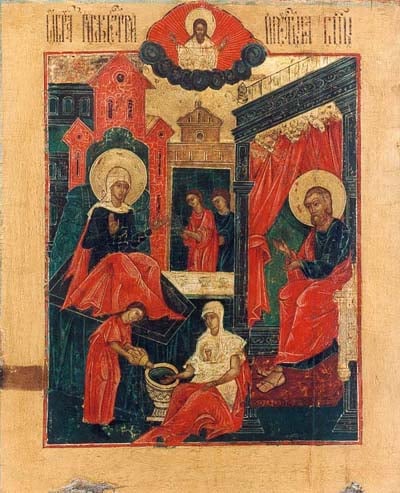 Last night, I walked to Great Vespers for the Nativity of the Theotokos at the temple in Richmond. Much as I love the Theotokos (doubtless, one day I will have to be psychoanalyzed because of it), I have many things to do on weekdays, so I had thought that I would not go.
But then, I decided at the last minute to go, and when one decides to go to things on a whim, one does not necessarily have the requisite transportational vehicle to execute one's decisions. I asked my spiritual father if he could give me a ride; no luck, barely any response. A friend who asked us whether we were even having a service – and then asked whether we would be talking at all about her newly adopted patron saint (as her name doesn't happen to have any correspondence with any Byzantine saint, though she has already been baptized and chrismated in a sister church in full communion with us) Holy Hymnographer Kassiani, whose day is September 7, to which I responded ignorantly, who dat? – told me that she'd be late, very late; she arrived at the tail end of the service right before the aposticha (the stichera at the end of vespers). I tried a family member who goes to the temple regularly; she was busy.
So I walked.
When I got to the temple, my spiritual father, who had only replied my message with oops must go with no indication of whether he was even interested in giving me a ride, had set the Apostol book on the tetrapod. He said that there were three readings that we'd do tonight, and if I was interested, I could spread them out to other people. Thankfully, the ribbon was in the right place for the readings; a few weeks ago, there had been a minor liturgical disaster during Divine Liturgy because of said ribbon, during which the mainland Chinese graduate student who does the readings in Chinese informed me as I was intoning the prokeimen that I had flipped to the wrong week; I went ahead by reading the wrong reading, halfway through which my spiritual father went up to the royal doors and made a funny face and told me to read the right one.
In any case, I found the Vespers readings for the Nativity of the Theotokos. The only other person at the temple last night who was used to doing any of the readings was a Ukrainian lady. Generally speaking, we in Richmond are a temple in the Kyivan Church with a general unawareness that we are Ukrainian (some have said that we are the 'Chinese mission,' which is just as dubious), but the Ukrainians, who have their service earlier than us in their home language, are actually really nice to us English-speakers, being mostly second- and third-generation English-speakers themselves. I had her pick out which reading she wanted to do; she said she wanted to do the first one.
So off we went, me, the Ukrainian lady, another one in the back, and a couple of visitors from the Latin Church who were unfamiliar with anything Kyivan. The lamp-lighting psalms and the stichera turned out to be in my favourite Galician samohlasny tone – the sixth one – and we sang our guts out:
Today, God who dominates the spiritual thrones of heaven
welcomes on earth the holy throne which he had prepared for himself.
In his love for the human race,
he who established the heavens in wisdom has fashioned a living heaven.
From a barren stem he has brought forth for us his Mother
as a branch full of life.
O God of miracles and hope of those who have no hope;
O Lord, glory to you!
Even the
dogmatikon
(the instructional song about the Theotokos and the two natures of Christ, among other dogmas pronounced by the ancient councils) went off without a hitch, which never happens when I'm there because it's so complicated and I'm so bad at it, and then we were at the Little Entrance, and then the Tranquil Light (which was divine), and then the Thursday
prokeimen
: 
My help comes from the Lord, who made heaven and earth
.
Then: Wisdom. The Ukrainian lady informed us it was a reading from the Book of Genesis. Let us be attentive.
I was not attentive; I was getting ready to jump in with the next reading. I heard some of it, but I have gotten into the bad habit during Divine Liturgy of completing tuning out the English reading and waiting for the Chinese graduate student to do it again in Mandarin because it speaks to some deep recess of my heart even more for reasons I do not understand (because I am Cantonese), which I suppose means that we really are the 'Chinese mission' in Richmond. But I heard something about Beersheba, and Jacob, and a ladder, and the residual Protestant in me who can still figure out chapter and verse figured that it must be about Jacob and the ladder, and I even made a reverence when she chanted I did not even know it because I like that line and getting something out of the reading was better than nothing.
When she was finished, she sat down, and I took up the book, stood there, and got ready to read from the Prophecy of Ezekiel. My spiritual father, however, had another idea: he launched into one of his famous sermonettes, the short homiletical treatises he does in the middle of liturgies to explain what is going on.
He asked us to consider why the holy mothers and fathers of the church would pick this passage, of all passages, for the Nativity of the Theotokos. Does it have something to do, he mused, with Led Zeppelin? What does this even have to do with the Theotokos?
And then he pointed at the stars on the icon of the Theotokos on the iconostas; she takes us into heaven. The Theotokos is Ever-Virgin, he said, and what does that mean, but that she who bore the Lord in her womb and is thus the ladder to heaven also closes again? Is this not what we sing in the stichera?
G-d could have picked anyone, he said, but he picked Mary. But what that means is that G-d also picks you and me; in this way, we too are bearers of G-d.
All the while, I was standing there, Apostol book in hand, ready to read. I had not planned to come to this service, and when I came on a whim, I had to walk. We sang beautifully, but I had barely paid attention to the readings.
And yet, G-d was there, and I, I did not even know it.