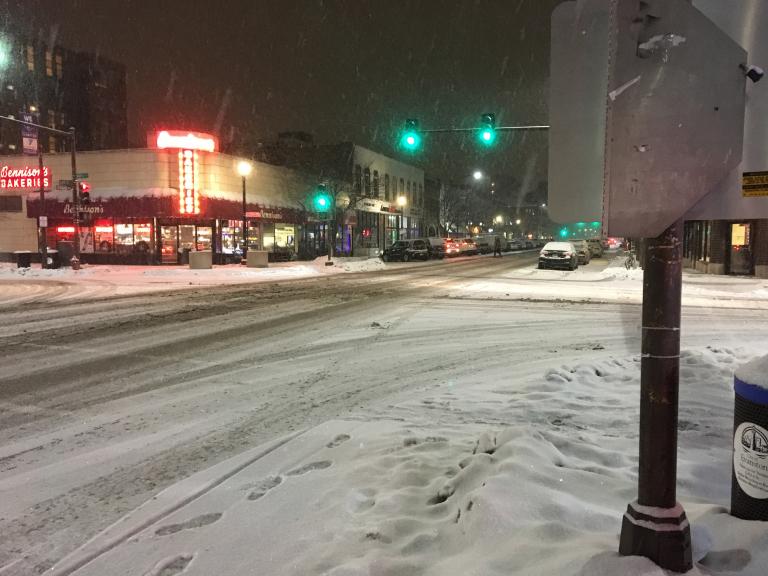 The email came in the middle of Reader's Vigil, right before the Matins Canon. Classes having been canceled because of the deep freeze that is coming over the Midwest, I decided to take a few days at home to write, which means that I am also cooking and praying. The prayer, which has been surprisingly regular on the hours in the past few days (I am, like most Christians across all of the communions by which we are divided, terrible at regularity), is not a matter of piety. It is the difference between sanity and otherwise while being holed up at home with deadlines. I am, of course, thankful to be able to get all the things on my longstanding and famously long to-do list out of the way. Some scholarly things have been chronically tardy due to my concentration being spent on the more administrative dimensions of my career – all academics, one must realize when they get into this profession, are first administrators, even if the administration is one's own curriculum vitæ – so I relish the chance to slow down, think, and write. I am sure that my editors will agree when they finally receive when they've been waiting for from me too.
The propers from the Menaion that I use are online, so I had my computer out, as I tried to figure out the intricacies of how to pray the service for the Venerable and Godbearing Anthony the Great, whose day it is today. It was in one of those moments that the email came, first as a Facebook post, then as a message, and then the discovery that it was in my inbox all along. The administration at Northwestern University had cancelled classes yesterday, their email saying that the weather was 'downright scary.' The email I got last night, though, came from some students that I knew. Organized as Students for Organizing for Labor Rights, the people that I knew in this collective had taken seriously that the meaning of social justice had to go far beyond questions of identity, as is often the case throughout the academic Left, and had address the material problems of those around them. For them, the truly precarious in their midst were the workers who labour in their dormitories, in food service, and in custodial services throughout campus. I heard they had started organizing last year. This email showed me the significant progress they had made.
The email was very simple. It simply asked for fellow students to contact the contractor that employed the workers to say that the weather outside is so inhumane that no one should be asked to commute in it, especially not the people who keep our campus running in the day-to-day sense. I was tempted to ignore it, of course. They were students, and I was praying, which in secular terms falls under the rubric of self-care in a profession where I am constantly offering myself to others. But at the moment I thought it was all none of my business, I felt cut to the heart. The propers stressed that the Venerable and Godbearing Anthony the Great lived his life among the poor and showed us in his life in the desert what it means for the church to live in the truest poverty. Anthony, of course, had famously heard the Gospel of the rich young ruler, which incidentally was read in our churches last Sunday, and had taken it literally, selling all he had and giving it to the poor so that he would follow Jesus. Legend has it that this story lies at the origins of how Christian monasticism, the founding of spiritual cities in the desert – which is not only Derwas Chitty's immortal formulation, but also in the stichera about St Anthony in the Vigil service – was literally invented.
I considered the complexity of my life in relation to Anthony. Here I was, teaching a course on Asian American social movements at Northwestern on the one hand, and also worrying about what it might mean if I joined in speaking out for the least of these among whom I live and work. I later told one student that it was good that the email had caught me in the middle of prayer. I was in a vulnerable position. If I had more headspace to be calculating, I might not have tried to help out. Unfortunately, I was in the middle of praying with St Anthony. Alas, indeed, for in seeing the poor in the face of the Great Monastic whose shining with Uncreated Light can only mean that it is Christ ultimately beholds me in this exchange of sight, I could not ignore the plight of the poor next to me. The students had been given the day off, and so had we faculty and most staff, because going outside would be humane. But if it is inhumane for us, then how could it possibly be fine to require the very humans who work among us to go through it, especially if they might have to brave long commutes to work in a town where they could not afford to live?
The Lord tells us not to let our left hands know what our right are doing, and so I do not think I will say much more about my actual material response to the email. In any case, I didn't do much, as it is the students, not me, who are organizing the workers, and I don't have much to do with that either, except that they occasionally tell me what's going on sometimes. But if there is a reflection I can offer, it is that prayer is what consistently aligns me with the work of social justice, the radical notion that human persons remain as such in the face of systems of impersonal and inhumane oppression, often unintentionally so because the point of something being systemic is that there is nothing in the machines that run our everyday lives that can have an intention. To pray is to engage in the works of makrodiakonia, to be of the kind of service to the world that does not only dole out charity at an individual level but also examines why it is that oppression is happening on a larger scale so that the Lord, have mercy that we sing can reverberate as streams of justice cascading like mighty waters. Of course, I work in a secular university, so I must also say that these practices of Byzantine prayer are my own praxis in a world that increasingly finds itself in a postsecular situation, one in which stuff that is more-than-material constantly bubbles up from the surface of a landscape that looks naturally unspiritual. The beauty of this postsecular situation is finding out that others engaged in social justice are wrestling with the spiritual on their own terms too, that there is no working in this oikoumēnē of our shared co-existence without contending with the supernatural that is shot through the material of our everyday experience. In fact, last quarter, on a panel that my program put on featuring Asian American activists, the conversation veered sharply into the realm of spirituality after an hour.
Perhaps praying, writing, and cooking is indeed what I will continue to do as I wait out this inhumane cold, knowing especially that now I am inextricably linked at both a material and a spiritual level with the most precarious among us. I will indeed be following the developments of this story at my local workplace closely, then, and I am thankful to my students for continuing to educate me, deepening the mystagogy by which I continually be drawn into the life where, like St Anthony and the rest of the God-bearing mothers and fathers who have gone before us, I might bear the Lord into the world in my body as well.
Or perhaps, speaking of postsecular convergences, the poet and healer mai c. doan, whom I had the good fortune to hear live at an activist arts space in Chicago a few months ago hosted by one of my colleagues, has written a poem titled 'New Diaspora' that I told her sums up how I pray, at which point she held her hand to her heart and offered me her prayer text, which I have hung on the wall near my beautiful corner. And when we pray, she writes, as if echoing the canon of the Theotokos that is offered alongside St Anthony's as we consider these Godbearers together, we pray whole heart into the mantle / we become our own prayer.
Venerable and Godbearing Father Anthony, pray to G-d for us. Most Holy Theotokos, save us.