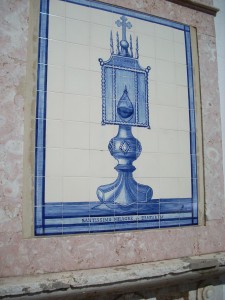 On the Feast of Our Lady of Sorrows, we venerated a miracle wrought by desperation, and experienced one of our own.
Saturday, September 15: Lisbon to Fatima by way of Santarem
Landing in Lisbon after our mad scramble through the 9 circles of Charles de Hell Airport yesterday, we met our guides Guida (her name means Guide, so she is Guida Our Guida) and Francoise and boarded our buses. We are a two-bus pilgrimage (the Red and the Blue; I'm on Blue, with Guida) with this many people. All we saw of Lisbon was a sweep of water and palm-treed coastline from the plane—I thought it was the Atlantic, but Guida later told us it was the broad estuary of the River Tagus, that begins in the Spanish mountains above Toledo as a tiny spring—and hillsides covered with golden stucco houses with red tile roofs, all new construction in the suburbs we passed on our way out of town. We were headed, as pilgrims have been heading since the 13th century, to our first stop: the Church of the Eucharistic Miracle in the town of Santarem.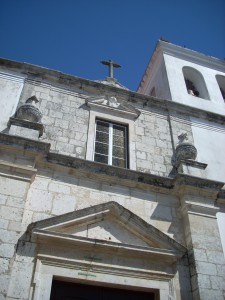 Santarem is one of the Iberian peninsula's multi-layered places, moving through the hands of prehistoric Lusitanians, Phoenicians, Greeks, Romans, Visigoths, and Moors. The Roman colony was named Scalabis, and even today people from Santarem are known as Scalabisenos. In legend a Visigoth martyr named Iria (Irene) died for her faith in Tomar, and her incorrupt body floated down the Tagus to Scalabis—a miracle in itself, because the Tagus runs nowhere near Tomar. The city enshrined the martyr's body and renamed itself Sancta Irene, which over time and with the soft Portuguese slurring settled into Santarem. (Remember Iria, though. Her name, like her incorrupt body, really gets around.)
But we weren't seeking the shrine of the Visigoth martyr. Our goal was the Church of St Stephen, where a miraculous bleeding Host has been enshrined and venerated for nearly 800 years. I know, I know. Bleeding Hosts—somewhat overly literal testimony to Catholic belief in Christ's Real Presence in the Eucharist—creep a lot of my friends out. But stick with me, because this one has a story that sounds more like a soap opera than a pious tale.
There was a woman whose husband was cheating on her. She prayed for his return to faithfulness to no avail. So she sought out the local strega—a witch—and asked for a spell. "No prob," the witch replied. "Just bring me a consecrated Host." Now the poor woman knew this was very, very wrong, but she was desperate. So she received Communion and slipped the Host into her hand, wrapping it in a cloth, and left Mass early. (Apparently people did that even before there were parking lots and football games.) But as she walked, blood saturated the cloth and began dripping from the Host in her hand. Terrified, she reached home and threw the bloody Host into a chest in her bedroom. During the night, she and her husband (who must have been giving his mistress a night off) were awakened by a bright light shining from the chest. They fell on their knees and repented—he of his adultery, she of her sacrilege.
Next morning, they brought the still bleeding Host to the parish priest, who sealed it in a wax container and locked it in the tabernacle. The next time he opened the tabernacle, the wax container was gone and the Host was contained in a pear-shaped crystal pyx. The priest placed the pyx in a monstrance and displayed it over the high altar, to which pilgrims have been coming ever since.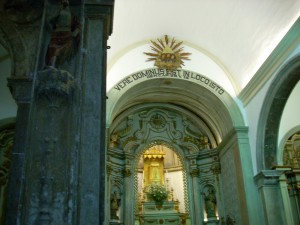 Sounds weird and superstitious and totally hokey, yes. But the point is, God used a woman's desperation to draw all eyes to the Eucharist, the central mystery of our faith. And as we stepped out of the aching dazzle of the Portuguese sun (there is a reason miracles happen in this kind of light) into the dim quiet of the church, there our eyes went again, upward to the monstrance above the altar. We celebrated Eucharist in the presence of a Eucharistic miracle, and it focused us, sharpened us, brought us out of our night flight slumber and dared us to believe in all that is bigger and older and more mysterious than we have words for.
Pilgrims can climb a steep, narrow staircase behind the altar to venerate the Host in its pyx and monstrance, shielded behind plexiglass. Most of our group did so. I wasn't quite up to steep climbing and I'll never be narrow, so I sat out and put on the mindset of unquestioning belief, wrapping it around me like a prayer shawl. In this place, cynicism and sophistication and intellectual arrogance melt away, if you let them.
It was the Feast of Our Lady of Sorrows yesterday, a good time remember that her chief sorrow was what drives the rest of us to desperation: losing someone you love. An ancient Irish poem lays this desperation at Mary's feet:
My grief, my grief,
Maid without sin,
Mother of God's Son;
Because of one
I cannot win,
My peace is gone.
In desperation, you can respond as the nameless wife of Santarem did, and turn to earthly magic and power, or you can respond as Mary did, by surrendering utterly to the sword of God's heart-piercing will. In either case, Santarem says, you will be led in the end to the Eucharist, the only answer to your desperation, the only healing for your loss. By hook or by crook, we all come on this pilgrimage to What Really Matters: what a great way to begin ours.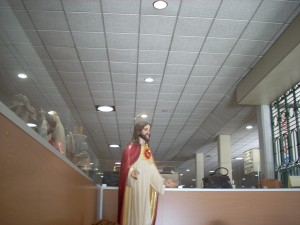 And from the sublime to the shopping mall, the next stop we made was also obligatory for pilgrims. In the Middle Ages, you went to a hostel run by monks and got soup and bread for the journey; you dropped a few coins to buy a fourth-class relic or a pilgrim badge to put in your cap. So we were bused from Santarem to the outskirts of Fatima, to the (honest to God, or as honest as this gets) Religious Goods Factory Outlet. Downstairs, acres of statues and rosaries and postcards—and knockoff designer purses, for the more secular-minded—plus a bar for gentleman passing the time while their wives shop; upstairs, the modern version of a hostel, with soup and bread and fruit and wine and Portugal's answer to Budweiser, Super Bock.
We hit the pillows hard last night in our very nice Hotel Santa Maria, with the sounds of the Candlelight Procession—singing, praying, bells, laughter—coming softly from the nearby Sanctuary as a lullaby. There was word of another miracle: our lost contingent of luggage was found and would be delivered in the morning. God is good.
You're in our prayers. Please keep us in yours.
_____
Next: A Day in Fatima