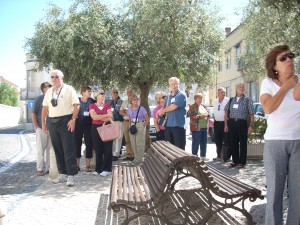 Not every encounter on the pilgrim path is with Christ and his saints. Not every experience is a mystical insight. Not everything you learn has spiritual significance. But it's all part of the road.
It's worth taking a breather to note some of the things we've learned and experienced and encountered on this pilgrimage. They weren't necessarily on the agenda, but they'll stay with us at least as long as the dates of the Spanish Reconquest or the number of dining rooms in the Royal Palace of Madrid.
What We've Learned
It's different over here. From mastering doors that push out instead of pull in, to having to put your room key into the slot to turn the lights on (and plunge your roommate in the dark when you go downstairs for a drink, because they'll only give you one key), to staying clean while avoiding death by scalding or hydraulic pressure from strange shower arrangements or falling out of a too-tall bathtub with no grab bars, to oh-my-goodness the food (black pudding, sardine paste, lots of fish, no ice, coffee that curls your hair in the morning and isn't available at night), we learned to adjust.
We aren't on a German tour. So nothing is ever precisely as described, or at precisely the time we thought it was, or as efficient as it looks on paper. People are people the world over, and they're a lot more flexible about time in siesta lands. Plus, rounding up 85 people is not easy if you are not an Australian sheepdog. Plus, we never did learn to listen, so scheduling is often a matter of asking "What time are we meeting?" right as we are being told what time we're meeting. We are learning to catch up.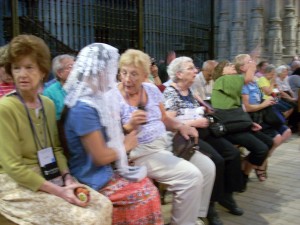 We aren't as religious as we thought we were. So much of the lore and legend of Western Christianity is lost to us as Americans, not only because of the Great 30-Year Catechetical Drought (mea culpa, mea culpa, mea maxima culpa), but because we live in a secularized society. We pooh-pooh the EuroZone for its lack of piety, and cheer efforts at a New Evangelization, but in the places we've been, Christendom and Al-Andalus and the Golden Age of the Jewish Diaspora are still alive and well and running through the landscape and the conversation. Nobody bothers to separate Church and state. The Zaragoza soccer team comes to the Shrine of Our Lady of Pilar to touch the statue's mantle and pray her blessing as each season kicks off. Professional guides speak with absolute credulity of Mary's bilocating between Jerusalem and Spain, or of the miraculous properties of St Teresa's teeny tiny arm. Led through richly decorated cathedrals and the Prado's plethora of religiously themed art, we can't tell one saint from another, even with a playbook. We learned how much we still have to learn.
What We've Experienced
Homesickness. No matter how great our longing to have our feet set on the pilgrim's path, there comes a point when we all yearn for home. We miss not only family and friends and shower nozzles we can figure out, but the dailyness of our lives. French fries from Burger King. The Reds scores. The hometown paper. White wine that's chilled, and more than two tiny cubes of ice in a drink. The first signs of autumn in our gardens. Stores where we understand the prices. Our home parish, which, while it doesn't having soaring Gothic cloisters or an ornate reredos in the platenesque style, is lovely in its own way, and home. Homesickness is an important feature of the pilgrimage experience, because in it we are reminded that all of us are homesick for heaven.
Miracles. Whether it's remembering you left your purse hanging over the back of your chair before you leave the restaurant, or having a priest to break (most of) your flying fall from an invisible step, or finding a moment's peace in a quiet courtyard at midday, or seeing a winged creature soar from the breast of the crucified Christ at the fraction of the Mass, there are wonders on the road. As Elizabeth Barrett Browning wrote, though, it takes keeping your eyes open:
Earth's crammed with heaven,
And ev'ry common bush afire with God;
But only he who sees takes off his shoes—
The rest sit round it and pluck blackberries.
Challenges. Knees that don't hold us up while we're holding everybody else up. Lost wallets. A malfunctioning C-PAP machine that turns 3 nights into a hell of sleeplessness. The elevators, or the lack of them. Delayed luggage. Not enough room in the suitcase (or Euros in the bag) to buy everything you want to buy. The heat. The food. The lack of sleep. The information overload that makes you scream if you hear one more date or are asked to identify one more trend in church architecture. They're nothing like what pilgrims endured in the Middle Ages, but they're our blisters and we cherish them, as we should, because they mark us forever as members of the fraternity of road warriors called pilgrims.
What We've Encountered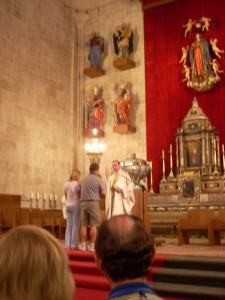 Joys and sorrows. Several of our group experienced the deaths of loved ones and friends either just before or while on our pilgrimage. Even when the losses are nowhere near as raw (my own parents are gone 20 years, but I wept for them this morning as freshly as they days they died), we carry sorrow with us, our own and the world's. It's what pilgrims offer at each shrine along the way, in solidarity, in memory, in reparation, in love. But it's not all sorrow, by any means. We have our joys, aplenty. We've celebrated two birthdays and a 35th wedding anniversary so far, and a hundred small smiles and gusts of laughter.
Angels. Our guides, Guida and Francoise, and especially our drivers, Mario and Paolo, not only made sure we survived, but ministered to us with patience and good humor. People we met along the way—from cloistered Carmelite nuns on cellphones to shopkeepers to street sweepers to waiters to sacristans to fellow travelers to a Pyrenees guesthouse staff on skeleton crew who whipped up amazing paella for 75 at a moments' notice—have helped us and lightened our load and surprised us with grace.
New friends. Amongst ourselves, we've discovered unexpected lines of connection and camaraderie, shared tastes in snack foods and beer and reading material, bonds as strong as family. The community won't dissolve when the suitcases are unpacked back home. We were especially graced to have two Polish-American sisters, Alina and Kristina, join our company from Madrid to Lourdes, after the pilgrimage they had signed up for was canceled. They were enterprising enough to recreate every bit of it independently, except for passage through the Pyrenees. Their smiles, photos (who else would dare to climb the tallest tower of the Basilica of Pilar and stand on a windswept platform to capture all of Zaragoza?), and shared bags of sweet yellow plums from the market square made the trip even better.
Christ. Well, of course. In all, seen or unseen. Like the travelers on the Emmaus road, we are accompanied by the Risen One. We know him in the breaking of the bread once a day, and in a thousand other ways around the clock.
These are just my list: everyone has one. I'll end mine with the chorus to a favorite road song, Tom Russell's "The Road It Gives (and the Road It Takes Away"):
We'll sing Hallelujah, we'll sing it in the morning
And thank the Lord for giving us one more day
And for the ones who've passed on through,
We'll sing this one for you
For the road it gives and the road it takes away
_____
NEXT: Madrid