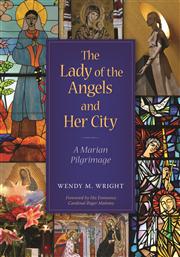 The Lady of the Angels and Her City: A Marian Pilgrimage
by Wendy M. Wright
Liturgical Press, 2013
I can't think of a better day than May 13, the Feast of Our Lady of Fatima, to bring to your attention Wendy Wright's new book—and to make a wish for Wendy herself. The publisher's description sums up well the author's intent, and why this lavishly illustrated volume is of interest far beyond the widespread boundaries of the largest Catholic diocese in the United States:
The Lady of the Angels and Her City recounts Wendy Wright's visitations to her hometown's many Marian churches and shrines. But it is much more than a personal pilgrimage narrative. It offers important glimpses into the history of Los Angeles Catholicism, American Catholic culture, and Mary's place in Catholic theology and tradition. It peeks into the heroic labors of the religious orders that went on mission there and the waves of immigrants who have arrived on American shores.

Readers who know the geography of Los Angeles Catholicism will surely enjoy Wright's reflections on familiar places. But there is much here that will fascinate anyone interested in the history of Christianity in America or devotion to Mary by those who love her today.
Disclaimer from the start: This is a book I would have loved to have written, combining as it does two reignited passions, the city that shaped me and to which I have returned, and the devotion to Mary alive again in this revert heart. It's also a book I wanted badly to rave about. Wendy Wright, professor of theology at Creighton University, contributor to the spirituality journal Weavings, and author of 14 books, has long been one of my favorite spiritual writers. Her seasonal reflections—The Vigil: Keeping Watch in the Season of Christ's Coming and The Rising: Living the Mysteries of Lent, Easter, and Pentecost—are annual retreats-in-print for me. The photos that enliven every page (most by photographer Dorothy Tuma, who should receive cover credit, I think; others from the archives of the Archdiocese and the religious orders who have served here) make this book the equivalent of a whirlwind visit to the Marian shrines of the world, recreated in L.A.'s global village.
As it is, though (and fully ready to accept that this may be a simple case of envy), I have to downgrade my rating of The Lady of the Angels and Her City to what the old Legion of Decency movie ratings used to call A-IV: Suitable for Adults with Reservations. In other words, it's complicated.
It's not Wright's progressive Catholicism and feminist theology that are problematic. Though this stance might turn away some of my blog neighbors and a good part of the flourishing communion of Marian devotees, Wright comes by it honestly as the unchurched daughter of parents committed to peace and justice, and a 1970s convert to Catholicism formed by the Santa Barbara Franciscans. Don't dismiss The Lady of the Angels out of hand because of theological or political biases: there are treasures here for everyone.
More difficult for me to overlook are the numerous errors of fact, spelling, and style. This book, Wright says, was six years in the making, but I wish more time had been allotted for a good copy edit. Some errors are historical inaccuracies (Francis heard Christ's call to repair his church and later established Clare's convent at San Damiano, not at the Porziuncula), some of local geography (Immaculate Heart of Mary in Hollywood—my childhood parish and school—is north and west of Los Angeles City College, not south and east, and a good long walk from the Cahuenga Branch Library where Wright and I may have crossed paths on a hot summer day, not just nearby). Some are downright embarrassing, such as the misspelling of Cardinal Mahony's title as Emminence on the title page and in the table of contents, and the misidentifcation of St John's Seminary personnel Dr Paul Ford (called John Ford in the Acknowledgments) and Rita Faulders (called Rita Flanders in Chapter 8). I will freely admit to being an editing nazi, and I know that things like this won't be nearly as jarring to readers who don't know the territory, but a project this significant was worthy of more careful treatment.
The richness of what's in The Lady of the Angels and Her City far outweighs those quibbles. What disappoints me, though, is what's not in the book: a sense of any real encounter between Wright and Mary herself. That may be due to the way the book evolved. What began as a personal pilgrimage to places of Marian significance in Wright's hometown later became an academic sabbatical project, and the two never quite become one. I love the intimacy of the memoir, perhaps because Wright and I grew up only a few years and a few blocks apart, but also because Mary is always revealed most truly in the personal. Too often, though, Wright the theologian and cultural anthropologist steps in to distance herself and the reader from the living reality captured so compellingly in Tuma's photographs and described so eloquently in Wright's interviews with believers. This is most apparent when Wright is discussing expressions of Marian devotion with which her experience and theological bent makes her uncomfortable—Mary as Queen and Conquistadora, traditionalist movements such as the Blue Army and the Knights of the Immaculata, the formally proclaimed doctrines of the Immaculate Conception and the Assumption. The result is that The Lady of the Angels becomes less a pilgrimage than a series of beautiful postcards from a pilgrimage, full of field notes on the curious customs of the natives.
But pilgrimage is all about encounter: an openness to the person at the heart of the journey, a meeting that inevitably leaves you radically changed in a way that no longer allows for professorial remoteness. Wendy Wright may have had that kind of encounter—she hinted at it during a talk and book signing on Saturday at the Cathedral of Our Lady of the Angels—but it seems not to have been with Mary herself, but with her devotees:
Closer still, with those who look to her as a model of the Christian life or who find her a companion on the journey, sister and friend, I find both inspiration and welcome. Standing among the fingerers of beads, the bearers of flowers, and those who entrust to her their keenest hopes, I find myself, simply, at home. There is something about the way my conversation partners describe their relationship to Mary, no matter what their perspectives on her or on life generally. There is a poignant tenderness, a palpable hopefulness that they communicate. (p. 231)
My wish for Wendy Wright is that she can retake her pilgrimage, seeking this time not knowledge of Mary but relationship with her. It means putting down the prejudices and the baggage. (Not as hard as it seems. Approached in even partial openness, Mary has a way of stripping away those nonessentials, either as tenderly as a mother wiping a child's smudged face or as dramatically as a guerilla warrior lobbing grenades, depending on what's needed!) It means not standing by observing the fingerers of beads and the bearers of flowers, but sinking to your knees (no matter how it hurts your joints and your pride) and joining them. And it often means (as I learned to my rueful surprise) starting that pilgrimage with the shrine or the manifestation of Mary that you find most foreign, frightening, or distasteful.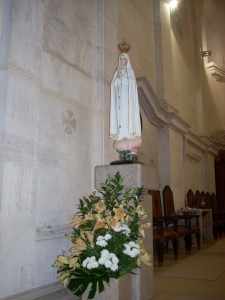 For Wright (as for me, for most of my life) that manifestation is clearly Our Lady of Fatima. Wright and I were both burdened by the politicization of Fatima that took place in the US during the Cold War, especially in John Birch Society-haunted Southern California. In our experience Fatima was bound up with rabid anticommunism, tinged with apocalyptic dread about imminent nuclear warfare and the terrifying Third Secret. That's the face of Our Lady of Fatima we in the US still know best, whether among Blue Army members or in the communities of Vietnamese immigrants who still honor Our Lady of Fatima as a refuge against the loss of their homeland to communism.
But when I went to Fatima last September as part of a Marian pilgrimage—kicking and screaming, frankly, about starting off in my least favorite Marian site ever—I encountered the real face of the Lady of the Rosary, the Lady of Peace, the Mother of the Portuguese people, who come out every Sunday afternoon to walk her sanctuary like kids going home to mom for Sunday dinner. Not a trace of politics or apocalypse. The sun spinning in the sky as gloriously as it did during the apparitions. The shrine gleaming white, with believers making their way across the Cova da Iria on painful knees but with faces transfigured by joy, radiant with peace. She's there, the Lady—not just in the iconic statue with its crown bearing a fragment of the bullet removed from Blessed John Paul II after the attempted assassination, or in the simple homes of the shepherd visionaries, or in the thousands carrying candles in nightly procession—but in person. She grabbed me, shook me, turned me upside down, and I will never be an observer again.
That's why I said today, May 13, was a good day to make this wish for Wendy, and for anyone who reads her fascinating book: Don't stop there. Go meet Mary. Let her in, let her grab you and shake you. That poignant tenderness, that palpable hopefulness—they're there for you, in the embrace of the Lady of the Angels.