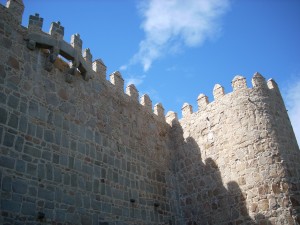 To build castles in Spain is an 800-year-old idiom meaning to daydream, to indulge in idle fancies. But we spent a day with Teresa of Avila, who built an interior castle in Spain as solid and lasting a fortification as the walls that circle the city of her birth.
Pilgrimage 2012, Day 5: Salamanca to Madrid, via Alba de Tormes, Avila, and Segovia
Spain's an odd place. It looks golden and sunny, with yellow plains stretching out under bright blue skies as far as the eye can see, but the soul of Spain is dark and twisty. I like that, but it got just a little too dark and twisty for some of our group.
On Tuesday, after coming to terms with our own inability to contemplate the realities of sin and death that are so much a part of the pilgrim way, we left Salamanca for Madrid. Our journey led us through the heart of the country associated with two of Spain's greatest gifts to the Church and to the world, St Teresa of Avila and her protege St John of the Cross. We were off to visit more Carmelite foundations: the place where she died, at Alba de Tormes; the convent she entered as a girl and where she experienced her mystical rebirth, as well as the Cathedral in Avila, city of her birth and of the birth of the Carmelite reform; and Segovia, where St John of the Cross brought his gifts for mystical poetry to that reform.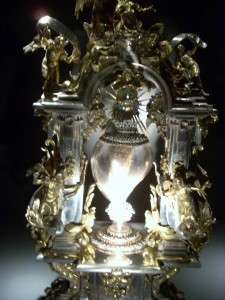 We celebrated Mass at the Carmelite Monastery of the Annunciation in Alba de Tormes, a town associated with one of Spain's oldest noble families. (The present Duchess of Alba, who showed up in the gossip columns recently, is acknowledged to be among the world's richest women.) After Mass, in a small convent museum, we saw evidence of Teresa's life that was, for many, disturbing. As the site of her death, Alba de Torres holds pride of place among keepers of the saint's relics. A good portion of her body is contained in a a marble sarcophagus. Her incorrupt heart and right arm are on display, contained in ornate reliquaries, next to the cell where she died. I found these most corporeal objects of a most spiritual veneration—the heart like a piece of Spanish leather, the arm so tiny and frail to have turned the Church upside down—very moving, but some others of our group were, quite simply, grossed out. "It's abuse of a corpse!" one man argued. "If this happened in the United States someone would go to jail. And I don't imagine Jesus will be too pleased about it at the Second Coming, either!" I didn't dare explain that Teresa has other bits (hands, left eye, part of her jaw, her right foot) on view in Rome, Lisbon, and other places. Poor Avila, her birthplace, has to settle for a finger enshrined in a corner of a convent gift shop.
Like the frog-topped skull we couldn't see in Salamanca, the relics of Teresa invite us to enter into a mindset of devotion so utterly foreign to us that some of us just can't make the leap. It's OK. Teresa, who literally went to pieces for the Lord and the Church she loved, understands that what is important is not in a reliquary but in the tabernacle, not in a convent cloister but in the interior castle where the King waits to welcome each of us.
As recently as a few years ago, a bishop of Avila attempted to sway the pope into pressuring Alba de Tormes to send Teresa's body home. "They have her body," the pope replied. "Avila has her spirit."
We found that spirit outside the ancient walled city of Avila, at the Convent of the Incarnation. When Teresa, herself a nobleman's daughter, entered the Carmelites, a strict caste system operated in the convent. Nuns who came from wealth, like Teresa, had richly furnished rooms with brass stoves for heat, and were waited on by poor nuns. This inequality, plus the lax enforcement of the Carmelite rule, weighed on Teresa until, at the age of 39, she became severely depressed.
"She had lost her way," our local guide, Jose, told us in a voice as mournful and evocative as that of the beggar who had sung a cry for pity to us in the doorway of the Salamanca Cathedral the night before. "And then she looked at an image of the suffering Christ, when he is being scourged at a pillar. And her way came back to her. She had been dead inside, and she was born again that day." The rich girl from Avila tossed away her fine robes and leather shoes, and began to go barefoot or wear sandals with a rough homespun habit. Eventually, she formed a new Carmelite order of strict observance. They were known as the Discalced—the Shoeless Ones.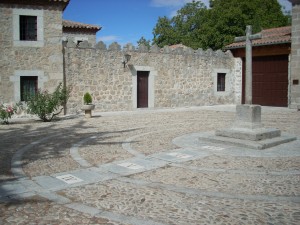 Teresa was born again by falling in love with Mary's Son, Jesus. She discarded her noble names (Teresa al Fatim Corella Sanchez de Cepeda y Ahumada—note the Moorish influence in some of those! Teresa and her brother ran off as children to try to convert the Moors, and her grandfather was a converso, a Jew who became a Christian but was accused of relapsing) and became Teresa de Jesus, Teresa of Jesus. She entered into a relationship with the Lord that was both deeply mystical and hugely practical, theology seasoned with sharp humor and the occasional break for dancing, accompanying herself and the sisters with castanets. In the forecourt of convent (which joined the reform during Teresa's lifetime) there is a kind of labyrinthine diagram of The Interior Castle, Teresa's classic work on contemplative prayer, in which the soul travels through seven concentric "rooms" before reaching the chamber of the King—Christ the King—found deep in one's own heart.
In the stairwell of the nun's cloister, statues recall an encounter between Teresa and her Beloved. One day, she met a small boy on the staircase. Startled, she asked "Who are you?" "Who are you?" the child responded. "I am Teresa of Jesus," she said. "Ah," said the Child, smiling, "so then I must be Jesus of Teresa." And he vanished.
Our lugubrious and slightly antipapal guide Jose also walked us around the Cathedral of Avila, where he mostly wanted to talk about ancient heresies, the legend that Mary came from a family of 11 (at least two others of whom were also named Mary), and using the belfry of the Cathedral to bounce stones off to fashion projectiles before gunpowder was invented. Then we went on to Segovia, where the group heard about St John of the Cross (who suffered greatly for joining Teresa's reform—including being imprisoned by his own Carmelite community in hopes of starving him out of his revisionist zeal) from a new guide. I stayed on the bus, having my own Dark Night of the Aching Joints, gladly daydreaming of my knees in silver reliquaries. Just when I got to the point where Teresa of Avila would have shouted the Castilian equivalent of "SNAP OUT OF IT!" a thunderstorm rolled down the hill over the old Roman aqueduct, turning the air molten silver with rain. And there was the biggest, brightest rainbow any of us had ever seen.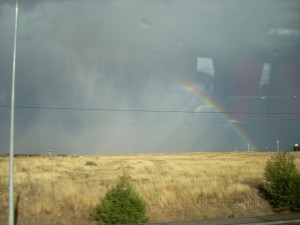 Pilgrimage makes you look at things you don't really want to look at: the very human flaws of the Church in various eras, the continual need for reform, weird body parts in bejeweled cases, your own self-pity and whining. But it also shows you things you never imagined could be possible: the chance to meet Jesus at the turn of a staircase, being born again in midlife, a rainbow touching down in a golden field outside a bus window, a castle in Spain that's real and eternal—though invisible, and inside each of us.
Whether you are with me in finding Teresa's relics compelling for the devotion they attract, or just think the whole thing is disgusting, there's one thing Teresa left us that's a hit with everyone. After her death, lines were found scribbled in her breviary. The best known English translation of the prayer known as St Teresa's Bookmark was composed by the American poet Henry Wadsworth Longfellow, and it is sung in a beatiful Taize setting here. Let it be your bookmark, too, and a reminder to visit the inner room of your own interior castle early and often.
Nada te turbe;
nada te espante;
todo se pasa;
Dios no se muda,
la pacïencia
todo lo alcanza.
Quien a Dios tiene,
nada le falta.
Solo Dios basta.

Let nothing disturb thee,
Nothing affright thee
All things are passing;
God never changeth;
Patient endurance
Attaineth to all things;
Who God possesseth
In nothing is wanting;
Alone God sufficeth.
_____
NEXT: Pilgrims' Progress, An Interlude