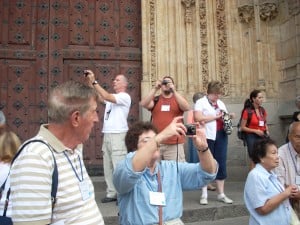 In which we learn that pilgrimage cultivates a different way of seeing: We come to honor visionaries, and are expected to come away visionaries ourselves.
Pilgrimage 2012, Day 4: Fatima to Salamanca, Spain, by way of Coimbra, Portugal
I've gotten behind in posting, due to a combination of the exhaustion that accompanies cramming so many powerful experiences into each day and the instability of network connections. The downside is that you're probably wondering whether, like that Italian sailor who hung out in these parts raising money for a trip across the ocean-sea, we've dropped off the edge of the earth. The upside is that the delay allows me some time for that emotion recollected in tranquility business Wordsworth was so fond of.
We left Fatima (reluctantly, on my part, which was a surprise) on Monday morning, with a quick stop for the Blue Bus group to see the exterior of the parish church in Aljustrel, where Blessed Francisco spent many hours in prayer of reparation for the sins committed by others. Sin. Reparation. Heaven. Hell. Penance. Intercession. Suffering. Mercy. These are not terms we're used to hearing at home much, but they are the lingua franca of pilgrims, and have been since the whole tradition started. In this context, the words come simply and naturally. And they begin to work on us, like water on stone, continuing to ask of us conversion, literally, a turning around.
We traveled on to Coimbra, home to a Portuguese university where students dress in black suits, white shirts, and black capes a la Hogwarts. We saw them on the streets, freshmen heading for an initiation rite. It's the particular and peculiar custom in Coimbra for students to ask their significant others to tear the hem of their cloak. When the relationship ends, the tear is sewn up, and the cape is torn again by the next new love. Seniors, we were told, have capes that look like fringed curtains.
Coimbra is also home to a unique style of fado, the singing of melancholy love ballads. Male students serenade their girlfriends with fado they compose. (Because this started as a student custom long before the university became coed, no woman sings fado in Coimbra.) Friends gather to judge the quality of the performance, but because it's considered impolite to wake the neighbors, they indicate their approval with a restrained cough, like a throat-clearing ahem, ahem.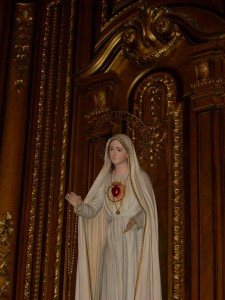 But we came to Coimbra to pay tribute to another love: Sr Lucia's for the Lady of Fatima. It was in Coimbra that Lucia, a Dorothean sister, spent her long last years in a convent of the Discalced Carmelites, separated from Francisco and Jacinta and longing for heaven. But her life was no melancholy ballad. Those who knew her (she went home to the Lady in 2005) describe Sr Lucia as cheerful and practical, never complaining, never seeking attention. In the convent chapel, we saw a statue of the Lady made from Lucia's own memory, which differs from the well-known crowned statue of Our Lady of the Rosary only in being more tender and less aloof, with her Immaculate Heart visibly afire. Francisco and Jacinta, with haloes indicating their status as beati, are pictured at the Lady's feet, but there is no representation of Lucia, who decreased as the Lady increased. The message for us: We are, even the holiest and most privileged of us, merely instruments. Whatever vision this pilgrimage grants us, it is meant to shine through us as though we were simple, clear glass windows, magnifying the Light as Lucia (whose name means light) did. As Mary does.
From Coimbra we headed northeast to the Spanish border, and into Spain to Salamanca. Another medieval university city, the place where the Dominican-led school of philosophy developed the first notion of human rights: the right to life, to personal property, to freedom of thought. The university and Salamanca's two conjoined cathedrals, Vieja and Nueva (old and new) were a long haul up a steepish incline. Our guide showed us the graffiti painted by successful doctoral candidates since the university's founding: the word VICTOR in complicated calligraphy, painted first in a mixture of oil, clay, and bulls' blood, but now with red ink. (I wanted to write VICTOR for having made it up the hill, with knees that increasingly make each step feel like I am wearing matched cilices. The cross I bear on this pilgrimage is the wages of decades of gluttony and sloth.)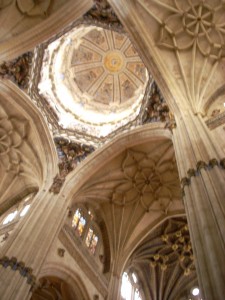 Our guide pointed out the ornate facades of the university, with its medallions of Their Catholic Majesties, Ferdinand and Isabella. And then she challenged us to find the frog—a skull with a frog perched on top, symbolizing the mortal consequences of sins of the flesh (as if my knees were not evidence enough)—nestled among the 4 stories of curlicues and filigree. "Just look!" she kept saying. "Here, I will even point." We could hear frogs—the peeping and chirping of the frog toys vendors were selling all around us—but we couldn't for the life of us see one. Some of us lied and said we did, as we had with those Magic Eye 3D pictures or Where's Waldo books. But I think the truth us we are just not able to see sin and death as easily as earlier pilgrims could.
Finding the frog is what pilgrimages are for. Not only getting better at finding the sin in others, but becoming more compassionate when we do. You can see it happening on the Red and Blue Buses as the days go by. The things that irritate us about one another at first become points of empathy and relationship as stories unfold and we learn what cilices of the heart we are all wearing, what crosses every pilgrim carries. In The Reed of God, Caryll Houselander says we become more like Mary—she who had no sin to see—when we do that, when we open ourselves to God's will and wisdom.
The great understanding given by the Spirit of Wisdom must involve us in a lot of suffering. We shall be obliged to see the wound that sin has inflicted on the people of the world. We shall have X-ray minds; we shall see through the bandages people have laid over the wounds that sin has dealt them; we shall see Christ in others, and that vision will impose an obligation on us for as long as we live, the obligation of love.
And along this road, this camino, we get better at not only finding the sin in ourselves, but at laying it down at the foot of the cross like unneeded baggage and walking away lighter and truer, if with an undertone of necessary melancholy. The pilgrim life is like a good fado, a ballad sung in the night to God the Beloved, not disturbing the neighbors but quietly and passionately risking our hearts. Ahem, ahem.
_____
Next: Salamanca to Madrid, with visits to St Teresa of Avila and St John of the Cross