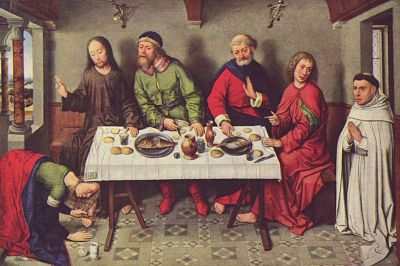 One of the last things Jesus did before death was to eat and drink with His friends. In fact, during this last meal, Jesus served his students as if He were not the teacher and also transformed the relationship. Jesus said: Henceforth I call you not servants; for the servant knoweth not what his lord doeth: but I have called you friends; for all things that I have heard of my Father I have made known unto you.
One of my favorite traditions in our school and college is that many of us get together and eat and drink each Thursday. The day was picked by accident, but this Holy Thursday I am reminded of how good those times can be. They are most often fun, but the sort of fun that gets serious work done in building a community. We know each other over a beer (or two!) and some steak and kidney pie.
Meals have always been important in human history. The Trojan War was as much about the betrayal of a host by a guest as anything else. If you share a man's bread, then do not betray him. Conversation over food and drink is good . . . especially if there is no place to go. I have always dreamed of being at the table when Saint Thomas (Aquinas) and King Saint Louis shared a meal and Thomas settled the Manichees. The evenings spent at the Bird and Baby with the Inklings in good conversation with pipe and mug are a decent description of bliss to me.
This Thursday night we will gather at a better table and eat richer food. We will recollect what Jesus said and did, but better still, we will experience what Jesus did for us at the last supper Jesus had with His friends. This meal must have been odd to anticipate since being in Jerusalem was frightening, yet after Palm Sunday, also exciting. Big things were up and now the evening, a Passover meal, would be spent with Jesus.
I know it became a solemn event, but I would have looked forward to it as a jolly event: a meal with Jesus!
As it turned out, the meal was the last one . . . and the Lord had a great deal to say, some of it very hard. One of his friends was going to betray Him after sharing a dish with Jesus: the scoundrel. All his friends were going to let Him down in some measure and most difficult of all: Jesus was leaving. Where was he going? What was up? Yet Jesus also said that His students, His followers, were His friends and He washed their feet . . . the act of a servant. The last supper, nobody but Jesus knew it was last, was also full of awe, beauty, and glory. Nobody ever talked at table like Jesus and this night His teaching was so plain.
The entire evening ended with Jesus arrested in the Garden.
We are invited to that table every week. Today is the day Jesus "commanded" us to go share bread and wine with Him. He provides the meal. We just come to be transformed from strangers to guest-friends of the Son of God.
Let all mortal flesh keep silent, and stand with fear and trembling, and in itself consider nothing of earth; for the King of kings and Lord of lords cometh forth to be sacrificed, and given as food to the believers; and there go before Him the choirs of Angels, with every dominion and power, the many-eyed Cherubim and the six-winged Seraphim, covering their faces, and crying out the hymn: Alleluia, Alleluia, Alleluia.