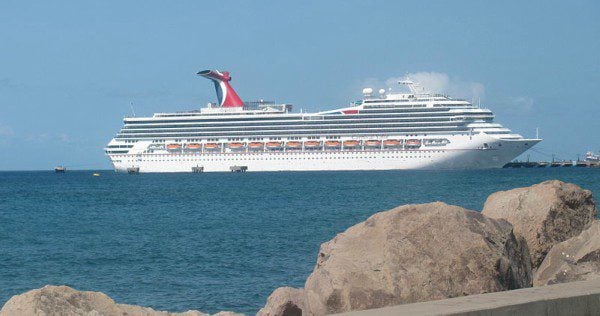 Do not be discouraged. Good people abound. Here is a shout out to Lyston who took time for an entire week to talk with us, chat about ideas, and generally serve as the very model of modern waitstaff.
We met Lyston on our Carnival Cruise when he came to serve our table. We left every meal impressed with his commitment to service and integrity. He was constantly pointing to the hard work of others and expanding our knowledge of the world. Lyston made our trip most excellent.
Hope came to the conclusion that for the most part, the guests (including us!) were not up to the quality of the staff. They were multi-lingual, dedicated to service, and interesting. Too often we were all boors. After all, we know they must go from week to week serving new people. We are paying for their kindness and yet so often we pay for service and do not get it.
Besides, there is a difference between being obsequious and being gentlemanly. Lyston helped us, taught us, and made us wish we could be his friend. If I could help his career, I would, because he deserves it.
What did Lyston teach me?
First, he listened.
Lyston never pushed anything on us. He talked to us, Hope in particular, and waited to hear what she wanted. When he heard, he served. God help our politicians to adopt the Lyston model!
Second, he was kind.
"Kind" has been trivialized to the point that like "nice", nobody wishes to be "kind." Better to swagger and shout the f-word as you win. Yet being a gentleman, a personal of class and character, begins with kindness. Lyston was patient to explain our options, gentle enough to explain our errors, and kind enough to chat with us at length. A kind man is a balm in this angry age and Lyston brought the stuff straight from Gilead.
Third, he was knowledgeable.
Don't you get sick of people who have their jobs because of who they know and not what they know? Lyston was not like this at all. He knew more than he needed to know about everything. He had an informed opinion about so many things that I started to wonder if I should offer him a job teaching until I realized that he was where he wanted to be.
Anybody can do a job, but most people never master their jobs. Lyston knew his role, everyone else's role, and could seamlessly make connections to help us.
Finally, he was modest.
Modesty is even less in fashion than kindness. Lyston was a man of great capacity and he was serving us, but with dignity. The modest man is the man of knowledge and power who defers, because he wishes to do so. He asserts himself where he must, but allows his excellence to speak for him where braggadocio would be lost.
My goal this year will, in part, to manage like Lyston, maybe you should as well. You have a jewel Carnival Cruise. Thank you.