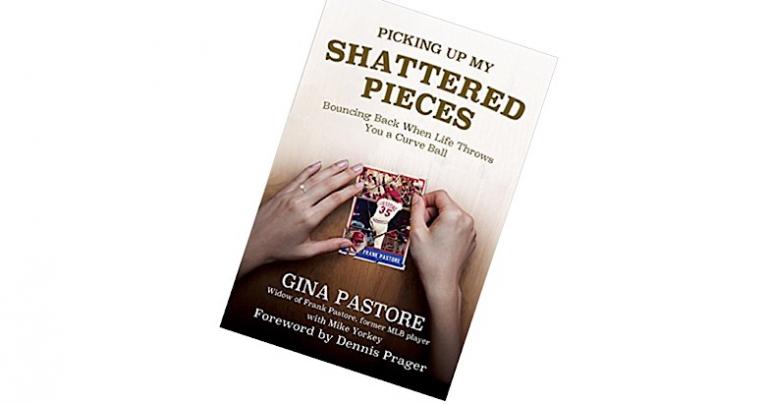 Picking Up My Shattered Pieces is the book you should take with you on vacation this summer. Why? This honest account of a happy marriage and death contains the truth: no story in this life ends "happily ever after." Every story ends with someone bereaved and Gina Pastore shares her account of what this means.
Don't be afraid, because Pastore has written a hopeful book. Hers is one of the best accounts of grief since A Severe Mercy.
Frank Pastore was in The Show as a baseball player. I once saw him put a brash young college athlete on his rear with a fastball, while the 40-something Frank was wearing a suit. He said to me: "I will always have one pitch."
I thought he'd made that last pitch when he died in a motorcycle accident mere hours after he'd brought up the philosophical possibility of just such an accident on his radio show. I was wrong.
Gina Pastore Throws a Fastball of Her Own in Picking Up My Shattered Pieces.
This account tells the truth, and truth is both funny and painful. I knew Frank well. He hired me to teach in the Talbot Institute for Biblical Studies and warned me about the Evangelical academic establishment. I did not listen as well as I should have. Everything Frank told me turned out to be more than true.
The Evangelical Academic Establishment "punished" Frank and Gina for their ruthless truth-telling, but Frank and Gina did not care. He had known fame that made the lures of that small world look puny: the MLB was The Show and the Evangelical academic establishment is not even a show in most academic minds.
Frank kept pitching intellectual fastballs and Gina Pastore was his equal in every way.
Gina Pastore Continues to Live in the Intersection of Faith and Reason.
Frank and Gina stood at "the intersection of faith and reason," as he famously called his radio program. They refused to choose: the Pastore family demanded reasonable faith paired with faithful reason. This can be done! Frank worked toward this Socratic goal and Christological accomplishment all his life. Gina Pastore continues to incarnate the idea.
Frank loved Gina and reading this book let me know how much Gina loved Frank. The book is sad, as life is sad, but it is also romantic as life is romantic.  I can testify: Frank and Gina were fun. Gina's book is jolly, even though you know it will not end with "happily ever after."
The best moments I ever had in radio were because of Frank's genius. He would spend any time needed to make a hack like I was sound better, but I never had a doubt that he was waiting to go home to Gina. This book tells me why.
Life ends in death. Gina Pastore reminds us that she knows, just as Frank knew, that life ends in death that ends in life.
A great many testimony books have a good story but are unreadable. This a decently written book with an awesome story.
Take and read.
Rachel Motte edited this essay.