We need some new voices . . . And so I went looking. Some I will agree with utterly, some not so much. All are bright, younger than I am, and worth reading. Here is a former student of mine in a university honors program: Micah Hoover. Micah Hoover is a student of life, a servant of Jesus, a happy husband, a thankful father of three, a software developer by day, and a devotional writer. You can find his book Mere Devotion on Amazon.
———————————————-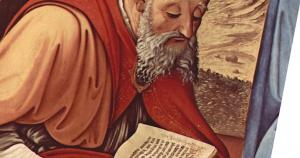 When I want to understand something in a way that really sends electricity through my veins, I ask my kids to explain it to me.
Today I was not disappointed.
While driving down the road I called out, "Hey guys, I have a big question. How do you know something is real?"
My eight year old Raegan paused and said, "I don't know."
A mature answer with much for me to learn.
I repeated the question to my five year old son in the back of the van, "How do you know something is real?"
He responded:
"God is real! And I am real! … And the Avengers are real!"
What did I learn from this?
(1) No one really knows what is going on and
(2) Things become REAL when you understand how badly you want them.
When Jesus sent the disciples out to spread the Good News and they reported success and victory, Jesus said he saw Satan fall from heaven like lightning. Then he said, "However, don't be happy that evil spirits obey you. Be happy that your names are written in heaven."
Years ago I thought Jesus was giving special guidance for the disciples … revealing to them supernaturally they were going to heaven and that this is what they should praise God for.
But now when I read the Bible I challenge myself to see Jesus as my master, to let down the walls, and to find a way to take his every instruction as guidance for me personally. Even though the reformers of old in their wisdom told people not to presume they were saved.
So I praise God because my name is written in the book of Life out of obedience.
This satisfies me, ineffably.
I feel a new strength that says, "I like this! I want more of this!" Then it seems undeniable that my name is written in the book of Life -in spite of all the reasons why my name is the last thing anyone would ever expect to find in the book of Life.
Quantum physics is the hot thing right now, and I fail to understand it. One of the weird things about it is how the path of electrons change when there is an observer.
Electrons pass through a double slit in an interactive way … even when they pass through the slit one at a time. They are interacting with their own possibilities. When there is an observer their path changes … like they were the only one. This is called collapsing the wave function.
In the same way, when you become an observer in your own life, when you observe your name in the desire you have to see it in the book of Life, it has a way of collapsing the other options in your life. Your options narrow. The way you might have settled or compromised or sold out … collapses into single, pure, integrity.
"Everyone ought to examine themselves"