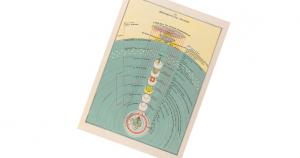 Lost and Found
Once one of our children decided to stay at Disneyland, when we decided to go. He waited and slipped away, running back to Fantasy Land and the rides. We started heading out and quickly missed him.
I was not too worried, he would turn up if I called. He did not. My stomach hurt and I started looking everywhere. Security began to appear: ten minutes, fifteen minutes. I was not frantic, yet, but was sweating in a cool California night. Where was he?
One man put his hand to his ear and said: "We've found him."
He was lost and now was found. Health returned immediately and we could laugh when we saw him seated on a throne with a giant Mickey plush surrounded by adoring cast members. He was not just found, he was happy. 
The motion from fear, confusion, sorrow, anger to love, clarity, happiness, and joy was sudden and complete. Our son had not in fact been lost: he knew where he was all the time and was always safe. His parents were lost without him and we were miserable. 
As I came to an end of Longfellow's translation of Dante's Paradise, I thought of those feelings. The little lost boy wasn't, the parents were: lost, feeling little in a big world. God is not like our son in that God did not run away.
The similarity was in the feeling that is behind a question I asked: "Where is God?" At one point of my life, I wondered and started looking as if God had wandered off. That is a sickening feeling. I was entirely wrong, having wandered off, sleep walking until waking up lost wondering where God had gone. When I "found" God again, I realized He had not gone anywhere, I was the one who was lost.
Dante was world-class genius lost wandering as he wondered how to "get" to God. Like me, a more brilliant, poetic, Italian, so really not much like me, except he too was lost and wondering where God was. He too went through hell, purgation, to see. He saw more, better, until reaching Jesus: then words failed Dante and so we were alike again.
Paradise 
What did Dante see?
After all the planets of the heavens, the saints in paradise, and the love of his life, Dante saw Jesus.
That's enough to be found: Jesus is God in flesh, a God we can see. He came to the end of words by finding his desire:
The glory of Him who moveth everything Doth penetrate the universe, and shine In one part more and in another less. Within that heaven which most his light receives Was I, and things beheld which to repeat Nor knows, nor can, who from above descends; Because in drawing near to its desire Our intellect ingulphs itself so far, That after it the memory cannot go.*
When we find what we thought was lost, discovering we were confused, then complete. We cannot remember, because when we see our heart's desire, God Himself in Jesus, then our intellectual never really leaves. There can be no memory of what we are presently experiencing. I understand this just a bit: I can still feel the relief that my child that I thought was lost was not lost at all. This is not merely a memory, because the the feeling is present just now. 
The experience of God for Dante, greater than any I have known, was more than my example. My joy was great, but as nothing compared to the absolute beauty of God. Dante says:
But my own wings were not enough for this, Had it not been that then my mind there smote A flash of lightning, wherein came its wish. Here vigour failed the lofty fantasy: But now was turning my desire and will, Even as a wheel that equally is moved, The Love which moves the sun and the other stars.**
Dante began his great poem lost in a wood, wandering and wondering about God. Dante ends his great poem when he is found. There is not more need of words, just love and a clean, clear vision of the stars.
——————————-
*Dante, Paradise, Canto I (Longfellow translation).
**Dante, Paradise, Canto XXXIII  (Longfellow translation).