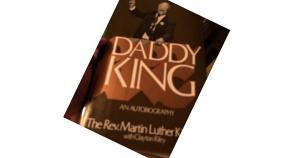 The famous son should not overshadow the great father: there would be no Martin Luther King Junior without the Senior. Sadly, most who try to understand the courage and convictions of Dr. King (Jr.) spend more time on his seminary life, a relatively short period of time, and less time on his lifelong relationship with his father.
Don't make that mistake: much of the best of King (Jr.) came from his parents and Daddy King: An Autobiography is a good place to start. While one can read the book in one sitting, the history needed to understand the experience chronicled in the book would take a lifetime.
If you want to understand American Christianity, and you do not know Martin Luther King Sr., then you should go read: now. King was a deeply and utterly Christian man and despite the murder of his son and wife, refused to hate. He lived the Gospel, the real Gospel untainted by quibbles or qualms. He lived the full Gospel: justice now and paradise with God. If you have ever conflated "liberal" theology with the Civil Rights movement, read King (Sr.) This was a man steeped in socially conservative Baptist culture unashamed of the Gospel of redemption.
While he had some disagreements with his son's theology and approach, both King (Sr.) and King (Jr.) were coming together. The terrorism that killed the young King stopped both his political and theological development. Would he have come closer to the faith of his father (a perpetual influence on him) and a politics like that of Germany's Christian Democratic Party?
Rev. King (Sr.) notes the opportunity white Christian leaders in the South had to end segregation and go to work on racism. They sometimes made apologetic noises in private, but did nothing. Why? King was no theological liberal, but white Baptists mostly were not allies. King (Sr.'s) activism also marked a final opportunity for the Republican Party to live up to Civil War roots and side with African-American voters instead of doubling down on the "Lilly White" Strategy that grew in importance for the Party from 1876 forward.
Yet this book is not about the failure of one part of the church in the South, but the triumph of God's African-American people in the South. Love defeated hate, courage cowardice. King (Sr.) struggled with hate, but testifies that love, rooted deeply in the Gospel, triumphed. King was an activist, bold and full of courage, because he believed the entire Bible.
His life is heroic: he overcame so much. My theology is closer to King Senior's than to King Junior, though all the categories have changed so much it is hard to compare. We cannot even imagine the categories that existed, the possibilities, the time period during which the two Kings lived. Southern white Christians missed a great opportunity, but African-Americans needed no white saviors in any case. They had a Savior who: ". . . hath put down the mighty from their seats, and exalted them of low degree. 53He hath filled the hungry with good things; and the rich he hath sent empty away."
I wonder if there had been no MLK (Jr.) if the groundwork done by MLK (Sr.) would not have called forth some other son of the Church to finish the work. Segregation had been intellectually and morally devastated by the work of generations of preachers like MLK (Sr.).
There should be no US History class that discusses Rev. Martin Luther King Junior that does not discuss Rev. Martin Luther King Senior.
May Rev. Martin Luther King Senior remain a role model to all of us of a Christianity without compromise or hate.
Read the book.