The message is barely legible—-

as if he wanted you to struggle

a bit to read it. As if he wanted

to make you look twice.

And I do.

Bless the poor.
homeless god is a series of poems by Phillip Aijian and published in the Californios Chapbook Series No. 3.
What if a poet reflected on the words of Jesus at Matthew 25?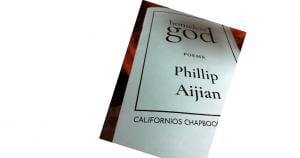 There Jesus tells what the King will do at the end of time for those who have fed the hungry, given water to the thirsty, taken in the stranger, clothed the naked, provided care to the sick, and visited those in prison. "And the King shall answer and say unto them, Verily I say unto you, Inasmuch as ye have done it unto one of the least of these my brethren, ye have done it unto me."
These sayings are so morally good and easy to affirm since they have been built into any Christian culture. Even a post-Christian culture, like some in Western Europe often will cling to this teaching. Yet these teachings are hard to do. No culture, Christian or otherwise, has ever come close to meeting Jesus in everyone. Few individuals, Christian or otherwise, have been able to do what Jesus commands.
We must reflect on what our King wishes if we have any hope of doing better. How can we see Jesus in "the least of these my brethren?"
Dr. Aijian has given us poems for this task, powerful, theologically rich. They do not make seeing Jesus easy in the brothers. In one the poet looks at a brother and says: "Jesus has gotten fat." Nobody is perfect, yet Jesus is what we must first see.
Jesus in the "least of these" of the poems also helps as much as He needs help. Grace comes to the narrator. After the gift of a bus token from one such Jesus, the poet writes:
Of its surprising coolness, my whole
being feels itself to drink.
In my hand a drop of rain.
In my hand, the first day of spring.
Aijian uses language sparingly, sticking to common words, and short lines. I read each poem quickly. Some lines penetrated like seeds put in soil and often the poems where they appear flower in an emotion or message. As a result, one returns and slowly rereads seeing what is missed. The poems plant, the images used support the growth of the emotional lessons, and finally reach an emotional fulfillment.
In this sense, these are almost poetic fables. If Aesop was telling stories with moral messages, then Aijian is giving us encounters with an emotional message. The poet is trying to train our hearts. This is hard to do, but (generally) works here. I might wish for a larger collection to allow for an even broader set of experiences and more emotionally training.
The hasty will be quick to apply these poems politically or economically. Somebody should do something about unjust systems, bad cultural structures, and wicked politicians. There are poems to write on such topics, but they are not the only considerations. Aijian's narrators find Jesus personally by coming into contact with Jesus. The narrator is doing the work Jesus commends or failing (somehow) to do so.
This is not incompatible with systematic change, but surely the poet is entitled to direct his readers vision to helping that person, that Jesus over there. Arguing over how to do this often excuses us from doing the work ourselves. We might be all too happy to love the poor in the abstract while missing Jesus under the bridge on the drive home.
Just reminding me to see Jesus in those around me was helpful: "Jesus is wearing jeans and a t-shirt advertising a bowling alley long derelict."
God help me not to miss Jesus.
Buy the collection. Read with your whole soul and body!
—————————————
*I received a review copy from the publisher. Mr. Aijian also is a former student. I still loved the work.