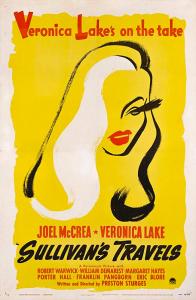 Sullivan's Travels may be the movie we need just now.*
Sullivan is a guy born on third base who thinks he hit a triple. He has gotten to home plate, but to his credit, his privilege rankles him. He has made fluffy films and is bank for the studios. He wishes to make something "real," "serious," and help the depressed in the Great Depression. His bosses point out that Sullivan knows nothing about the not-rich and (again to his credit), the filmmaker decides to go be "one with the people."
He is very bad at it, because, naturally, a man who chooses to be poor is not the same as the poor who wish to escape. The film knows enough to see that "communism" or "fascism" are ideological delusions that will do greater harm so that the new rich can oppress even more poor. Against this, the brilliant writer and director Preston Sturgis dares to defend . . . Christian liberal republican solutions.
This is a funny film, Sullivan is ridiculous and when he meets the It Girl, Veronica Lake, the adventures descend into familiar screwball comedy, until the last act. The film begins with "genial" racism so common in films of the era, but turns that upside down as well. Without spoiling anything, Sullivan learns a good bit and comes to see that comedy can be divine.
The film is soaked in Christianity, shallow, hypocritical, and beautiful in a beloved community.
For a theist, the cosmos makes sense. All will be well, if not now, in the sweet bye and bye. We are in a tragic period, death has come to our party. The promise that we could buy, study, sell, talk our way out of all problems is shown as cheap as the promises of a Nigerian prince in our inbox. Any view of reality that grinds away on smaller grudges in the face of death is unfit for the world. We need a faith that can survive a plague, even if there is no easy or happy ending.
Sullivan sees that he will never know anything about the deeper pains of life. He has been fortunate, yet he has seen that all God's children can still laugh.
This is good, remarkable, news.
We can laugh, because in our hearts we know that the tragedy is real, but a prelude. In the End, when justice is done, when the slaves are all freed, when the Pharaoh has let all God's people go, then there will be jollification without end. When our friend dies of this plague, we can damn the virus and the world that created the conditions that unleashed havoc and the carrion vultures of plague.
The God who became a man and cried will make all things new, give meaning to every pain, and vindicate all that is good. Let judgment run down as waters, and righteousness as a mighty stream.
He will come in justice, but have mercy.
That is very serious, tragedy made whole.
Yet there is something slyly wonderful, jolly even, in these truths. If justice is coming, then those in bondage can have a laugh at Pharaoh, soon the bottom rail will be on the top. If justice with mercy is coming, then we can laugh, because the tragedy is for now, but the wedding feast is the eternal reality.
Preston Sturgis knew enough to point in that direction and so made a film for hard times, because it is funny, dark, and ends in hope. Hope and a laugh, a forerunner of the jollity to come, is needed just now. This is not because a laugh is comforting, but because joy points to the deepest reality!
We are in a plague year. Find a view of reality that can survive a plague year and that gives real hope for eternity.
Oh, and a philosophy that can have a laugh at despair!
---
The most readable book Hank Greenberg defends the importance of a "mere" ballplayer with a reference to this film. I was persuaded and went and watched. Thank you Ron Kaplan. Read his book!