II. If you find yourself hating your fellow men and resist this hatred, and you see that it grows weak and withdraws, do not rejoice in your heart; for this withdrawal is a trick of the evil spirits. They are preparing a second attack worse than the first; they have left their troops behind the city and ordered them to remain there. If you go out to attack them, they will flee before you in weakness. But if your heart is then elated because you have driven them away, and you leave the city, some of them will attack you from the rear while the rest will stand their ground in front of you; and your wretched soul will be caught between them with no means of escape. The city is prayer. Resistance is rebuttal through Christ Jesus. The foundation is incisive power.*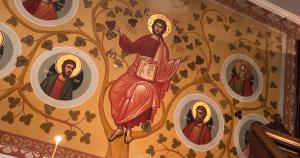 Do not hate any other human being or so says the great saint Nikodmos in the collection of wisdom called The Philokalia. Resist this hatred and love every human, even our enemies. This is so basic to Christianity, but too often forgotten as we dwell on lesser vices. Our goal as we increase in virtue should be love and every vice, in particular hatred and pride, are enemies to love. Love is compatible with strong statements or arguments as the writers in the Philokalia demonstrate! Hatred is different that passionate disagreement or preaching justice. Disdain for a person, a sense of superiority, loathing for an individual all destroy love. The beloved community must push for justice, but can do so without hatred or dehumanizing an opponent.
This is why our prisons should be safe and humane.
This is why necessary opposition to evil rulers does not justify doing anything we wish.
This is why torture is never proper for a Christian nation.
This is why we do not dishonor even the dead bodies.
If hatred is necessary to "win," then Christians should lose in the short term to win for eternity.
A quick victory over hatred easily turn into smugness, condescension, and becomes worse in us than the initial hatred!
"Lord I thank Thee that I am not like that angry person over there that hates people. I thank Thee that I love my enemies unlike that hateful wretch from that group that is full of hatred. I thank Thee for being an example of Christian love to the hateful people like that hateful person on my social media feed."
We gain victory over an obvious hatred and seven more demons of disdain come and make us a greater child of perdition than we were!
Saint Nikodimos warns that when hatred withdraws that we might be tempted to overconfidence. We cease to pray, the "city" that in his image is our sanctuary from diabolical attacks. When we are loving, hatred being gone, we might forget that ground of love in God as revealed in Christ Jesus. Jesus and His divine example are the rebuttal to any claim that we should or must hate someone. God has n0t just given us an example in Christ Jesus, as if our battle against hatred can be won merely through citations. Instead, God gives us "incisive power" when we ask for victory over hatred in the Name of Jesus.
Victory over demonic hatred is the will of the Father and so if we ask the Father in the mighty name of Jesus, the power will be there for us. We can, by God's grace, learn to love, but this must be central to our prayer life. There are many ways we might displease God, yet all have at their root a failure of love and hatred. There was a final victory over hatred in the Cross where Christ conquered the powers of the world, flesh, and devils. His prayers on the Cross were prayers of love, even for His enemies.
In the Trinity, the Persons are bound together by love and when we pray in spirit and in truth, we enter into that love. Hatred cannot survive in that strong city!
We can appropriate that victory through prayer, the ceaseless prayer of love!
——————————————
*Saint Nikodimos. The Philokalia: The Complete Text . Lulu.com. Kindle Edition.