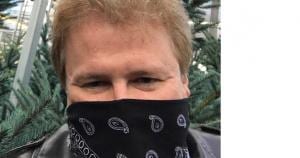 Many of our Christmas pictures this COVID year will have masks over beloved faces. Our Christmas tree supplier, hooking us up with jollification, asked us to mask up, so we did.
Why not?
We did not have to get our tree at that store. We could have gone to an outside lot with no masking, but we like our local lot. The folks working there are a jolly lot and we were happy to support them. Times are tough, and my friends in economics reading the entrails of the economy, say that they will get tougher economically.
Solidarity for working people!
Time to be Houston strong.
I could, given the culture here, do as I please. Few would stop me, given that I am about to pay for a product. I can do as I will, but I will do as my friends here ask. I will mask and so make their lives a bit easier. Why make them worry? Why make them come and ask me to mask?
Liberty? Yes, no comprise there. What of those who cannot chose, who must mandate? What of other people? In a question of manners, a decent chap will compromise and so help his neighbor. If we had a governor like poor California, the calculus might be different, but here the problem is not so hard.
We can do as we would, so we can do as we should.
This is not about the merits of the scientific case so much as the ethical.
Do masks work to prevent the spread of the virus? The local doctors in Houston's global-class medical community to whom I speak every other week say "Yes." One works hospice in the virus and he tells me of younger adults who die of the disease. They ask for social distancing and masking. Since I know them, I know they are doing the best they can.
Many other local friends, and doctors I read online, have other opinions, some quite negative. They are not fools either. I am not a medical doctor, so have nothing to add to any medical debate.
When it comes to health, my sense is that we should err on the side of safety. My dear old Dad is in hospital with a serious issue and COVID would harm him severely. Why not help other people's fathers? Why not do all I can, even if what I am doing is only marginally helpful? I would do greater things to help dear old Dad!
I am a small government guy, so I do not like mandates from any omnipotent state and always am skeptical of any consensus that ignores dissent.
This is not that.
Instead, I do what I am politely asked to do by people who prefer erring on the side of safety. Are they right? That is not my job. Instead, I stand in solidarity with them in their hard decision. They are not sure what is right, they are not medicos either, but they are doing what is asked of them by the Texas. These are not cowards, but business people doing the best they can. Texas is no omnipotent state, not governed by fascists or communists.
There was nothing lost in cooperating. I am no Rosa Parks, and a mask mandate is not segregation at the end of Jim Crow and slavery. Our family did what we should have done, not credit to us, and have good jollity buying a tree, masks over nose and faces covered.
Why not?