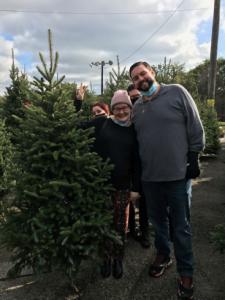 We got out our first Christmas ornament last night from thirty-five years ago as we decorated our tree: once again just the two of us. The next day we journeyed with our son-in-law and daughter to help select their first tree. Their car was jam-packed with ornaments from Target as ours, so many years ago, had been filled with the treasures of Mr. Woolworth.
This was entirely happy.
There were joys in our first Christmas together, jollity when our children were small, and now goodness in the new normal. Hope and I shared some not-a-product-of-Champagne wine and some treats last night. Soon another adult child will come and help set up the Dickens Village as another props up our "live tree." The "Filostrato tree" is downstairs.
Two trees are the abundant life.
Every so often as the years have passed, I have felt a stab, knowing this would be the last year for certain goodnesses. One year was our last year with babies. There came a year when all our grandparents had gone ahead to greater jollification. Change is inevitable and not always welcome, even though things are surely better so. Nobody would pull a soul from Heaven or keep adulthood from coming.
For a greater good to come, a lesser good must always pass away. Christmas ended one time in human history and began another. There was great good in the first, with sorrow, and greater good in the second with greater sorrows. The sorrows grow, but so do the joys until our last holiday here begins our first Holiday forever: last, most terrible sorrow, final Joy.
I recall thinking at eight (or so) how soon my bed would not fit me. I would get a full size bed, then I would leave home. . .the whole sequence made me sad. I talked to Mom about this sadness and she advised me to keep this in mind, but not to wish my life away. I should enjoy today's good fully, because no particular good lasts forever. That was good advice, the average wise mother would have stopped there. Mom, however, is not only a very wise woman, but a very, very wise woman, so she suggested that I not merely focus on the transition, the loss. I would do better to look to God. He is unchanging and if my enjoyment of being eight, building a space ship in the basement, was fully to be enjoyed, that pleasure had meaning in the light of unchanging eternity.
He would keep that joy in safety for all time.
That was true. The stable, unchanging, eternal Good did not make my little goods less good, but meant they can never be lost or forgotten. When the good God calls us to Himself, then He can give us full access to all the small goods once and eternally. These, I trust, build up in a bank for all of us in Paradise, since all delights can be shared there. The early church had "all things in common" as a figure of the world to come when all good things will be common to us all.
We should try to have much to share!
Our first Christmas is memorable for each other and our extended family. Soon we came to a Christmas in our extended family centered on the wee ones and then slowly on their new families. Finally, we will share with great extended family of all the Children of God. The stable in Bethlehem is the stable joy in the center of all the change. Happiest Christmas, Mary Kate and Solomon! Welcome jollification!