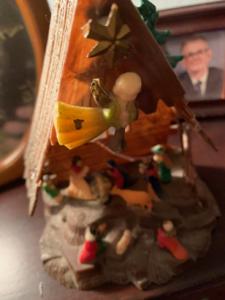 I cannot go to Granny's anymore. The stocking from 1908 Preston Street, Granny's house, is in my office now. My childhood crèche is nearby. My parents gave us wonderful Holidays and then, as Mom would say, just as we got interesting, we left. As believers in "extended family" both Daniel and I have kept nearby, but we are no longer there all the time.
We are a good bit less cute.
This year Hope and I had a jolly Christmas morning back where we started as a couple: the two of us alone. This was very good, despite our fears, and later in the day some of our children stopped by to visit and bring love. Over the first ten days of Christmastide we were blessed to see all of our adult children, something most cannot take for granted even without a pandemic!
We are blessed in such good souls. As many of us as could spent as much time as was responsible with my parents and brother. We are blessed indeed. Times change and they must. 
Yet mistakes in how we picture the Holy Days, feasting, makes normal change hard. 
First, we picture just the smallest unit of a family, the atom of mother, father, and children, as not just central, but exhaustive. The "nuclear family" cannot be split without societal decay and destruction, but while a necessary to a family is not sufficient. We are meant to live in a veritable village of relatives. Where is the patriarch and matriarch? Where are the endless aunties and uncles? Family holidays should be overwhelmed with relatives . . .as they still are in some American subcultures.
Sadly, much of our social arrangements work to dissolve these natural bounds, isolating us more surely than a pandemic lockdown. Our culture is broken and so makes this nearly impossible, even if we were taught to value extended family. The more we can get together on any holy night the better. 
Cousins you are always welcome!
We are mistaken to limit our feasting to the nuclear family. This is too ephemeral a time in life and too limited. Many people have no chance to marry or should not marry. Any image of a holiday that does not picture the community, the church, the social order, in our feast is defective.
True friendship is as vital as family bonds.
When I see lifelong friends like Thomas at the Boxing Day Feast, I see a great, good friend and that is a great and lasting good. This need not be limited to our closest friends. We should spread our joy and jollity to the village that God gives us. We need not  be lonely or at least we can minimize these chances.
Alone is not the same as lonely. There are times for small groups or even for being in solitude. Loneliness is an isolation that can happen in a crowd, but this evil is made less common when one is surrounded by loving family and friends.
We have also made the mistake of making our Holy Days and jollification all about children and childhood. 
Compared to the Omnipotence, we are all children and come to Father as His children. We are rejoice, but we are also called to maturity. Holidays should be best for the aged, rejoicing in maturity. Children should aspire to adulthood, because the parties, the masquerades, are grownup. Naturally, all will be friendly to childhood, some catering to those needs, but each event should point to maturity.
Our feasts should be ripe without being rotten.
I recall the get together of my childhood: the stories, singing, of my parents, aunties, uncles, their friends and aspiring to such wit and talent. We did not (mostly) run off to our rooms and we had no electronic devices. We watched, listened, often while playing on the floor with some toy.
In a community, the Christian village or urban neighborhood, there will be whole range of ages. We can rejoice together. This Christmastide, Hope and I have celebrated each other, our parents, our adult children, our friends, our church and school community, and found much jollification.
Times change as they must. We move from being the children to being the oldsters so quickly! What endures is the Feast and an abundant spiritual table open to all.