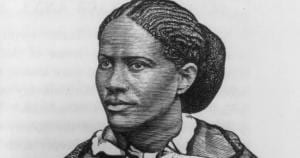 Advertisements remind us not to put off standard health care, just because there is a pandemic. Illness of any kind intrudes even if what we are told that we should be paying attention to some other "vital news of the day." Life continues and the deep patterns of life do not care a whit what is trending on social media. They do not even care, or are hardly impacted, by the rise and fall of empires. God has a long, steady plan, a school for souls, and He works out this plan in His time.
The Lord God cannot be rushed with any frantic prayers, gyrations, or sacrifices. He will not slow down despite our lack of attention to what He is doing in His sovereignty.
So Frances Ellen Watkins reminds us. She was an activist poet (!) fighting for justice against the greatest American villainy of her time.
We need more activist poets. They fight the fight with their eyes on the Prize.
Yet in the midst of the great battle against race based slavery and white supremacy, she witnessed a dying fugitive. The great drama of an enslaved man was faded as his time came to die. The Greater Emancipator came to bring him to our true home where no person is ever a slave. Watkins pictures the dying man resisting at first, delirious, associating death with the "master" returned, and calling out to his next contact on the underground railroad. He was forcing the great drama of the ages into the little actions of his particular time. Only slowly did he come to realize that the Good God was coming to call him home and rest in God. The deep victory was won.
Our small story, this school for our souls, is made worse by the evil choices of other humans. We create monstrous structures of injustice, like the abortion industry, the Soviet Union, reservation systems for the Indian nations, and legalized injustice where we teach men to jump Jim Crow. These systems must all be opposed actively. That is our special education in humanity: to plead the cause of the poor and the hurting. Yet there is a deeper story, the truth of which all this is only a shadow, our evil systems breaking up the true light of God. The long pull toward Paradise, is going on underneath our culture, our victories, our mistakes, even the worst of the shadowy empires of injustice. History is inevitably leading us toward God through death. This may seem to take a long time to us, but recall: every person from 1859 is now gone to God. Their story is done and all the actions and reactions to the shadows in their lives are merely a placement exam for the eternity to come.
God knows all, nothing is hidden from Him, because He sees into the shadows. Our actions count, but toward God's accounting and God is up to something else. He makes and wills no man a slave. Our choices may count one man "great" and in our shadowy sub-creation he may be while discounting another as less important. To God all are equal human, created in His image: we are born, live (for some length of time) and then die. We may never escape the womb or may live to be feted at one hundred and seventeen, but to God all is seen, all is just, all is calling us to Himself. We come from God the Father and return to God the Father. The enslaved man who is faithful to his deep calling to be a man, who is transformed by Christ into the very image of God, is a great man. We might call him a "slave" and forget his name, but God knows. When we get to paradise, many a president or pontiff will see the he has done more poorly than a "simple" person hidden by injustice in the shadows. God knew, God brought all to mercy and perfect rest: as happy as they could be. Our dramas are ended, our "work," so much self-imposed done, and the real story just beginning.
Drink in Sister Watkins' profound words:
The Dying Fugitive
By Frances Ellen Watkins

The Anglo-African Magazine, August 1859

Slowly o'er his darkened features,

Stole the warning shades of death;

And we knew the shadowing angel

Waited for his parting breath.

He had started for his freedom,

And his heart beat firm and high—

But before he won the guerdon,

Came the message—he must die.

He must die, when just before him,

Lay the long'd for, precious prize—

And the hopes that lit him onward,

Faded out before his eyes.

For a while a fearful madness,

Rested on his weary brain;

And he thought, the hateful tyrant,

Had rebound his galling chain.

Then he raved in bitter anguish—

"Take me where that good man dwells!"

For a name to freedom precious

Lingered 'mid life's shattered cells.

But as sunshine gently stealing,

O'er the storm cloud's gloomy track—

Through the tempests of his bosom,

Came the light of reason back.

And without a sigh or murmur,

For the home he'd left behind,

Calmly yielded lie his spirit,

To the Father of mankind.

Thankful that so near to freedom,

He with eager steps had trod—

E'er his ransomed spirit rested; On the bosom of his God.*
——————
*Voices Beyond Bondage . NewSouth Books. Kindle Edition.