David Russell Mosley
Advent
16 December 2015
The Edge of Elfland
Hudson, New Hampshire
Dear Friends and Family,
I've written these sporadically, but I'm going to try to write them a bit more regularly, at least once a month.
On the Incarnation by Athanasius of Alexandria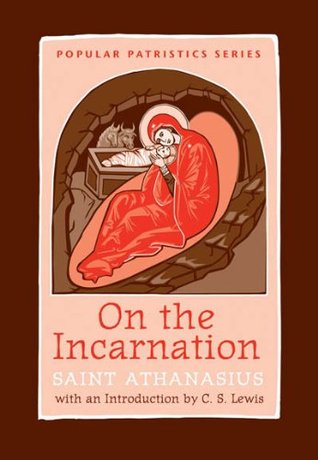 This is one of my annual Advent/Christmas reads. If you've never read it, or if you've never read a book by an ancient Christian, then I recommend it, especially this translation. The Popular Patristics Series (patristic means relating to the early Christian theologians, often called the Church Fathers) by St. Vladimir's Seminary Press is a great series for getting translations of ancient texts in understandable English. However, it's also a great series for the scholars out there. If you are a scholar or are interested in getting into the original languages then I'd recommend picking up this edition which has the Greek on page and English on the other. This book has been formative for me as a theologian. It's one of the foundational pieces for understanding deification and it helps situate the Incarnation as the central cosmic event. It's a must read for me every Advent to help prepare me for the coming of our Lord.
Theo-Poetics: Hans Urs von Balthasar and the Risk of Art and Being by Anne Michelle Carpenter
This is the other theological book I'm reading right now. I picked up at the recent AAR/SBL and have become acquaintances with the author. Now, my reading of Hans Urs von Balthasar has been fairly limited, but that's not an issue with Carpenter's book. She explains Balthasar's thought very clearly so that you get a sense of what he's saying without having read all the books and essays Carpenter has. That said, this is a definitely an important book in Balthasarian scholarship. Carpenter, so far anyway, is doing an excellent job explaining the importance of art and poetics to Balthasar's theology. While she uses the word theo-poetics differently than I do in my thesis, her use is, I think still connected. For Carpenter, theo-poetics is about a poetic theology, poetic logic and images that help undergird and connect theological reflections (whereas my own use is to connect it directly theopoiesis or deification). So far the only glaring problem with this book is that it is making me want to buy more Balthasar books than I can presently afford.
Letters from Father Christmas by J. R. R. Tolkien
This is another of my annual Advent/Christmas reads. Tolkien, that wonderful sub-creator, began writing his children letters from Father Christmas in 1920 when his eldest son, John, was three years old. From that first simple letter comes many more with more and more characters and events each year for the next 26 years (he stopped when his daughter Priscilla was 17). These letters are full of wonderful stories, as you can well imagine, but also wonderful pictures. Tolkien was a rather good artist in his own way and the pictures as well as samples of the handwritten letters that adorn this book are wonderful in the truest sense of the word.
A Christmas Carol by Charles Dickens
Yet another of my annual Advent/Christmas reads, Charles Dickens' A Christmas Carol is really a book everyone should read, full stop. In this book both the meanness, the grotesque, the worst of human nature and the best are on display. Dickens perhaps knew people, and possibly even humanity in general, better than almost any other author (Shakespeare, Tolstoy, Dostoyevsky, Tolkien, and a few others would perhaps also vie for this honor). In this book we get a glimpse into dark recesses of fallen human nature and even a reminder that we cannot crawl out of those recesses completely on our own. The story has, it's true, become perhaps a bit too familiar to us with umpteen different versions of it in existence on the big and small screen. Still, if you can, try to read the story with fresh eyes and I will be much surprised if you don't come away having been changed by the story.
The Adventures of Sherlock Holmes by Sir Arthur Conan Doyle
For the last few years when I decided I wanted to read through the Sherlock Holmes stories, I would pull out a single-volume edition of the complete stories that I have (it's a facsimile edition from the originals in the Strand Magazine) and attempt to read them. I say attempt because the book is massive and the pages fragile. So, this year, after reading half of A Study in Scarlet in this format I decided enough was enough, popped over to the library, and picked up several smaller volumes in order to read all the stories without the pain of using my beautiful, but unwieldy single-volume edition. If you've never read Holmes, I highly recommend it. These stories are witty, interesting, full of life. I will give a warning however, the majority of the second half of A Study in Scarlet is generally uncharacteristic for the rest of the Holmes stories, taking place in America and having nothing directly to do with the primary protagonists, Sherlock Holmes and Dr. John H. Watson.
On the Back Burner
Advent is a funny time of year for me when it comes to reading. I usually have, as you've seen above, several books that I like to read during Advent and Christmas time. In fact, all the books listed above as Advent/Christmas reads, are really books I'd prefer to read during Christmastide (from roughly Christmas Eve to Epiphany eve). But I'm also usually finishing books during this time and don't like to wait before picking up a new book. But then I have to try and find books that I can actually read during Advent so that I'm done with them before Christmas, but not too much before so that I'm not just waiting around bookless for Christmas to come. For that reason, and others that make even less sense. I also have two other books that I've begun in the recent past but not finished and may not get back to until after Christmas.
The first of those books is The Blue Fairy Book by Andrew Lang. This is the first in a series of books that are collections of fairy-tales and folk stories from around the world. When I first started writing my novel 8 years ago, it was to this series of books that I turned reading every story about dwarves, goblins, elves, brownies, and more to try and ground my characters and creatures in the stories we have told ourselves about them.
The second book on the back burner is The Shaping of Middle-earth by J.R.R. Tolkien. This is the fourth book in the History of Middle-earth Series put out by Christopher Tolkien. This particular volume takes through the stories as things begin to shift from Book of Lost Tales version of them to The Silmarillion version. This isn't a great book (nor are any in the series) to serve as your "fiction read" if you divide up your reading like I do. That said, the stories in them are always fascinating, as is the insight we're given into how Tolkien wrote and how his stories developed over time.
Well, that's it, that's everything I'm reading right now. What are you reading?
Sincerely,
David