Ordinary Time
15 February 2019
The Edge of Elfland
Concord, New Hampshire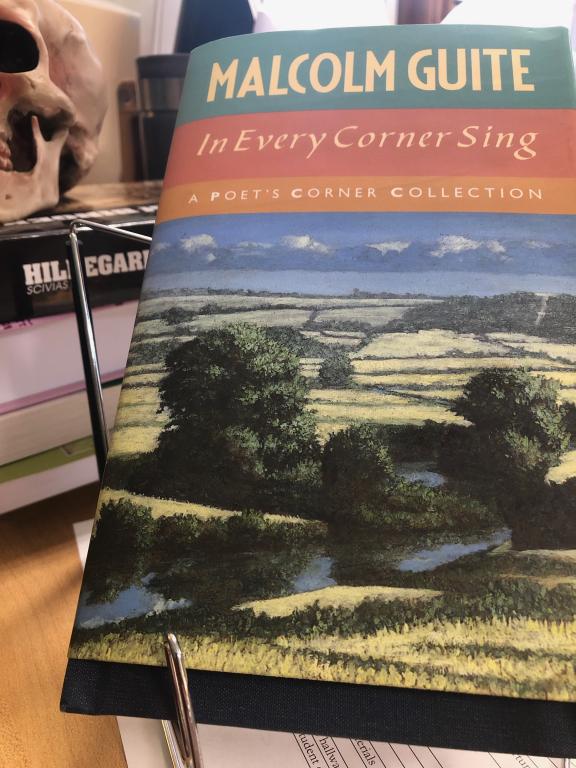 Dearest Readers,
This is by no means the first time the Rev. Dr. Malcolm Guite's name has graced my letters. But today, I want to sing his praises for his most recent book, In Every Corner Sing. This is fitting as I have decided to begin a weekly series on poetry. While this particular book by Guite is not a work of poetry, Guite is a poet and I am happy to have him as my inaugural letter in this series.
The book itself is small but beautiful. Weighing in at 196 pages, it is jammed with over seventy short essays. These essays began life as Guite's column, "Poet's Corner", in The Church Times, a Church of England periodical. These essays are a panoply of Guite's reflections on life, poetry, the faith, and the world around him. One follows another in a quick succession. It is tempting to read them too quickly. In fact, I'm afraid I did. I'm just grateful I own the book so I can return to them whenever I desire.
Guite, as a poet, has a beautiful way of describing and reflecting on even the most mundane of activities, like walking his dogs. His essays, too, are filled with references to poets and books. I am happy to have been introduced to both Elizabeth Barrett Browning and Robert MacFarlane through Guite's essays. Each one is a beautiful meditation, to be ruminated over.
Perhaps my favorite, of the essays is "On Poetry and Cheese." In this essay, amongst other things, Guite shares a poem wherein he compares poets to various different kinds of cheese. But my favorite line in the whole poem is this, "But poets curdle words until they bite." Curdled words. I love this image of poetry. Rowan Williams in his book, The Edge of Words, talks about how poetry breaks language in order to put it back together in new ways that cause us to see words differently, to uncover connections and realities we could not have seen without the poet's work. This is particularly true, he claims, in the case of rhyming. For rhyming causes us to consider two, usually unrelated, words in a new way. To consider why Keats chose to rhyme "be" and "charactery" and what we learn about being and charactery by considering them together.
And so, Guite has provided me with the name for this series: Curdled Words. I hope you enjoy my rambling reflections on poetry and poets. When I can, I'll share whole poems, when I can't small portions with links to help you find them for yourself.
I encourage you to get your hands on Guite's book, especially if you don't have, don't want, or can't get a subscription to Church Times. It is a small book of beauty and will enrich your life.
Sincerely,
David Russell Mosley