Ordinary Time
St. Bartholomew's Day
The Edge of Elfland
Concord, New Hampshire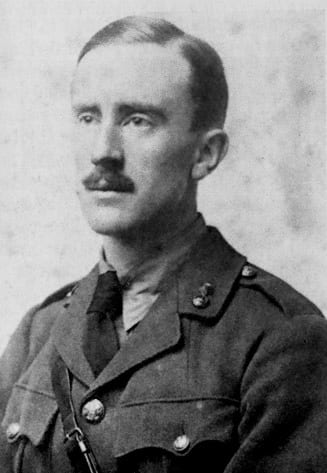 Dearest Readers,
Last night my wife and I finally say down and watched the film Tolkien. I did my best to come to it with an open mind and tried to avoid reviews of the film before seeing it. I did not want my own first impressions too overly tainted by the opinions of others. Still, I went into it more hopeful than I at first felt because people I respect lauded and praised it, or at least said it wasn't as bad as they had feared.
The film is beautifully shot and wonderfully cast. Nicholas Holt and Lilly Collins clearly had chemistry. One watched them as they fell in love and then separated with real emotion. I also thought the interweaving of Tolkien's life leading up to the war with his time in it masterfully done. They showed an imaginative version of the effects trench fever might have had on a mind like Tolkien's. Perhaps what shines most in the film, however, is the relationship between the four members of the T.C.B.S (Tea Club and Barrovian Society).
These four friends with their battle cry of Helheimr, and their desire to change the world through their art, were the central story of Tolkien's early life. But this makes one wonder if perhaps the title isn't a little off. After all, a biopic on J.R.R. Tolkien called simply Tolkien might lead viewers to believe it would be a film dedicated to the whole life of the eponymous protagonist. And even if early synopses and trailers showed that it would focus on his pre-Hobbit life, leading to the penning of those famous words, "In a hole in the ground there lived a hobbit," still might one believe the film would show us more than it did.
Many other Catholic viewers have bemoaned the lack of overt references to Tolkien's Catholicism. And I too will admit that I would have liked to see more made of it, though one can assume that some of Tolkien's early ostracization at King Edward's was due to his faith. The scene of all the boys singing and Tolkien just mouthing along until he defeatedly closed his mouth is a subtle but important vision of this. The film picks up after Tolkien's father's death and before his mother's. Yet we never find out that she died in part because she had been cast off by her family for her conversion to Catholicism (If you want to read a short reflection on Tolkien's Catholicism, here is a short piece I wrote for U.S. Catholic Magazine). Still, I don't fault the movie for not going into this more. Depicting faith is a difficult, though by no means impossible, thing. And what's more, should everyone's favorite aspect of Tolkien's life from the time period depicted be added in, the film would be longer than Jackson's Lord of the Rings and Hobbit trilogies combined.
And this is why I think the friendship, or perhaps better fellowship, of the T.C.B.S is so central. We are shown the centrality of friendship for the arts, even if it is only a very small group that does very little. Gilson, Smith, Wiseman, and Tolkien, in their naive and visionary youth dreamt that they could change the course of human history through art. Yet human history had its say as well, killing half the members of the T.C.B.S. and inflicting one of the survivors, presumably, with PTSD. And yet, their efforts were not in vain. Tolkien lived and, like Milne and C.S. Lewis, and many others, turned that trauma into something beautiful. I wept openly as Tolkien met with Geoffrey's mother discussing his poetry and pleading with her that in this moment, poetry and love were exactly what the world needed.
And this, I think, may be the film's greatest failure. It clearly centered not Tolkien's love of Edith (which takes many licenses with the more fantastic reality) but on his friendships. Thus, in the end we see him failing to write. We get that heart-breaking conversation with Edith where we see that his attempts are, at least at times (and it is implied to happen more than it seemingly did, Tolkien was not like Milne in his fatherhood), keeping him from fully engaging with his family. The film was thus primed to introduce us to Lewis or the Coal-biters (which included Lewis) or even an early, and anachronistic, Inklings meeting. This would have shown us the continued need for art in community, that Tolkien's greatest achievements came about in part because of his friendships. This was a missed opportunity in a film that clearly wanted to tell not a love story, at least not a romantic love story, even though it included one, but a story of the love had between friends.
In the end, Tolkien is still overall a success and I hope it will inspire others to read more of Tolkien's works and to learn more about his life. For a fuller picture, you can't go wrong with Humphrey Carpenter's biography, but if you want more of Tolkien in context, then I suggest Bandersnatch by Diana Glyer and The Fellowship: The Literary Lives of the Inklings: J.R.R. Tolkien, C. S. Lewis, Owen Barfield, Charles Williams by Philip and Carol Zaleski.
Sincerely,
David Russell Mosley