It's normal for me to be less productive in the final weeks of August, as we try to squeeze all the stuff we planned to do over the summer into the final few days. But I was more sidetracked than usual this August. Besides a calendar dominated by school supply shopping, orthodontist and haircut appointments, and a lovely long weekend on Cape Cod, I've had a thing going on with my kidney. For some reason, I feel kind of embarrassed about bringing up my kidney. There's just something so fundamentally fleshy about a kidney. Or maybe I'm channeling my 8-year-old self who finds anything remotely bathroom-related equal parts hilarious and mortifying? Anyway, a few weeks ago, I had to leave the annual 4H fair, where my daughter was once again showing off all she knows about chickens, for the emergency room because of severe renal pain. I had an identical episode like this back in May, after which I had a bunch of tests and a kidney specialist decided I must have had a kidney stone, even though no one saw one on any of the scans I had done. After this second trip to the ER, when it became clear this was no kidney stone, I had exploratory surgery last week to see what's going on. Bottom line: I have a stricture (narrowing of the ureter), no one is really sure why, and at this point, I don't know what the long-term plan is or if there is a long-term plan. The week since the surgery has not been great, but I'm feeling better and everyone is settled into school so here I am, trying to get back to work.
I'm going to take the easy way out for this post and point you to some things published here and there in the last few weeks. I hope to be back with original thoughts soon.
My essay Resemblances, published by Brain, Child magazine back in May, was featured in an issue of Soul Telegram. Soul Telegram is a great thing for anyone who loves high-quality writing on spirituality, whether you are a writer, a reader, or both. For a monthly subscription fee of $1.99, the Soul Telegram folks compile two biweekly issues featuring the best spirituality writing on the web (as identified by the well-read Soul Telegram editors). Essentially, you're paying a teeny tiny fee for them to do the grunt work of weeding through all the so-so spirituality writing online to find the really great stuff, which you can then read and ponder, without being distracted by that niggling sense of, "Is this thing going to be worth my time? Given that I follow a gazillion blogs that on any given day may or may not post something I really want to read?" I'm honored to have been chosen, and have found the Soul Telegram editorial taste to be excellent. Give it a try.
I reviewed Rachel Gerber's spiritual memoir, Ordinary Miracles: Awakening to the Holy Work of Parenting for the Englewood Review of Books. It is a mixed review—lots of good to recommend, a few questions about her emphasis and perspective. I hope you'll read the review and think about whether it could be a reassuring resource for some sleep-deprived parent verging on a Candy Land-induced boredom coma.
Finally, the long-awaited publication date for Disquiet Time: Rants and Reflections on the Good Book by the Skeptical, the Faithful, and a Few Scoundrels is coming up in October. This anthology, a sort of "anti-devotional" digging into the less savory, more difficult aspects of scripture, features chapters by many of my favorite writers and colleagues. "Like" our Facebook page to get the latest news and reviews, a fun promotional video coming soon, and more news as the publication date approaches. Also, you can find some fun memes to share on Facebook, like this one: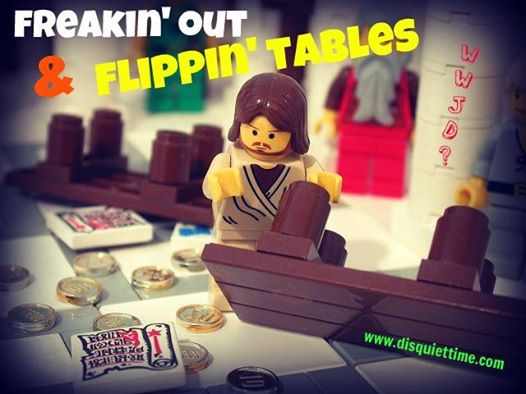 Assuming my kidneys behave and my children stay healthy (and therefore in school), I'll be back with new stuff soon!